GUNSHIP – Dark All Day (2018) Exclusive
Two years ago UK-based synthwave band GUNSHIP released their debut, excellent self-titled album, which for some reason wan't featured on this blog. Their brand of pop, rock and synths expressed its love for the '80s and era of VHS blockbuster videos. The band just presented its sophomore album, "Dark All Day", and not only retains that same sense of nostalgia but also surpassed themselves with a piece of work among the best in synthwave's history.
The band has been busy lately. Last year, GUNSHIP released a song on a companion EP for a documentary about '80s retro synth, The Rise Of the Synths, called Vale Of Shadows, which the band described as its tribute to Netflix's Stranger Things.
Earlier this spring, the band released a single called "Art3mis & Parzival," (included in this new album) their interpretation of Ernest Cline's novel Ready Player One.
"Dark All Day" will give nods to other geeky stories: Richard K. Morgan, the author of Altered Carbon (the basis for the Netflix series), lends his voice to the opening track "Woken Furies" (the title of one of his books), while other songs are a look back at arcade video games such as "Cyber City".
Then you have a tune like "Drone Racing League" which will bring to your mind The Matrix movies, and even there's a cover of the hit made famous by Cyndi Lauper in 1983, "Time After Time".
Yes, this is a true '80s trip.
GUNSHIP came together as a side project between Alex Westaway and Dan Haigh, both musicians and producers. Haigh came from a rock and metal background and was a relative latecomer to synths, but once he discovered them, he compared the experience to "being gifted one of those ludicrously huge packs of felt tip pens: suddenly [there were] so many more colors."
Over two years, the duo wrote a number of tracks and refined their sound, recruiting a childhood friend, Alex Gingell, to record the drums.
So this is a real band, actually playing rock instruments alongside synths, fairlight and programmed sounds. All songs features lead vocalists, different in style ranging from rock to pop, and even we find legendary Tim Cappello – remember his awesome song from the 1987 vampire film The Lost Boys? – playing awesome licks on the on the title track "Dark All Day".
Anyway, the band's sound is firmly based in the synthwave movement — they say that they're a "A Neo '80s Retro Futuristic Assault" on their Facebook page.
Musically, on this album they were particularly inspired by modern science fiction. Haigh notes that they were particularly drawn to cyberpunk's take on science fiction — a more realistic, gritty experience, which William Gibson summed up as wanting "to see dirt in the corners." He went on to say that his "deep love for cyberpunk comes from the ingenious ideas of future technology but, critically, the impact those ideas will have on society," and that the genre helps to expose that dirt that accumulates on the edges.
While the future has turned out differently from what the '80s imagined, Haigh notes that he sees their album as "a series of snapshots of various cinematic archetypes, familiar setups for people to write their own stories into," and that they hope that the experience allows listeners "imaginations to run wild."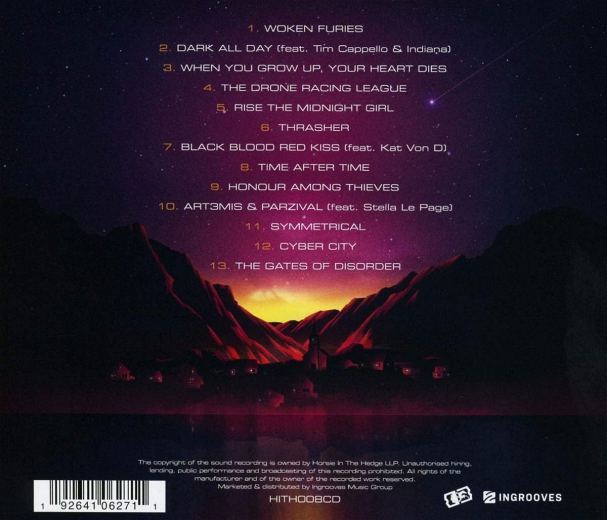 "Dark All Day" is a brilliant album, based on sythns but with real instruments as well, vocals on all tracks and a sense of gusto and refinement hard to find into other synthwave or retro rock&pop music out there nowadays.
This is pure '80s stuff, plenty neon sign boards, to listen to driving a Lamborghini Countach on a desert highway, and with a Miami Vice glitter and atmosphere.
GUNSHIP takes the genre to its next level, and yet just as '80s as ever, putting the retrowave scene on its knees.
HIGHLY Recommended
You've seen it first here, at 0dayrox
01 – Woken Furies (feat Richard K. Morgan)
02 – Dark All Day (feat Tim Cappello, Indiana)
03 – When You Grow Up, Your Heart Dies (feat Wil Wheaton)
04 – The Drone Racing League
05 – Rise the Midnight Girl
06 – Thrasher
07 – Black Blood Red Kiss (feat Kat Von D)
08 – Time After Time
09 – Honour Among Thieves (feat Una Healy)
10 – Art3mis & Parzival (feat Stella Le Page)
11 – Symmetrical (feat Una Healy)
12 – Cyber City
13 – The Gates of Disorder
Dan Haigh – vocals, guitar, bass, synths, programming
Alex Westaway – vocals, guitar, synths, programming
Alex Gingell – drums, programming
with;
Tim Cappello – saxophone
Vocals:
Richard K. Morgan
Indiana
Wil Wheaton
Kat Von D
Una Healy
Stella Le Page
Una Healy
BUY IT !
www.amazon.co.uk/Dark-All-Day-Gunship/dp/B07FDKWP78
.