BLACKSMITH – Gipsy Queen ; The Early Years 83-86 [Remastered] (2018)
Reissue label No Remorse Records just released the complete recordings of '80s Swedish cult band BLACKSMITH, "Gipsy Queen ; The Early Years 83-86" for the first time on CD, remastered and including previously unreleased material.
Fronted by a young Per Englund (currently vocalist of great hard rockers Free From Sin), Blacksmith were influenced and inspired by bands such as Rainbow and early Europe circa 1984.
After few years of hard rehearsals, Blacksmith got a chance to record the "Gipsy Queen" EP, which got released in 1985. Blacksmith managed to build a strong fan-base, and the 7″ single entitled "Tomorrow's Mystery" (released one year later, in 1986), that includes "The King Has Lost His Crown" ballad, even reached the charts in Japan.
Both the single and the "Gipsy Queen" EP are two releases with huge demand from fans of Hard Rock and collectors around the globe.
There are few unreleased songs from the 1983 rehearsal sessions, and even if the quality of these recordings is not the best in the world, are a very nice companion to complete "Gipsy Queen ; The Early Years 83-86".
"Gipsy Queen" is a really cool piece of 80s hard rock / metal, however there are lots of undisguisable touches of the late 70s with Rainbow / Dio which makes Blacksmith a very interesting band.
You know what, the keyboarding in "Gipsy Queen" is very interesting because, except in "Tomorrow's Mystery," its tones and sounds are far from the usual, even for that time. It had a pallet of sounds to show that made Blacksmith's music peculiar and worthwhile listening.
Opening track "Gipsy Queen" began with a Hammond organ playing a Bach riff, joined by the rest of the band in a frantically paced salvo of Deep Purple inspired hard rock. When Englund joined in with his powerful vocals, I was intrigued. The solo of Johan Nystrom (current Apollo Papathanasio band) deliver classy arpeggios, while Per is showing off his incredible range over top of it all.
Being a mid-Eighties band, the mandatory ballad appears in "I Don't Know" powered through it, that kind on 'metal ballad' with essence.
"Lying Eyes" is very commercial, catchy hard rock, including Patrick Ekelof playing the legendary "pumping" bass line.
Then the single 7" "Tomorrow's Mystery" showcases other side of the band, it was 1986, and the polished, AOR radio friendly sound was the rule. Love this tune.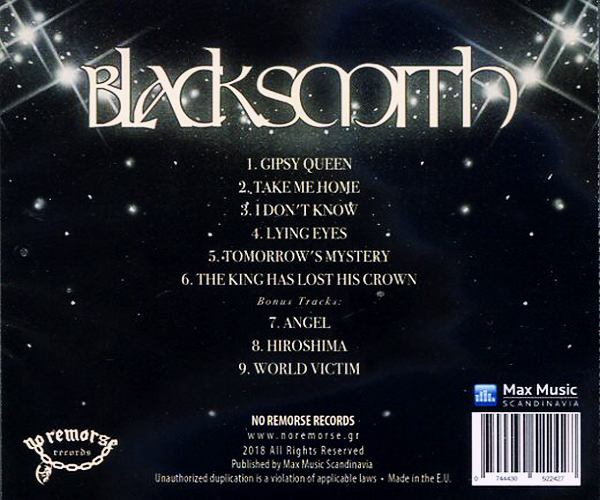 The rest of the tracks are early recordings, and quite impressive. Not by the sound quality, but for Blacksmith style back then.
"Hiroshima" rocks heavy with some Loudness on it, while "World Victim" has a Rainbow – early Yngwie / Jeff Scott Soto feel to it.
Pure '80s stuff – Highly Recommended
01. Gypsy Queen
02. Take Me Home
03. I Don't Know
04. Lying Eyes
05. Tomorrow's Mystery
06. The King Has Lost the Crown
BONUS TRACKS:
07. Angel
08. Hiroshima
09. World Victim
Tracks 1-4 "Gipsy Queen" EP 1985
Tracks 5-6 "Tomorrow's Mystery" 7" 1986
Tracks 7-9 Demos
Per Englund (Free From Sin) – Vocals
Johan Nystrom (Apollo Papathanasio) – Guitars
Patrick Ekelof – Bass
Mats Andersson – Drums
Nicklas Andersson (The Hellacopters) – Keyboards
BUY IT !
www.noremorse.gr/products/blacksmith-gipsy-queen-early-years-83-86-cd
.