JOANNE SHAW TAYLOR – Reckless Heart (2019)
With a singular voice that will stop you in your tracks, British guitar siren and dynamic songwriter JOANNE SHAW TAYLOR new album "Reckless Heart" is one of the best blues-rock albums I heard in while.
Conjuring the spirit of classic Blues' mojo with an electrifying rocking approach, this lady's songs are really catchy at the same time.
Featuring Joanne's smoky rasp that rises from the legend of soul greats, Reckless Heart finds her in glorious form and a mischievous mood, one minute bearing her claws with catty lyrics and the next deliriously in love. Illuminating all the corners of her firecracker personality, "Reckless Heart" was borne out of a newfound openness and confidence that can only come with life experience.
In several senses, it's an album of firsts for Joanne – the first made in her adopted home town of Detroit, the first produced by her close friend Al Sutton (Greta Van Fleet, Kid Rock), the first largely recorded live jammin' into the studio, and with some of Detroit's best musicians – among them jazz drummer Ron Otis, bassist James Simonson, and keyboardists Phil Hale and Chris Codish), the first to feature an unplugged solo performance, and the first with her new label home Silvertone / Sony.
But it's also an album that pulls the past into the present. The good-time grooves of vintage, British blues-rock are given a modern makeover, while Joanne's cut-to-the-bone vocals take their cue from her soul heroines like Aretha Franklin and Tina Turner.
Joanne and her band have given us some real rip-roaring guitar slugs here.
Just listen to "Bad Love". It's a full of energy and upbeat rocking tune where her guitar positively growls throughout, the punchy melodies accompanied by some rib-tickling percussion that keeps the track upbeat and full of fun.
There's also a lot of good to be said of the drawn-out, full on tantrum of a guitar solo in 'I've Been Loving You Too Long.' As angry bass slithers along menacingly underneath, Joanne builds herself into a frenzy that will really rock spinal chords in her upcoming live tour. This is easily the most heart-stopping moment on the record.
'The Best Thing' is a soul-filled bluesier with magnificent organ, swaggers with confidence and Joanne's vocals – which have always been husky – are positively gravel filled here, as everything seems to have gone up just a notch or two.
'Creepin'' is yet more proof, should it be needed of Taylor's versatile playing and there is real stoicism about everything here.
'I've Been Loving You Too Long' is more balladic, and has enormous intent. There is something of Bad Company about the way it broods, while the title track, perhaps more than any of the others, reveals all JST's many sides.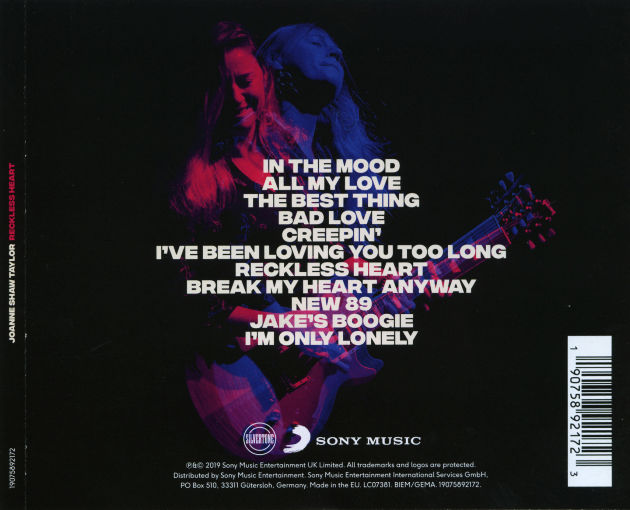 "Reckless Heart" is the album that Joanne Shaw Taylor wanted and needed to make right now; it has the necessary blues hear to appeal his longtime fans, but also a catchiness and accessibility to appeal all audiences.
This is killer album, from songwriting and performances, to melody, kickin' delivery rocking punch.
Fans of Gary Moore, Bonamassa, Bad Company, even Hendrix, yes, need to check out "Reckless Heart". It's darn awesome, believe me.
Highly Recommended
01 – In the Mood
02 – All My Love
03 – The Best Thing
04 – Bad Love
05 – Creepin'
06 – I've Been Loving You Too Long
07 – Reckless Heart
08 – Break My Heart Anyway
09 – New 89
10 – Jake's Boogie
11 – I'm Only Lonely
Joanne Shaw Taylor – guitar, vocals
Ron Otis – drums, percussion
James Simonson – bass
Phil Hale, Chris Codish – keyboards
Terena & Herschel Boone – backing vocals
Joe Deller, John Madison, Brandon Cota – strings
BUY IT !
www.amazon.de/Reckless-Heart-Joanne-Shaw-Taylor/dp/B07HQ9TC28
.