AEROSMITH – Pump Outtakes
This one was requested some months ago: AEROSMITH's "Pump Outtakes", a compilation of demo tapes recorded during their 1989 album 'Pump'. This is not an official release, but an actual CDr sold privately even with printed artwork.
Some of the tracks present here later evolved into the album final songs, some are ideas never finished, and some unreleased – until now – songs.
With skilled producer Bruce Fairbairn and renowned engineers Mike Fraser / Ken Lomas behind the desk, the the making of Pump took almost 2 years. The recording label and the band wanted a mainstream hit album, and there were endless pre-production sessions to polish every detail to the extreme.
In the meantime, Aerosmith composed several songs mostly born of studio ideas, then developed into full length songs. We have here the genesis of tunes like 'The Other Side', 'Don't Get Mad Get Even' and the mega-hit, number one single 'Love In An Elevator'.
It's fun, every time I hear 'Love In An Elevator' I remember Gene Simmons early '80s sentence "You gotta have a proper chorus for a hit song, as example, a song with the word 'Elevator' on it never will be a hit"…
However, the interesting tracks on "Pump Outtakes" are the rarities.
There's 2 version of 'Deuces Are Wild', an unreleased song (later included on the compilation Big Ones) but here are different.
Also really good is the pre-production of 'Burnin' Up', which later was finally recorded and re-titled 'Ain't Enough' and used as 'Love In An Elevator' single B-side. We find 3 early versions here.
'Fake Fight' and 'Guilty Kilt' rocks bluesy, both never officially released songs, and there's the cool 'Sedona Sunrise' (co-written with Bryan Adam's partner Jim Vallance); later properly recorded to be included on the compilation Devil's Got A New Disguise.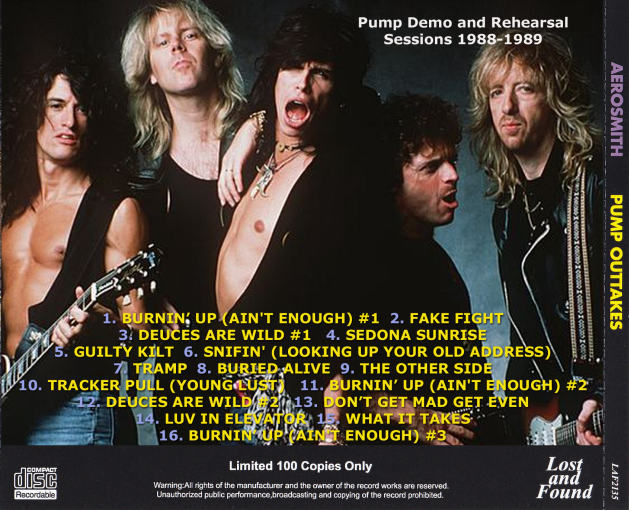 "Pump" is one of Aerosmith's best albums, loved by the band's both type of fans; the older from the '70s and the newer from the glossy mainstream sound. It mixes the best of both worlds and that's why its songs are so much revered, and these 'extras / demos / unreleased' are so much sought after.
There's at least 2 versions of this "Pump Outtakes" CDr, quite rare and even unavailable at well known huge bootleg blogs. The sound quality isn't top notch, but without a doubt this is a must have for Aerosmith fans, completists and rarities collectors.
You've seen it first here, at 0dayrox
01 – Burnin' Up (Ain't Enough) #1
02 – Fake Fight
03 – Deuces Are Wild #1
04 – Sedona Sunrise
05 – Guilty Kilt
06 – Sniffin' (Looking Up Your Old Address)
07 – Tramp
08 – Buried Alive
09 – The Other Side
10 – Tracker Pull (Young Lust)
11 – Burnin' Up (Ain't Enough) #2
12 – Deuces Are Wild #2
13 – Don't Get Mad Get Even
14 – Luv In Elevator
15 – What It Takes
16 – Burnin' Up (Ain't Enough) #3
Steven Tyler – lead vocals, guitar, keyboards, harmonica
Joe Perry – guitar, slide guitar, backing vocals
Brad Whitford – guitar
Tom Hamilton – bass, backing vocals
Joey Kramer – drums
Not for sale
.