PAGES – Pages '78 [Japan remastered AOR CITY 1000 series] Out Of Print
As part of Sony Music Japan campaign titled AOR CITY 1000 featuring a low-priced reissue on classic AOR / AC albums from their back catalog (many of them out of print or hard to find) we have this pre-Mr. Mister Richard Page band PAGES ans its self-titled debut "Pages", remastered.
Founded in the late Seventies by Richard Page and Steve George on vocals and keyboards supported by various renowned studio musicians, Pages is perhaps best known as the launching pad for the recording careers of both musicians, who later formed Mr. Mister.
The first self-titled Pages album is one of the best examples of soft-rock/pop-fusion made during the era mixed with proto West Coast AOR sound and FM radio accessibility.
Lovingly produced by Blood, Sweat & Tears veteran Bobby Colomby, the album has a very soft, soothing feel to it, blended with elaborated instrumentation and chord progressions. "Cleary Kim" leads off the album with a funky feel, great rhythm guitar work and superb vocals.
"This Is For The Girls" is a slow but captivating tune with compelling vocal harmonizing from Page alongside talented Philip Bailey.
There are some straightforward uptempo songs like "Listen For The Love" and a highlight for me; "If I Saw You Again", but even these have a very fine texture.
"Room At The Top" is an early effort by Page and George to show their more melodic rock side later so prominent in Mr. Mister. The album is accented by the beautiful string arrangement work by Dave Grusin on tracks like "Interlude" and "Love Dance."
One of my favorites, and the single originally released from the album, was the closing number, "I Get It From You," highlighted by the intimate, intricate instrumentation and Richard Page's moving vocals.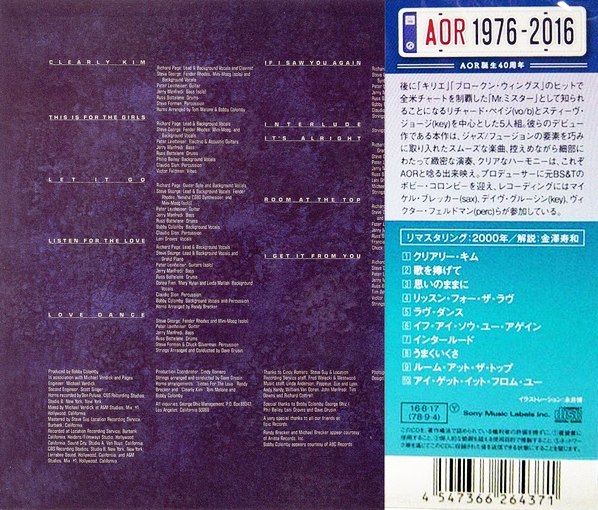 Pages first self-titled is the kind of album you play on a night when you're relaxed with the lights turned down low, preferably with the rain falling outside. It's a true mood-setting little masterpiece.
Although reissued some time ago, never was an easy to find record. This is you chance to get a Japanese Edition of this album at a really affordable price. It uses the last, very good remastering.
Highly Recommended
Sony Music Japan ~ 【SICP-4910-CD】
A O R   C I T Y   1000
01 – Clearly Kim
02 – This Is For The Girls
03 – Let It Go
04 – Listen For The Love
05 – Love Dance
06 – If I Saw You Again
07 – Interlude
08 – It's Alright
09 – Room At The Top
10 – I Get It From You
Richard Page – lead & background vocals, synths
Steve George – keyboards
Peter Leinheiser – guitars
Jerry Manfredi – bass
Bobby Colomby – drums
Russell Battelene – drums, background vocals
Steve Forman, Chuck Silverman – percussion
Victor Feldman – vibes
Dave Grusin – strings, flutes
Michael Brecker – sax
Randy Brecker, Tom Malone – horns
Phillip Bailey, Donna Fien, Lani Groves – background vocals
Out of print
www.cdjapan.co.jp/product/SICP-4910