STEEL BREEZE – Heart On The Line [AOR Heaven Classix remastered] Out Of Print
As part of the now sadly discontinued AOR Heaven Classix series, here's the requested "Heart On The Line", second album by STEEL BREEZE digitally remastered for the first time (now out of print).
This Sacramento act released a nice radio friendly self-titled debut via RCA, but the label dropped STEEL BREEZE soon after. "Heart On The Line" is their second effort, definitely AOR in style (1983) published by themselves in limited quantities, but never officially released until 1996.
With new vocalist Kevin Chalfant – if you ask me, one of greatest AOR vocalists of all time – who left the band 707 after recording the excellent Megaforce album, STEEL BREEZE opted for "Heart On The Line" a sound & style according to times; smooth AOR in the best American tradition akin PREVIEW, FRANKE & THE KNOCKOUTS, BALANCE, and even some LOVERBOY at places.
There's some classy melodic tunes here such as the stupendous "Try A Little Harder" (with some SHERIFF / Freddy Curci on it), "I'm Here", the rocking "Temptation Eyes", the title track, and "I Remember".
We find a lovely dose of Pomp as well on the terrific "Survivor" with some beautiful keyboards / synths runs in the vein of NEW ENGLAND.
The band had 2 keyboardists here, so expect a lot of ivory all over the record.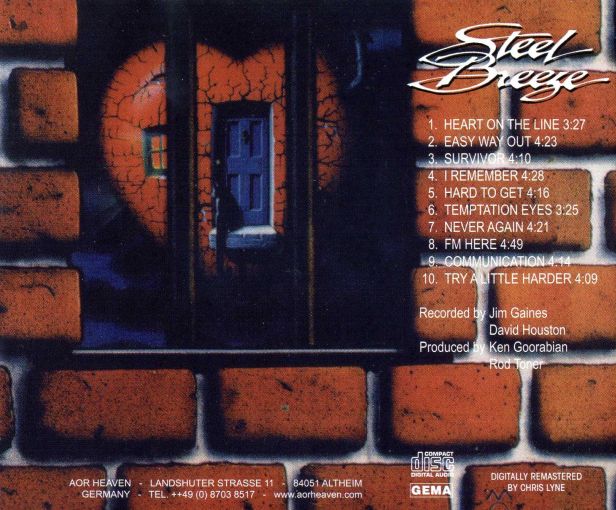 Chalfant would shine later in TWO FIRES, but especially with THE STORM (an AOR institution) but here showcases as well his unique vocal smoothness, elevating the quality all over "Heart On The Line".
Classy '80s AOR really well remastered by AOR Heaven Classix.
HIGHLY Recommended
01 – Heart On The Line
02 – Easy Way Out
03 – Survivor
04 – I Remember
05 – Hard To Get
06 – Temptation Eyes
07 – Never Again
08 – I'm Here
09 – Communication
10 – Try A Little Harder
Kevin Chalfant – vocals
Waylin Carpenter – guitar
Ken Goorabian – guitar
Rod Toner, Loren Hass – keyboards
Vinnie Pantaleoni – bass
Barry Lowenthal – drums
Try Here:
www.amazon.co.uk/Heart-Line-Steel-Breeze/dp/B005YOEF30