JANI LANE (Warrant) – Back Down To One [European reissue]
"Back Down To One" is the debut solo album by the late JANI LANE, former lead vocalist of platinum pop-metal heroes Warrant. Originally released by UK label Z Records in 2003, the disc had been out of print since many years with fans asking a reissue, appeared in 2015.
Lane was still part of Warrant when "Back Down To One" was first released, featuring a band he assembled composed of guitarist Matt Cleary, ex-Defcon bass player Mark Mathews and drummer Adam Mercer. The bulk of the material would be co-composed by his erstwhile Warrant colleague Keri Kelli (also Alice Cooper, Shameless, Stephen Pearcy et all).
Shortly after the album's release Lane was admitted to a rehab center for alcohol and drug-related exhaustion. Following rehab and nearly two years of arguments and disagreements with Warrant band members, Lane officially quit Warrant in January 2004, and after a few acting roles and appearances on compilations, attempted to restart his own version of Warrant.
Although credited as a solo release, Lane assembled a touring band for the presentation of "Back Down to One", a band subsequently titled "JANI LANE'S WARRANT" and included Lizzy Borden guitarist Dario Lorina, Chad MacDonald on bass and Troy Patrick Farrell on drums.
Unfortunately, his first batch of solo shows, in Michigan, would be stopped by legal action from his former band mates objecting to the use of the Warrant band logo on his posters. Lane then continued touring presenting "Back Down to One" without the Warrant name and logo.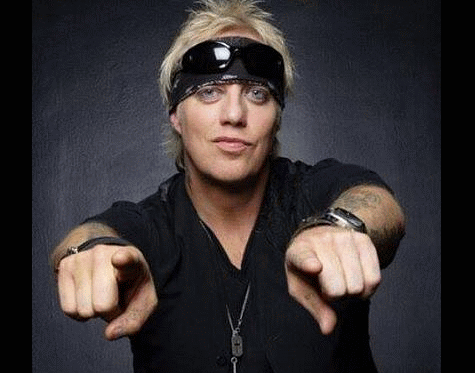 The cover art for "Back Down To One" features four bodies on the floor who possibly represented Lane's ex Warrant band mates and Jani Lane as the only one left standing, meaning that Warrant was back down to one and the album represented a 'new Warrant'.
All Warrant remaining members took offense to the cover art, which Lane later claimed after officially leaving Warrant that it was only a joke from his cover artist, a joke his former bandmates didn't like at all…
Musically speaking, "Back Down To One" is pretty far from the pop-metal sounds and oriented instead to a more power-pop / melodic rock sound. What the album does offer is a collection of catchy, well-written tunes that would fit nicely into any mainstream rock&pop station's play list.
I have to admit that while I only found the album 'interesting' at first I have come to actually like the bugger a whole lot!
And that is simply due to Jani's unmistakable talent for writing a fine tune.
Take for example the punchy 'Better Than You' with a hook big enough to catch a whale and a melody line that once it has settled in your skull refuses to leave for days on end.
But the former isn't the only track with hit potential. The highly melodic title track 'Back Down To One', the acoustically driven 'Hooked' and the tongue-in-cheek '6 Feet Under' are all tailor made for the American Adult Rock charts.
Then we have material akin his past days like the melodic 'How A Girl' or 'Don't Trust Me', sounding like a mix of Warrant with Cheap Trick.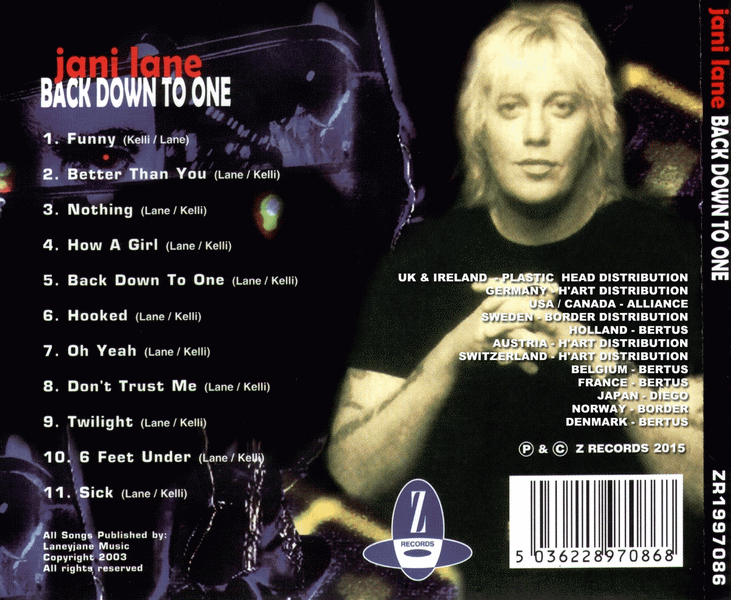 "Back Down To One" disoriented first time Warrant fans, expecting more hair-metal hooks. But Jani Lane was more mature a the time, and instead delivered an easy listening album with a bit of rock edge intertwined with pop hooks and agreeable melodies. Additionally, there's some really good lyrics.
There are songs of lost love, found love, and love that was never really there at all.
Lane writes as though he has a wealth of relationship drama from which to draw universally relatable lyrics. Perhaps this is what makes the album work. Each song paints a picture of a situation that nearly everyone has experienced or witnessed.
So don't be turned off when you give "Back Down To One" a spin the first time, and give it time to mature and grow on you cause it's very much like fine, vintage wine.
01 – Funny
02 – Better Than You
03 – Nothing
04 – How A Girl
05 – Back Down To One
06 – Hooked
07 – Oh Yeah
08 – Don't Trust Me
09 – Twilight
10 – 6 Feet Under
11 – Sick
Jani Lane: Lead & Backing Vocals
Matt Cleary: Guitars
Mark Matthews: Bass
Adam Mercer: Drums
Dave Brooks: Backing Vocals
BUY IT
www.amazon.co.uk/Back-Down-One-Jani-Lane/dp/B00WYE6RK2