DRIVE SHE SAID – Drive She Said [AOR Heaven Classix remastered +2]
Here you have another album countless times requested at 0dayrox: DRIVE, SHE SAID self-titled debut remastered by AOR Heaven Records plus 2 previously unreleased bonus tracks. As part of their ongoing 'AOR Heaven Classix', the label reissued the much sought after first two albums from DRIVE, SHE SAID remastered by expert Chris Lyne and with juicy liner notes by Dave Reynolds.
The demand for both CD were so huge that despite of being released not so long ago, "DRIVE SHE SAID – Drive, She Said AOR Heaven Classix" is already out of print, with used copies being sold for over € 100.
"Drive, She Said", the self-titled debut of the project consisting of Mark Mangold (ex Touch, legendary Pomp-AORsters) and multi-instrumentalist / vocalist Al Fritsch is undoubtedly considered a true classic from the AOR / Melodic Rock genre.
This album is what a I call 'mid-tempo AOR genius'.
All songs are marvelous, strong, beautifully crafted with superb arrangements, hooky choruses, lots of keyboards and crowned by the velvety voice of Fritsch, a man born to sing American AOR in its more classy definition.
Just listen the magical '80s choruses on such pearls as 'Hold On (Hands Around Your Heart)', 'I Close My Eyes' or the terrific 'As She Touches Me (Why Can't I Believe)', co-written by Canadian master Aldo Nova.
Opener 'If This Is Love' is pure AOR of the highest order, if you need more melodic rock muscle then check 'Hard Way Home' (co-written by Fiona). Additionally, songwriting legend Mark Mangold revisits his monster-song 'Don't You Know What Love Is' taken from the 1980 debut of Touch.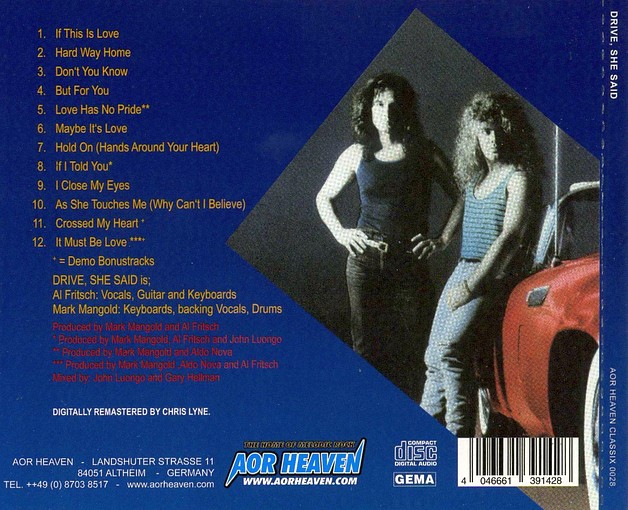 This "Drive, She Said AOR Heaven Classix" reissue sounds awesome with its fresh remastering treatment. But wait, there's more.
The two previously unreleased tracks are pure gold: 'Crossed My Heart' is, yes, a midtempo, and what a killer one plenty on pumping melodies and a tremendous chorus. The other, 'It Must Be Love' is more Pompy bringing to mind the first House Of Lords album. Another gem!
Yes folks; A MUST HAVE
01 – If This Is Love
02 – Hard Way Home
03 – Don't You Know
04 – But For You
05 – Love Has No Pride
06 – Maybe It's Love
07 – Hold On (Hands Around Your Heart)
08 – If I Told You
09 – I Close My Eyes
10 – As She Touches Me (Why Can't I Believe)
PREVIOUSLY UNRELEASED BONUS TRACKS:
11 – Crossed My Heart
12 – It Must Be Love
Al Fritsch: vocals, guitar, keyboards
Mark Mangold: keyboards, drums, backing vocals
Try Here:
www.amazon.de/Drive-She-Said/dp/B00UMLDE64