BOW WOW – Bow Wow [Rock Candy remastered]
Some time ago Rock Candy Records started a especially numbered 'JPCANDY' series focused on the remastered reissue of Japanese bands / albums. Among these, there's the first LP's from BOW WOW, a pioneering hard rock / metal Japan act. This self-titled debut "Bow Wow" it's some kind of an iconic album for Asian metal.
This very young 4-piece were obviously fascinated by the likes of Black Sabbath, Judas Priest, Led Zeppelin, etc, and you an tell this in their debut "Bow Wow".
Bow Wow's sound is a mix between hard rock and traditional heavy metal, while the take on the lyrics (written in English) is from a Japanese, young adult perspective.
Kyoji Yamamoto sings with Japanese-accented clean vocals (you can tell when he attempts singing in English), and now in perspective this is quite fun.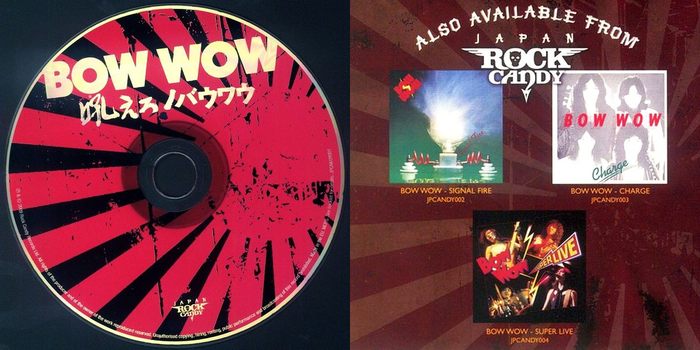 As for a guitarist, Kyoji is a beast, a skilled shredder in a time when the word wasn't invented yet. For an album this early in heavy metal's development, this obviously isn't going to be a heavy album.
Nonetheless, it's still heavy metal in the classic sense, with hard rock comprising much of the songs and tone. Thus, most of the riffs have a loving distortion that's wild yet aggressive ("Hearts On Fire" and "Theme Of Bow Wow") or tame and conventional ("Foxy Lady" and "Brown House").
But the highlight and indicator of Bow Wow's future is "James In My Casket". At nearly 10 minutes, this is the album's breaker. Without this song, the LP would merely be a hard rock number for social gatherings and parties, but this track is something Black Sabbath would be all over.
Yamamoto croons like Ozzy during the ghostly moments, while the guitars are rusted with doom and the atmosphere eclipses the optimism that fogs the album. The best solos are like possessed notes electrified by lightning, and very melodic stuff that's devoid of any sappiness.
This song alone lead Vow Wow to a major label contract.
Anyway, the overall approach in "Bow Wow" is feel-good R n' Roll, with an optimistic attitude and an atmosphere of relief. The solos range from trippy to precise, twisty to slick, and from murky to sinister. The songs don't sound a whole lot different, but they really are.
When this album recorded, heavy metal was still expanding with the grandfather bands in their early stages.
So at the start, Bow Wow was actually something for Japan to be proud about.
Highly Recommended
01 – Heart's On Fire
02 – Brown House
03 – Foxy Lady
04 – Volume On
05 – A Life In The Dark
06 – James In My Casket
07 – Withered Sun
08 – Theme Of Bow Wow
Kyoji Yamamoto — guitar, lead vocals, percussion
Mitsuhiro Saito — guitar, lead vocals
Kenji Sano — bass, vocals
Toshihiro Nimi — drums, percussion, vocals
BUY
www.cd-services.com/product_info.aspx?id=3151