FRANKE & THE KNOCKOUTS – The Complete Collection [Friday Music remaster 3CD-Set] + 0dayrox extras
As requested, here's the excellent reissue label Friday Music release "The Complete Collection", a deluxe 3-CD Set featuring all newly remastered tracks from FRANKE & THE KNOCKOUTS. The selections cover the band's three albums, 1981's "Franke & The Knockouts", "Below The Belt" (1982) and "Makin' The Point" (1984) for the first time packaged together on CD, housed in a 3-panel case.
All these albums / songs are considered gems from the first half of the '80s American Radio Rock, rich in Melodic Rock / AOR tunes as well.
Remastered impeccably by Joe Reagoso (Alice Cooper, Kansas) from the authorized Franke Previte / Knockout Music tapes, this stunning 3 CD collection also features 11 bonus, rare demo and unreleased recordings from Franke's personal archives, ranging from his early '70s hard rock band Bull Angus, into his late '70s solo work on Buddha Records, to his post-Knockouts '80s group Brave New World.
However, and due to physical space limitation, the last track of "Makin' The Point" (1984) is ommited, as well as the previously Escape Music remastered reissue of the 3 albums bonus tracks, including Franke early version of "(I've Had) The Time of My Life" he wrote for the movie Dirty Dancing, here performed with singer Rachele Cappelli. And there's more: the Friday Music previous 'Best Of' exclusive unreleased track.
We added all here as extra… now it's the real 'complete collection'.
In 1980 after writing music for other artists, recording his own solo work, as well as a member of the hard rock outfit Bull Angus, Franke Previte started a great new band to kick off the new decade with Franke & the Knockouts.
Immediately scoring a huge hit single with "Sweetheart" from their debut smash LP "Franke & the Knockouts", the band rode a very successful run for the rest of the year with several more hits and radio friendly songs including "You're My Girl" and "She's A Runner."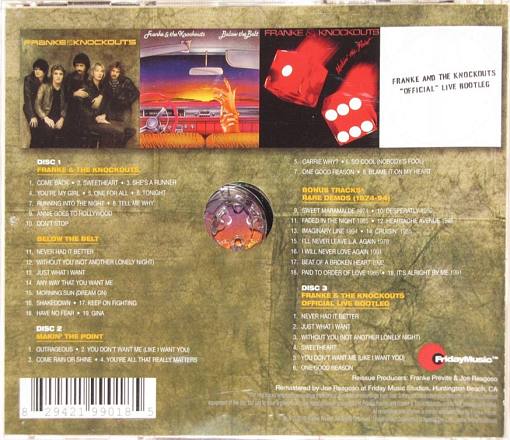 Their follow up smash LP "Below The Belt" featured more classic hit songs like "Just What I Want" the melodic rockin' "Never Had It Better" as well as the blue eyed soul power ballad "Without You (Not Another Lonely Night)."
Third and final album "Makin' The Point" was filled with more powerful melodic rock tracks like "You Don't Want Me (Like I Want You)", "Outrageous" and the AOR groove of "One Good Reason."
This is how classy '80s American AOR should sound-alike.
HIGHLY Recommended
You've seen it first here, at 0dayrox
Disc 1:
1981 – Franke & The Knockouts
01 – Comeback
02 – Sweetheart
03 – She's a Runner
04 – You're My Girl
05 – One for All
06 – Tonight
07 – Running into the Night
08 – Tell Me Why
09 – Annie Goes to Hollywood
10 – Don't Stop
1982 – Below The Belt
11 – Never Had It Better
12 – Without You (Not Another Lonely Night)
13 – Just What I Want
14 – Any Way That You Want Me
15 – Morning Sun (Dream On)
16 – Shakedown
17 – Keep on Fighting
18 – Have No Fear
19 – Gina
Disc 2:
1984 Makin' The Point
01 – Outrageous
02 – You Don't Want Me (Like I Want You)
03 – Come Rain or Shine
04 – You're All That Really Matters
05 – Carrie Why?
06 – So Cool (Nobody's Fool)
07 – One Good Reason
08 – Blame It on My Heart
Rare Tracks 1974 / 1994
09 – Sweet Marmalade 1974
10 – Desperately 1986
11 – Faded in the Night 1985
12 – Heartache Avenue 1985
13 – Imaginary Line 1994
14 – Crusin' 1985
15 – I'll Never Leave L.A. Again 1978
16 – I Will Never Love Again 1991
17 – Beat of a Broken Heart 1992
18 – Paid to the Order of Love 1985
19 – It's Alright by Me 1991
Disc 3
Official Live Bootleg
01 – Never Had It Better (Live Version)
02 – Just What I Want (Live Version)
03 – Without You (Not Another Lonely Night) (Live Version)
04 – Sweetheart (Live Version)
05 – You Don't Want Me (Live Version)
06 – One Good Reason (Live Version)
0dayrox Extras:
'Franke & Knockouts S/T' Escape Music remaster
11 – (I've Had) The Time Of My Life [Orig version w/ Rachele Cappelli] [Bonus]
'Below The Belt' Escape Music remaster
10 – Every Little Bit Helps [Bonus Track]
'Makin' The Point' Escape Music remaster
9 – Can't Get Enough Of You
10 – Hungry Eyes [Original Franke version] [Bonus Track]
The Best Of: Sweetheart Anniversary Edition / Friday Music single CD
19 – Beat Of A Broken Heart [Previously Unreleased Bonus Track]
Franke Previte – lead vocals
Billy Elworthy – guitars
Bobby Messano – guitars, backing vocals
Blake Levinsohn – keyboards
Tommy Ayers – keyboards, backing vocals
Leigh Foxx – bass
Claude LeHenaff – drums
Tico Torres (Bon Jovi) – drums
Out of print
amazon.com/Complete-Collection-Original-Recordings-Remastered/dp/B07HSLN2NZ