ALBERTO RIGONI – Three Wise Monkeys (2012)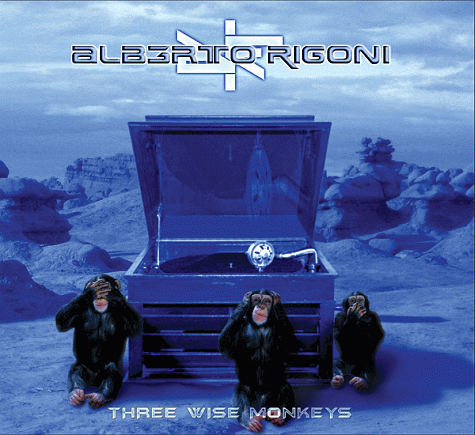 *
Exceptional bass player and composer ALBERTO RIGONI surprised us last year with his very good CD 'Rebirth' (already presented in this blog), and now returns in the form of "Three Wise Monkeys", a brand new solo effort to be released on October 1st.
Member of TwinSpirits, Lady, The Bass and sessionist for Don Airey to name one, Alberto is rapidly gaining audience in the international progressive rock music scene for inventive genre-crossing compositions that paint alluring soundscapes comprehensible to wide varieties of listeners, yet artistically sophisticate and individualistic enough to sustain one's attention once gained.
For "Three Wise Monkeys" Rigoni has formulated a more commercial approach, going from melodic and progressive hard rockers to elaborated fusion-prog numbers, interspersing 5 instrumentals with 5 vocal tracks.
The prolific bassist has gathered an impressive roster of special guests to assist, including vocalists Göran Edman (Yngwie Malmsteen) and Jonas Erixon (Alicate), guitarists Tommy Ermolli (Khymera) and Simone Mularoni (DGM, Empyrios), keyboardists Mistheria (Bruce Dickinson, Rob Rock) and Kevin Moore (Dream Theater, OSI, Chroma Key), and drummers Mark Cross (Outloud, Helloween) and Paco Barillà (Daniele Liverani) among many others.
This line-up alone shows the respect Rigoni's name carries in the music world.
"Three Wise Monkeys" is partly conceptual album based on the Japanese legend which embodies the proverbial principle of 'see no evil, hear no evil, speak no evil'. The three monkeys are named Mizaru (who sees no evil), Kikazaru (who hears no evil), and Iwazaru (who speaks no evil) – and each gets his own instrumental on the album.
The source of this legend is a 17th century carving over a door of the Toshogu Shrine in Nikko, Japan (the shrine also gets its own track).
Of course, Alberto's bass is the keystone to the music, tying each track together. Despite this fact he manages to keep the bass from hogging the spotlight, allowing his many guests to step to the front as needed.
Each performer is allowed to shine, and the music moves from genre to genre without abrupt or jarring transitions making it a 'true album' and not simply a collection of songs.
Soft temple bells provide the meat of the opening track "Toshogu Shrine," leading nicely into the varied tempo changes, driving rhythms, and intense Kevin Moore supplied keyboards of "Mizaru".
"Three Wise Monkeys" is an up-tempo rocker featuring the warm and unique tone of vocalist Göran Edman and some fine drumming by Paolo Valli over Rigoni's slick bass.
The soft and moving "Kikazaru" is Rigoni's bass expo and he proves just how much emotion and feeling a well-played bass guitar can produce.
Jonas Erixon contributes fine vocals and Tommy Ermolli plays some amazing guitar breaks on the intense and heavy prog rocker "Blackened Tornado".
Rigoni makes his bass sing on the instrumental "Iwazaru," laying out some interesting patters and getting almost bell-like tones from the instrument. He is capably backed by the ethereal keyboards of Federico Solazzo and complex patterns of drummer Sebastian Persini.
A bluesy and gritty tone drives "Free Falling," another vocal track that features the fine guitars (and very metal solo) of Simone Mularoni. "Between Space and Time" is a soft, almost ambient instrumental, driven by the gentle and distinctive keyboards of Mistheria. "Coming Home" is a very good mid tempo rock ballad, and it allows vocalist Erixon to take the spotlight.
The album wraps with the slow and emotional "Believe." Erixon's vocals again shine, but the track is fully anchored by Rigoni's bass and Barilla's drums.
"Three Wise Monkeys" is a very good album in its own. It isn't just an exposition of fine bass work; rather it is a solid musical release.
Nicely balanced between interesting instrumentals and vocal rockers, the music manages to dazzle the listener without making it a 'wizard player' album.
Rigoni's eclectic mix of influences and styles proves him to be a complete musician who fully explores the limits of his instrument of choice. He is an outstanding performer whether delivering simple rhythms or pounding out complex riffs.
Alberto never neglects the melodic elements of songwriting and plays with his heart, not just his fingers.
"Three Wise Monkeys" should be seen as a solid progressive / rocking 'fusion' and not a bass player ego trip. In short; a very good Rock album.
Very Recommended
You've seen it first here, at 0dayrockz
01 – Toshogu Shrine
02 – Mizaru (feat. Kevin Moore)
03 – Three Wise Monkeys (feat. Goran Edman)
04 – Kikazaru
05 – Blackened Tornado
06 – Iwazaru
07 – Free Falling (feat. Mark Cross)
08 – Between Space And Time
09 – Coming Home
10 – Believe
Alberto Rigoni – 4, 5 and 6 string bass
Göran Edman – vocals on track 3
Jonas Erixon (Alicate) – vocals on tracks 5, 7, 9 & 10
Kevin Moore (ex Dream Theater, OSI) – keyboards on track 2
Federico Solazzo (Alexia) – keyboards on tracks 5, 6 & 9
Mistheria (Bruce Dickinson, Rob Rock) – keyboards on tracks 8 & 10
Alessandro Bertoni (Aphelion) – keyboards on track 3
Tommy Ermolli (Khymera) – guitars on tracks 2, 3, 5, 9 & 10
Simone Mularoni (DGM, Empyrios) – guitars on track 7
Mark Cross (Outloud) – drums on track 7
Paolo Valli – drums on tracks 2 & 9
Sebastian Persini – drums on tracks 5 & 6
Paco Barilla (Daniele Liverani) – drums on track 3 & 10
BUY IT !
powerprogshop.de/power_prog/alberto_rigoni_three_wise_monkeys.html