KANSAS – Freaks Of Nature [The Store For Music reissue 2015]
*
Twenty years have passed… since legend KANSAS presented their 12th studio album "Freaks Of Nature". It's great to see this very good record getting another airing celebrating its 20th Anniversary, re-released by specialist reissue label The Store For Music.
The years preceding the original release of this album were tough for the '80s generation of rock bands. Stadiums had emptied and labels just weren't interested.
For Kansas and others, the world of Rock had shifted on its axis, throwing everything off balance. Enter minor label Intersound who released the moderately successful Live At The Whiskey (1992) then – surprise, surprise – funded a new recording… '95s "Freaks Of Nature".
The core of the band – Steve Walsh, Billy Greer, Rich Williams and Phil Ehart – remained. David Ragsdale and Greg Roberts had come in on violin and keyboards, respectively. Together, the band had spent the previous five years being ground down by relentless 'survival' touring.
It took time to get those creative juices flowing again in the studio. Skill, technique and musicianship are kept honed by live performance, but good songwriting and inspired studio performance can become dulled or even rusted up through lack of use.
That "Freaks Of Nature" is as good as it is speaks volumes for the sheer tenacity of the band and their determination to make this second chance count.
The first track, 'I Can Fly', opens with some interesting intertwining of guitar, key, and violin in almost a counterpoint. Walsh's vocals soar, and there are appropriately wonderful twists and turns throughout. The opener is a prog rocker of the first degree, almost venturing into prog metal at several points. An extremely satisfying opener.
'Desperate Times' is another high-energy rocker with fantastic musicianship. Lots of interesting passages, including a drum solo with intelligence, and Ragsdale sounds fantastic.
And there's 'Hope Once Again', on which Walsh duets with a mysterious female. There is something reassuring and strangely affecting about these two voices, one perhaps past his peak, but weathered and mature, singing about love and desire and the possibility of one last chance. Of all the tracks on this 'comeback' album (as that is surely what it was meant to be), you can read between the lines on this one, a poignant evocation of what once was and will probably never be the same again.
Next is 'Hope Once Again', a ballad featuring keyboard and violin in prominent roles delivering a wonderful melody line, then 'Black Fathom 4' has a sinister feel and a sinister lyric, as well. This is a rarely seen side of Kansas, but it works to great effect here. It is a little more straightforward than some of the other pieces on this album, but it does not fail to deliver.
Further on, 'Under The Knife' gets close to the anthemic, melodic complexity of their best work. Walsh's melody progresses like a classical aria, and everyone else's contribution adds layer upon layer, fitting together like pieces in a jigsaw puzzle, suddenly revealing the lyrical payoff.
Title track 'Freaks of Nature' has a high-energy intro, which matches the choruses of the song. These passages feature syncopated runs that sound almost like something that Dream Theater might write (same with the extended instrumental section of the song). Phil Ehart's drums is fantastic here.
The next track is a songwriting contribution from Kerry Livgren, who although not a current member of the band was still in the family. 'Cold Grey Morning' is another cool mid-tempo track, with interesting lyrics, nice vocal delivery from Walsh, and Ragsdale shining once again.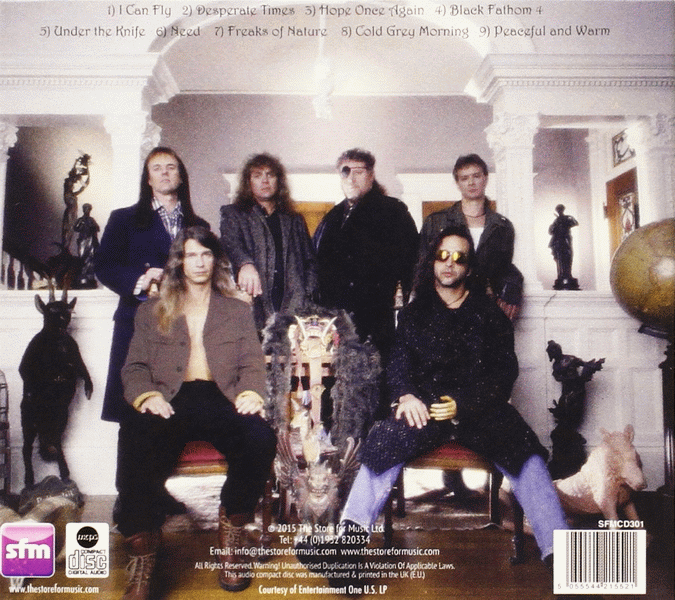 The album closes out with 'Peaceful and Warm', which starts out as an acoustic ballad accented by violin, somewhat reminiscent (structurally, anyway) of Dust in the Wind. It is a wonderfully intimate performance, with evocative lyrics, and does a good job of cleansing the pallet. Until the second half of the song, when it morphs into something else altogether – an uplifting, majestic instrumental piece, which once more shows the fantastic musicianship of this incredible band.
I must say that I absolutely love "Freaks Of Nature". Coming in at a concise 45:14 length, it is a return to the form that Kansas showed in earlier albums, albeit with a little heavier edge than most of their previous work.
Elsewhere, the ensemble playing is a treat. Years of hard graft on the road have made them as tight as a drum and everyone plays their heart out.
Released in the middle of grunge's dark age, "Freaks Of Nature" was pretty ignored, being the first Kansas release not to appear on any Billboard chart. Well, that does not mean poor quality.
If you never heard it back in the day, go and get this excellent reissue now. In my opinion, this is one of the best Kansas albums ever.
I cannot recommend this one highly enough.
01 – I Can Fly
02 – Desperate Times
03 – Hope Once Again
04 – Black Fathom 4
05 – Under The Knife
06 – Need
07 – Freaks Of Nature
08 – Cold Grey Morning
09 – Peaceful And Warm
Billy Greer – acoustic guitar, bass guitar, vocals
Steve Walsh – keyboards, vocals, narration
Phil Ehart – drums
Rich Williams – guitar
David Ragsdale – guitar, violin, vocals
Greg Robert – keyboards, vocals
Renee Castle – backing vocals (track 3)
BUY IT !
www.musicbuymail.eu/index.php?i=42223
.