ELECTRIC GUITARS – Rock'n'Roll Radio (2017)
We already praised here on this blog the last ELECTRIC GUITARS album, and now 2017 the Danish combo are back with another guitar-fest titled "Rock'n'Roll Radio". The Copenhagen-based quartet is fronted by talented guitarist & vocalist Søren Andersen (Mike Tramp lead guitar man, Glenn Hughes band, and solo artist) and on this new effort they rock even more with a clear statement; 'I want classic rock'n'roll on my radio'.
With this new album, Electric Guitars offer a more balanced approach. The record is rife with catchy vocal hooks, killer guitar lines, and solid songwriting. It seems Electric Guitars are expanding on a premise first set out with their previous, more elaborated album, and carrying along those same lines with this release.
They are not trying to be something they're not, Electric Guitars just seem to be good at writing good, rockin' songs.
"Rock 'N' Roll Radio" is the lead off track. It starts with a very AC/DC sounding intro, and even continues with an Angus Young riff, but backs it up with a secondary guitar bed and bass line that compliments the lead line. The chorus draws me in… "I need more rock and roll on the radio…".
The next track "False Flag Operation" has a bit of Ratt to it… think their song Lack Of Communication with the driving guitars which never let up. Again, the chorus is memorable with both the guitar and vocal lines. Something I'm liking a lot.
"Headless Chicken" — now we're into something different. Like Jackyl without the redneck pretense, guests Jacob & Jezper Binzer from D-A-D offer a sleazier, dirtier sound, and have developed a catchy rock song.
"Swagman" adds some darkness, with a gothic intro featuring wolf howling and Black Sabbath like melodic plodding. No matter, the song evolve into a bit of a banger. Every band needs a swag man to hawk t-shirts, CDs and guitar picks… this is an homage to those guys.
"Splinter" is another ear worm. Again, the opening riff forces me to recall AC/DC circa Stiff Upper Lip, but don't be discouraged. The song turns into a sing-along soon enough, and could be considered a very good driving tune.
There's some '80s style Deep Purple on "Bambi On Ice", same with "Homewrecking Woman" but add here a pinch of Uriah Heep, with a bit of blues during the verses.
"Stay Under The Radar" is back to the full on guitars and vocals. This tune gets me going, and will be quickly added to my 2017 playlist.
Rounding out the ten track album is "Back To You", an appropriate finish with a straight riff driving the song with some Dio on it, but not too heavy.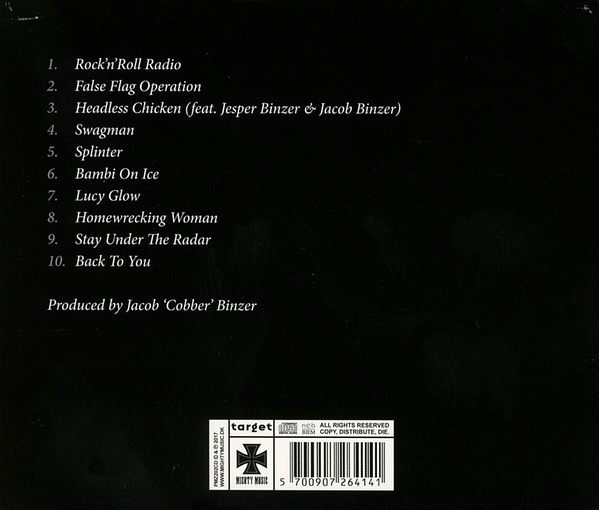 With "Rock'n'Roll Radio" Electric Guitars have grown a lot since their previous effort. The talent is still great, but the songwriting quality has seriously improved.
There are still a number of potentially "radio friendly" tracks, and a few darker selections, but it is far more balanced and the band has discovered their own sound. Note the first two Youtube releases – "Swagman" and "Headless Chicken" – are part of the darker, less accessible tracks of the album… not particularly indicative of the record as a whole, which is pretty darn catchy n' rocking.
Strongly Recommended
01 – Rock 'n' Roll Radio
02 – False Flag Operation
03 – Headless Chicken
04 – Swagman
05 – Splinter
06 – Bambi on Ice
07 – Lucy Glow
08 – Homewrecking Woman
09 – Stay Under the Radar
10 – Back to You
Søren Andersen – guitar, vocals
Mika Vandborg – guitar, vocals
Peter Kjøbsted – bass, backing vocals
Morten Hellborn – drums, backing vocals
Jesper & Jacob Binzer (D-A-D) – guest guitars
BUY IT !
www.amazon.co.uk/Rock-Roll-Radio-Electric-Guitars/dp/B01MQXW458
.