MILLENNIUM – Destiny (2017)
Straight from Japan comes this album titled "Destiny" but the band is from Bulgaria: MILLENNIUM. Recorded in Sofia, Bulgaria, but released by a specialized Japanese label, "Destiny" is real surprise, combining the classic sounds & melodies from the likes of Toto, Asia, Kansas, etc.
Millennium is some kind of Rock cult legend in their home country, founded in 1987 by songwriter & musician Todor Grozdanov (artistic name Tony Grapes). The group was active for ten years releasing 4 albums, the last reaching more occidental audiences. However, in 1997 they disbanded looking for different musical soundscapes.
But some years ago Tony Grapes put the band together again with some new musicians into the line-up, and the result is this new Millennium album, their 5th, titled "Destiny".
First of all I must tell you that Millennium is a band with a religious / Christian background. But if this type of message / lyrics bother you, don't worry, you won't get a single line. Lyrics are in Bulgarian language.
So why I am posting this album here? The answer is simple; forget the lyrics and take the vocals as another instrument.
And I assure you there's a lot instrumentation and melodies to enjoy here.
Millennium – and that's saying mostly Tony Grapes, as the man compose, sing, play various instruments, it's at charge of production, mix & mastering and even design the artwork – is musically strongly influenced by the '80s lush, polished productions.
Take the more progressive side of Toto, plus the more AOR side of Asia, and you have Millennium's sound. Note I didn't said backwards; Toto is often mentioned as more AOR than Progressive, same with Asia; mostly Prog, then AOR.
In short; Millennium has the elegance and 'touch' of the more elaborated side of Toto, and the light proggy AOR melodies of '80s Asia.
Seriously, you'll be surprised by Millennium's excellent musicianship, arrangements and production.
The band works with a 'song format', and while there's a couple of tracks here over the six minute mark, don't be fooled; "Destiny" is typical 80s-like album, at places very catchy, with a melodic focus and a glossy sound.
All tracks are captivating, from the distinguished AOR of the opening title track, the melodic rock cheerfulness of 'OIEO' or the layered Asia-like keyboards / vocal harmonies in 'Rain', to the pure Toto-ism circa 1984 on 'Go Forward'.
The band add some modern elements as well, as hear in the middle vocal part of 'Covered With Love', and the heavier 'Only You'. There's a couple of ballads as well, yet not in the syrupy style but more in the atmospheric way, via big, clean guitars.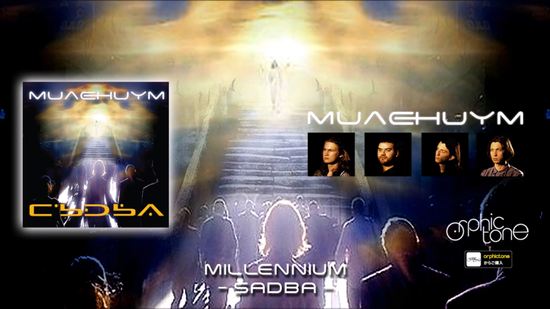 While Millennium is a four-piece and there's various guests in "Destiny" (including real strings), the mastermind here is Mr. Tony Grapes, a very talented musician in all departments.
Don't let the language barrier puts you out of checking this band. This is high class music recommended to all kind of listeners, but as noted above, if you like your AOR melodies elaborated with a light progressive orientation akin Toto, Asia, Kansas, etc. you need to check "Destiny" right now.
You've seen it first here, at 0dayrox
01 – Destiny
02 – OIEO
03 – Rain
04 – Holy
05 – Only You
06 – Go Forward
07 – When The Sword Meets The Cross
08 – Covered With Love
09 – New Heart
10 – You're The Only One
Tony Grapes – Vocals, Guitars, Bass, Keyboards
Joey Petrov – Keyboards, Vocals on 5
Stratsimir Dimitrov – Drums
Blazhko Matanov – Bass on 1, 2, 3 6
guest musicians:
Ivo Ivanchev – Drums 5, 8, 9
Wreaths Velev – Guitars on 4, 5, 8, 10
Michelle Nahabedyan – Saxophone on 1
Herman Meyntes – vocals on 9
Danny Grapes, Todd Radilov, Heinrich Junks – Backing Vocals
Lia Petrova, Cyril Matanov, Lyubomir Nikov – Strings
BUY IT !
orphictone.cart.fc2.com/ca3/896/p-r-s/
www.anstemusic.com/product/4891
.