RINGO STARR – Give More Love (2017)
Another all-Starr affair, and a fine one. That's what you'll hear in RINGO STARR's new album "Give More Love" to be released tomorrow featuring stellar performances by the likes of Steve Lukather (Toto), Jeff Lynne (ELO), Peter Frampton, Joe Walsh (Eagles) and many more, including Paul McCartney who straps on the bass for two tracks.
Ringo – he was in The Beatles, y'know – intended this to be an Americana album, but he changed his mind and got into full-blown Rock mode for the most part.
And the results are pretty good.
He kicks off with a statement of intent, 'We're On The Road Again', and sounds energised having Paul McCartney by his side, while the unique Steve Lukather turns in a performance that would certainly wake up the old folks' home.
More famous names abound: Peter Frampton and his talkbox, Eurythmics' Dave Stewart, Richard Page (Mr. Mister), Eagles' Timothy B. Schmit – that level of dude.
The soft rock approach of 'Speed of Sound' with its foot-stomping percussion is an easy listening ride through the sun-drenched guitar melodies.
There is a funky vibe playing throughout King Of The Kingdom with its tributes to Bob Marley, while the hushed hushed acoustic approach works nicely for 'So Wrong For So Long' with its pained and heartbroken chorus.
Listed as bonus, 'Back Off Boogaloo' and 'Photograph' get reasonable makeovers without troubling the originals, but there are surprises; 'You Can't Fight Lightning' is played by Alberta Cross and they provide some of the album's best moments.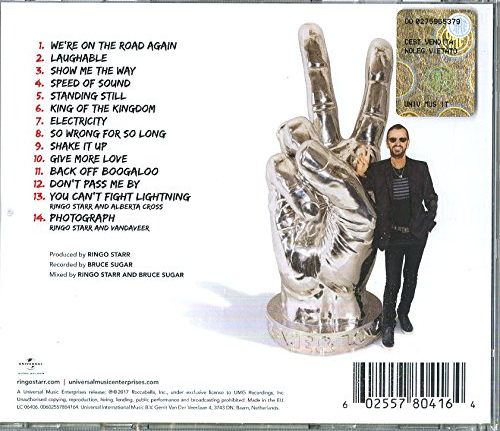 What stands out most about "Give More Love" is that Ringo's vocals have matured stylistically from his trademark amiably blokeish tones, and are stronger and more expressive now.
And some songs are quite strong classic rockers, easy listening and of course, very well produced.
01 We're on the Road Again
02 Laughable
03 Show Me the Way
04 Speed of Sound
05 Standing Still
06 King of the Kingdom
07 Electricity
08 So Wrong for So Long
09 Shake It Up
10 Give More Love
11 Back Off Boogaloo [bonus track]
12 Don't Pass Me By [bonus track]
13 You Can't Fight Lightning [bonus track]
14 Photograph [bonus track]
Ringo Starr – vocals, drums, guitar, piano
Steve Lukather – guitar, keyboards, backing vocals
Joe Walsh – guitar, backing vocals
Peter Frampton – guitar, backing vocals
Greg Leisz – guitar (5, 8)
Steve Dudas – guitar (5, 6, 9, 10)
Dave Stewart – guitar (6, 8)
Gary Nicholson – guitar (9)
Jeff Lynne – guitar (11)
Petter Ericson Stakee – guitar, backing vocals, percussion
Jim Cox, Benmont Tench – keyboards
Edgar Winter – piano (9), saxophone (6), backing vocals (1)
Glen Ballard – keyboards (7), backing vocals (7)
Paul McCartney – bass (1, 3), backing vocals (1)
Nathan East – bass (4, 5, 6, 8, 11)
Don Was – bass (7, 9)
Matt Bissonette – bass (10)
Greg Bissonette – percussion (10)
Timothy B. Schmit – backing vocals (2, 3, 10)
Richard Page – backing vocals (2, 3, 10)
& more
Pre Order:
www.amazon.co.uk/Give-More-Love-Ringo-Starr/dp/B073RZHHSD
.