EXPORT – Contraband [Rock Candy remaster]
Remastered & Reloaded by Rock Candy Records, "Contraband" was the first major label album by British AORsters EXPORT (their second, remastered as well, it's HERE).
Export's mastermind / guitarist is no-other than talented Steve Morris, who later will enjoy success as part of terrific acts HEARTLAND, IAN GILLIAN, SHADOWMAN, NEWMAN, GRAND ILLUSION, and many more.
After a self-titled album on a small label in the early '80s, Export defied all expectations by signing to the hugely influential US based Epic Records, whilst remaining virtually unknown in not only their home town but also throughout the entire UK. Not that the deal was undeserved; far from it.
Their brand of AOR yet riff-driven melodic rock found the band being lauded alongside similar, and huge selling, practitioners of the art such as Foreigner, Journey and Survivor.
Around 1983 Export had made such a strong set of demos (with none other than future Yes guitarist Trevor Rabin producing) that their first major label album would be these, the very demos that got them signed, albeit tidied up a little and overdubbed by producer Bob Feineigle and released as "Contraband" in 1984.
At the time Export were a classy hard rock band who successfully merged their gritty British sound with a bit of American gloss.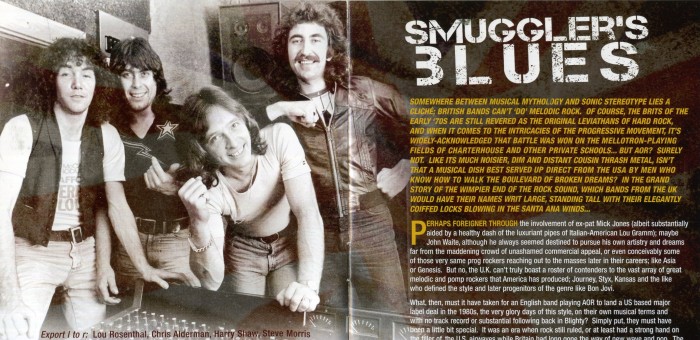 They penned a handful of really memorable rockers around simple riffs and a solid backbeat, with the tuneful and assured vocals of Harry Shaw raising them above most of their peers.
At their simplest, like opener 'Rockin' For You' and 'You Gotta Rock' (probably their best known songs of this era) they should have had the immediacy to haul in the casual radio listener, but delve a little deeper into the album and you find the band were already starting to branch out into other areas.
The excellent 'Destiny', for example, has all the same energy and drive but also a little something extra in the songwriting, whilst 'Take My Hand' was a remarkable ballad with a sparse arrangement, great harmonies and a spellbinding guitar solo.
'Stay' is a solid 12-bar blues melodic workout and 'On The Run' was another good rocker built on prominent bass lines, but a big US influence was starting to find it's way into their music with both the light and shade of 'Spotlight' and the gritty 'Rough Diamond', both hinting at Y&T.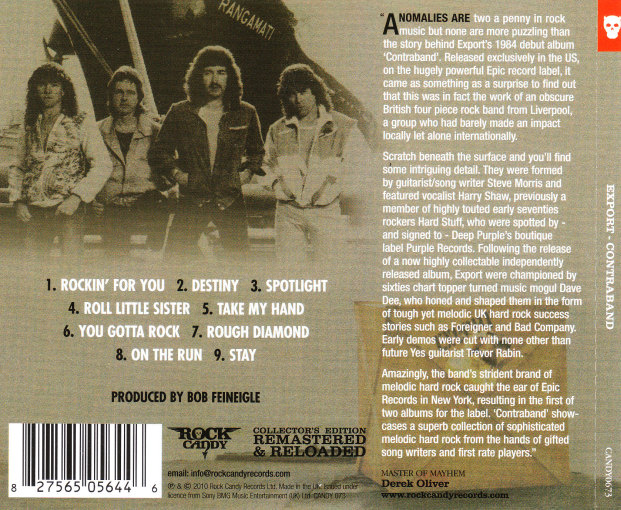 "Contraband" was a solid major label debut for Export, that sadly went largely unnoticed. This is a great collection of strong (melodic) hard rock from the hands of gifted songwriters and first rate players.
It's that kind of first half of the '80s sounding albums (specifically 1983-1984) that you never get tired listening to – think early Foreigner, Y&T, Survivor – even more valuable with this pristine Rock Candy remaster.
HIGHLY Recommended
You've seen it first here, at 0dayrox
01 – Rockin' For You
02 – Destiny
03 – Spotlight
04 – Roll Little Sister
05 – Take My Hand
06 – You Gotta Rock
07 – Rough Diamond
08 – On The Run
09 – Stay
Harry Shaw – Lead & Backing Vocals
Steve Morris – Guitars, Backing Vocals
Chris Alderman – Bass, Backing Vocals
Lou Rosenthal – Drums, Percussion, Backing Vocals
BUY IT !
www.amazon.co.uk/Contraband-Export/dp/B003EH3IUK/
.