8-IS – Frame Of Us (CD version)
Appeared some time ago, 8-IS pleased the AOR community with their debut "Frame Of Us" chock-full of classy melodies and hooks. Requested by one of you, this CD version sounds much more natural than the digital release.
Listening to "Frame Of Us" it is obvious the guys of 8-IS (read Eighties) have scratched to death the entire LP catalog of FOREIGNER, JOURNEY and such, but they also remind me a lot of the early '90s British AOR scene (bands like PASSION STREET, WALK THE WIRE, etc.)
The band is blessed with a very good lead singer in Marcello Catalano who can switch between higher and lower notes easily, and together with clean guitar arrangements and sweet keyboards / synths, they deliver a wonderful collection of tunes.
Opener "Everlasting Love" is a great uptempo AOR rocker that sounds like a perfect cross between the very first ALIEN and DAYTONA. This song grabs you instantly and gets your attention with its awesome chorus.
Following track "I'll Be There" is a beautiful picture-perfect AOR ballad that comes like a mix between ROXUS and '80s LOVERBOY. This is one of the finest pure AOR ballads I have heard in a very long time.
So we had an uptempo rocker and a ballad, well then it's time for a midtempo magic, and this is "Lady", a great AOR gem that recalling German band STATEMENT or underrated Spanish combo GOLDEN FARM.
Track number 4 is called "The Final Courtain", also a semi-slow track, a little more epic, yet with lovely melodies in the catchy haunting chorus, another terrific tune, with a lot of similarities to ATLANTIC's one and only classic album from the early '90s.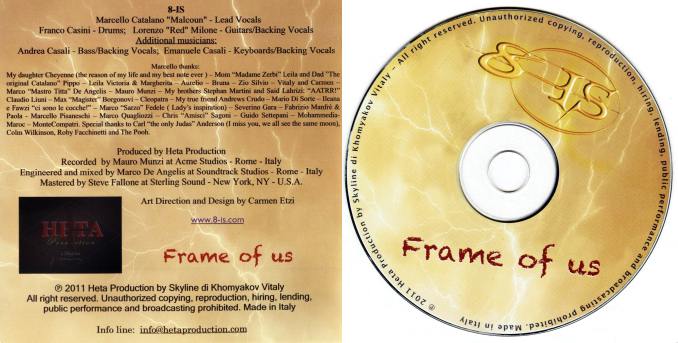 Then the band adds some '80s Westcoast-AOR in the slightly poppier "Fallin' In Your Eyes" which once again is plenty of superb melodies, with a bit of DAKOTA classic 'Runaway' and some TOTO on it.
Late '80s STRANGEWAYS comes alive in the semi-AOR ballad "On And On", while "If You Turn Around" has a warm melody that takes some time to built up, but towards the end we're getting close to AOR heaven, this song has JOURNEY / STREET TALK similarities.
"In My Life" starts in the THE STORM mold with a lovely catchy hook/pre-chorus, but the na-na-na part of the chorus spoils it a bit. Fortunately the last two tracks are stronger.
The calmer, slightly bluesy / soulful "Back To You" that has a touch of mid '90s JOURNEY or STREET TALK's west coast side, while closing track, the piano ballad "Tomorrow Comes Tonite" (again very JOURNEYish or i-TEN) shows the band's lead vocalist skills at his very best, which is quite emotional and basically being a perfect AOR singer of whom hopefully we will hear much more in the future.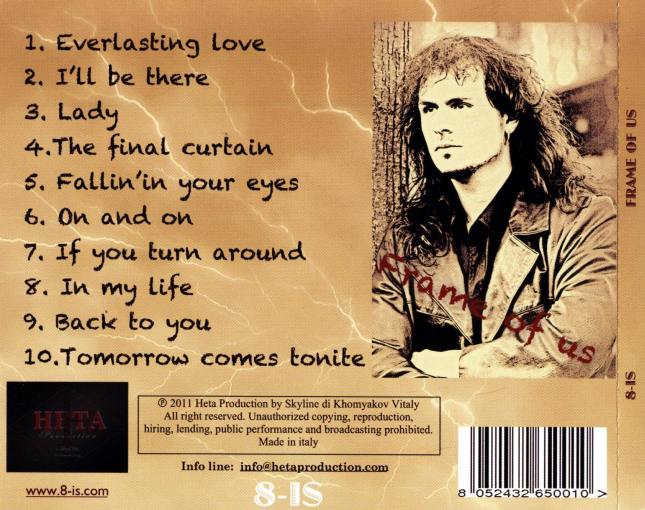 "Frame Of Us" is a truly impressive album of pure AOR music composed and created with the '80s in mind. It's very 'organic' in terms of production, sounding like a warm LP vinyl, mastered at the famous Sterling Sound in New York.
HIGHLY Recommended
01 – Everlasting Love
02 – I'll Be There
03 – Lady
04 – The Final Courtain
05 – Fallin' In Your Eyes
06 – On And On
07 – If You Turn Around
08 – In My Life
09 – Back To You
10 – Tomorrow Comes Tonite
Marcello Catalano – Vocals
Emanuele Casali – Keyboards, Backing Vocals
Lorenzo Milone – Guitars, Backing Vocals
Andrea Casali – Bass, Backing Vocals
Franco Casini – Drums
BUY IT !
www.8-is.com/buy-cd.html
.