B4U (Be For You) – The Things I Never Told You (2018)
Inspired by melodic hard rock greats such as Europe, Gotthard, Hardline, Harem Scarem, Eclipse and HEAT, Spanish combo B4U (Be For You) has just released their second album titled "The Things I Never Told You", mixed and mastered by no other than Frontiers Music guru Alessandro Del Vecchio (Lionville, Hardline, Revolution Saints, Sunstorm).
B4U began its journey in 2006 with a clear goal: make the music they love, no matter the trends. And that's meaning classic melodic hard rock. The group started playing versions of their favorite songs, and in between composing their own. That ended in a debut, self-managed release.
But this new "The Things I Never Told You" has a real international potential thanks to Del Vecchio's polished treatment.
The atmopsheric, synth-based instrumental intro "Words Unspoken" is the prelude to "One with the World", a catchy melodic rocker in the best current international fashion, with certain reminiscences of Eclipse although sweetened by the presence of AORish keyboards.
"The Lesson" is harder, with a sharp guitar work and some kind of epic verses, something similar to follower "Hope Remains (Day by Day)", driven by a pumping bass line, lots of groove, and the smooth vocals of Angel Diez.
"Those Sundays Are Gone" slow down things a little, a midtempo AOR / melodic hard song where the intensity rise all its way to the chorus for a really good effect.
As you suspect by its title, "Shout" is all about rock n' roll, a contagious melodic hard rocker with a bit of Mr. Big on it, while "Satellite A-9" is a powerful instrumental with a great guitar work by David Aira very interesting keys.
"Light" mix melodic vocals with strong arrangements, then "Nothing Lasts Forever" is pure 21st Century hard rock with a modern sound and an overall party feeling.
The album end comes with the title track, "The Things I Never Told You", the longest and more elaborated track here. It begins pompous with lots of keys / guitar interplay, then the vocal work provide some epicness creating an atmosphere which I found similar to late '80s Queensryche.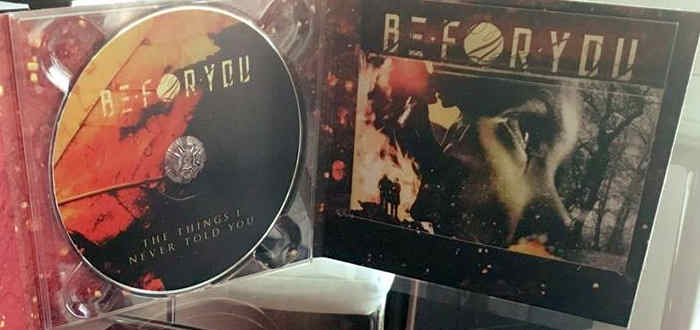 With very strong songwriting, really fine performances and a crisp production, B4U's second album "The Things I Never Told You" has nothing to envy to any band from the, let's say, Frontiers Music roster.
Varied material ranging from classic melodic hard rock to AORish melodies, and a pinch of elaborated arrangements on a couple of tracks.
This band will pleasantly surprise you.
Strongly Recommended
01 – Words Unspoken
02 – One with the World
03 – The Lesson
04 – Hope Remains (Day by Day)
05 – Those Sundays Are Gone
06 – Shout
07 – Satellite A-9
08 – Light
09 – Nothing Lasts Forever
10 – The Things I Never Told You
Jesus Marcos Chuspy – Drums, Backing Vocals
Eduardo Vazquez – Bass
Alfredo Arold – Guitar, Keyboards, Backing Vocals
David Aira – Guitar, Backing Vocals
Angel A. Diez – Vocals
BUY IT !
facebook.com/B4Urockband
.