JUDE COLE – Jude Cole [Wounded Bird Records remaster]
Requested here some time ago, this remastered edition of JUDE COLE self-titled debut 1987's "Jude Cole" has become pretty hard to find with new copies being sold for $100 or more.
Jude Cole joined the British power pop band The Records in 1980, recording one album. After few years as session musician and composing for others, Cole re-emerged with his own solo record, 1987's "Jude Cole".
Mix the rocking rhythms a la Bryan Adams with polished poppy AOR, add super tunes refined with slick '80s L.A. production, and you can pretty much sum up how "Jude Cole" musically sounds.
On the vocal side, at places he feels like the great Van Stephenson, on others, bring to mind Canadian Stan Meissner.
This meant that "Jude Cole" fit right in with everything else on the radio in 1987 — big gated snares, smooth guitars, and a wall of pitch-perfect vocals, all meticulously arranged beneath a thick layer of studio shellac.
The album featured a veritable Who's Who of in-demand LA session players, like the ubiquitous synth programming team of Jeff Bova and Jimmy Bralower; there were even guest appearances by Kenny G (!), and — on the shoulda-been-a-hit "Everyone's In Love" — John Oates.
'Something that You Want" is one of the best Jude's songs ever – a little AOR gem, and there's quality all over "Life of Luxury", "Walls that Bend" and the fine ballad "You Were in My Heart".
Cole hit the Top 40 with opener "Like Lover's Do", another highlight, while closer "Crying Mary" is a bluesy, slow tune composed when he started out as a four-sets-a-night musician.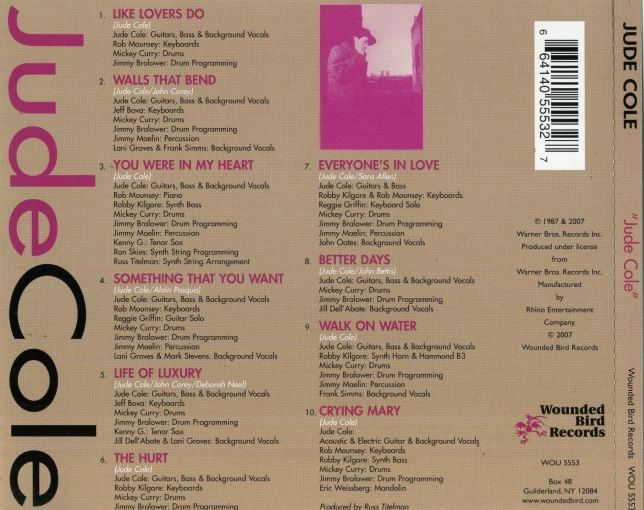 "Jude Cole" was out of print since the early '90s, almost impossible to find an used copy at a decent price. This remastered reissue has become scarce now as well.
The sonic treatment is in the vein of the early remastering jobs, balanced and natural as usually with Wounded Bird Records.
Highly Recommended pure '80s stuff.
01 – Like Lover's Do
02 – Walls That Bend
03 – You Were In My Heart
04 – Something That You Want
05 – Life Of Luxury
06 – The Hurt
07 – Everyone's In Love
08 – Better Days
09 – Walk On Water
10 – Crying Mary
Jude Cole: lead and backing vocals, guitars, bass
Rob Mounsey: keyboards
Mickey Curry: drums
Jimmy Bralower: drum programming
Jeff Bova: keyboards, synths
Robby Kilgore: keyboards
Jimmy Maelin: percussion
Kenny G: tenor saxophone
Ron Skies: synth string programming
Russ Titelman: synth string arrangement
BUY IT !
www.amazon.com/Jude-Cole/dp/B000QGE8HE
.