ALDO NOVA – Twitch [2018 Reissue]
Under their 'Classic Albums Available Again on CD' series, specialized Dutch label Music On CD has just reissued ALDO NOVA's third platter "Twitch", long time out of print.
Hit composer for others, Nova also had his chance as solo artist, and "Twitch", originally released in 1985, is one of the greatest '80s AOR albums of all time.
Many people may say that Aldo's first release was his best… but in my opinion this "Twitch" is the definitive Nova, and one of the best representative album of the mid-Eighties American AOR.
Sure, the sharp guitar of Aldo's previous releases – both superb albums in its own right – are not so present here in favor to swirling keys and very '80s synths.
It may be not so rocking as its predecessors, but man, this is '80s AOR perfection.
"Twitch" took two years for Nova to make, but the longer time in the studio paid off with perhaps his strongest set of songs he's ever made, polished to the extreme and with a top notch production.
The soaring melodic rocker "Tonite (Lift Me Up)" – co-penned with another '80s songwriter guru, Tom DeLuca – is one of the better cuts. A midtempo magic with pulsing keyboard changes, fuzzy guitar power chords, a hooky chorus and a memorable guitar solo.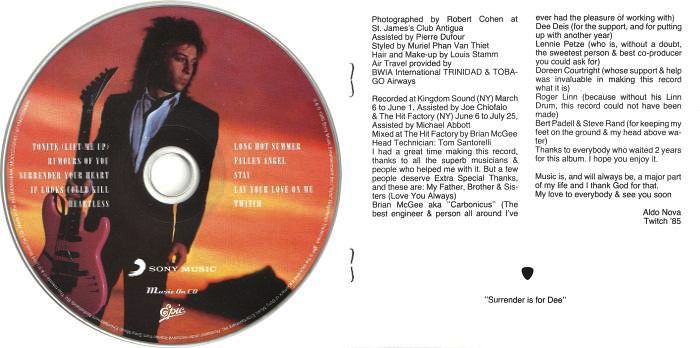 "Rumours of You" and "Surrender Your Heart" features Fiona Flanagan providing her velvety vocals with Aldo, then the album brings back the edgier element of earlier albums with the rocker "If Looks Could Kill".
But then "Heartless" appears.. oh man, this is pure keyboard driven '80s AOR at its maximum expression. The track has another awesome chorus that could easily pass for an Eighties movie theme. The sweet melody of "Long Hot Summer" should have been a Summer hit if properly promoted, lovely tune.
Now here it comes another winner in "Fallen Angel", which recreates the energy of Nova's first two albums mixing a punchy, faster harder pace of Nova's earlier work with an ethereal melodic soundscape of keyboards, making it one of the best songs of his career. The keyboard tones on this one bounce similar to the way they did on Bon Jovi's 'Runaway'. However, it's the drums and vocals that a highlighted throughout… Such pure talent!
"Stay" is another good ballad that follows, but soon Nova rocks again with "Lay Your Love on Me", drenched in some of the heaviest riffs on the album while on backing vocals we heard Michael Bolton. The song brings to mind Bolton's album from the era, a staple in 80s AOR
The frantic instrumental "Twitch" close the record and perfectly illustrates Nova's production wizardry with some good guitar riffs towards the end.
"Twitch" perfectly represents what '80s AOR is all about. It was out of print in Europe for many years, and it was time for a reissue, not remastered, but very well taken from the master tapes with a punchy output. This AOR masterpiece has been hiding in the shadows for far too long. It's about time that someone gave it a spin.
Needless to say; A MUST HAVE
0dayrox exclusive
01 – Tonite (Lift Me Up)
02 – Rumors Of You
03 – Surrender Your Heart
04 – If Looks Could Kills
05 – Heartless
06 – Long Hot Summer
07 – Fallen Angel
08 – Stay
09 – Lay Your Love On Me
10 – Twitch
Aldo Nova – guitar, vocals, synths, keyboards
Lennie Petze – guitar, castanets
Paul Kayen – guitar
Neil Jason – bass
Allan Schwartzberg – drums
Billy Carmassi – drums
Anton Fig – drums, keyboards
Robbie Kilgore – synthesizer
Dave Lebolt – synthesizer, keyboards
Michael Rudetsky – keyboards, programming, Fairlight
Dwight Druick – vocals, vocal coordinator
Michael Bolton – background vocals
Angela Clemmons – background vocals
Peppi Castro – background vocals
Bob Christianson – background vocals
Fiona Flanagan – background vocals
BUY IT !
www.amazon.co.uk/Twitch-Aldo-Nova/dp/B07714MGDQ
.