ALDO NOVA – 2.0 [CD version] +3 tracks 2020 The Life and Times of Eddie Gage
"2.0" is last album from influential Canadian guitarist, vocalist, keyboardist, songwriter and producer ALDO NOVA, his first album release in over three decades. The CD is a collection of super-charged reinventions of six classic songs off his self-titled smash debut, plus one new original, 'I'm A Survivor', initially written for Foreigner singer Lou Gramm.
This is the slipcase CD version of "2.0", much better sounding than the digital download version, pretty distorted.
Nova got ready as well a 2020 new album (delayed due Covid-19), a Rock Opera titled "The Life and Times of Eddie Gage". We have here 3 tracks as advance.
A Montreal native, Nova was approached by a 15-year-old Celine Dion to producer her first album, and later Aldo released "Blood On The Bricks" on Jon Bon Jovi's Jambco label in 1991. It stood as the culmination of a long-running friendship and, as any knowledgeable rock fan might argue, a thank-you note of sorts: the rock superstar lifting up the personal hero whose sound provided the blueprint for his own hits.
Nova provided guitar, keys and background vocals for the demo of Bon Jovi's first hit, 'Runaway', and ended up playing with an assemblage of session musicians throughout Bon Jovi's 1984 self-titled debut. Nova's imprint is also all over Jon Bon Jovi's debut solo album, 'Blaze Of Glory' — especially the chart-topping title track, on which Nova's writing and producing went un-credited but were absolutely essential.
All over his career, Nova to shape the sound and style for countless diverse artists, from Lita Ford early work (recently featured here), Clay Aiken (he co-wrote his hit 'This Is the Night') or killer melodic rockers Saints And Sinners, to the mentioned Celine Dion.
In 1997, Nova won a Grammy for Dion's blockbuster album 'Falling Into You'.
The idea for "2.0" was set in motion in late 2016. "When I turned 60, I told myself I was going to turn the page," Nova says. "I realized I had to shut the book and write a completely new book." He wanted to celebrate his debut's 35th anniversary in some fashion, but rather than simply remaster and reissue his solo album, he thought to "bring the songs into the 21 century."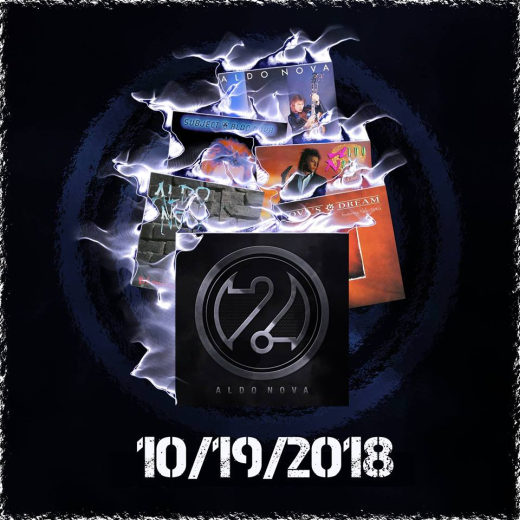 And "2.0" is a re-working of these '80s composed songs, with a modern, updated sound but still retaining its essence.
I can't help, but I am a sucker for songs such as 'Fantasy 2.0', 'Heart to Heart 2.0', or 'Can't Stop Lovin' You 2.0', all guitar / synth driven marvelous tunes with that unique Eighties feel.
Additionally, the previously unreleased synth-heavy 'I'm a Survivor' is a winner for me.
HIGHLY RECOMMENDED
01 – Fantasy 2.0
02 – Ball and Chain 2.0
03 – Heart to Heart 2.0
04 – It's Too Late 2.0
05 – Can't Stop Lovin' You 2.0
06 – Foolin' Yourself 2.0
07 – I'm a Survivor
The Life and Times of Eddie Gage 2020:
08 – Hey Ladi Dadi
09 – On The Way To The Psycho Ward
10 – Go On
Aldo Nova – all vocals, instruments
Lee Levin – drums
Dan Warner – rhythm guitar, bass
BUY IT
www.amazon.com/2-0-Aldo-Nova/dp/B07G1THV91