LOUDNESS – Lightning Strikes [30th Anniversary Ltd. Edition Box] Out Of Print
To commemorate the 30th Anniversary of LOUDNESS' most iconic albums, Nippon Columbia were doing some very special packages, as with this "Lightning Strikes [30th Anniversary Ltd. Edition Box]", a true collector's release requested here at this blog.
The box includes the main album fully remastered, but what marks special interest is the extra CD featuring previously unreleased material.
In the box you have a remastered version of "Lightning Strikes", Loudness 'entry card' to the international metal / hard rock audiences.
The disc was produced by the great Max Norman (Ozzy Osbourne) which was truly involved in the making of the album, not only helping to shape the sound for Loudness' worldwide appeal, but also writing proper lyrics for the American taste.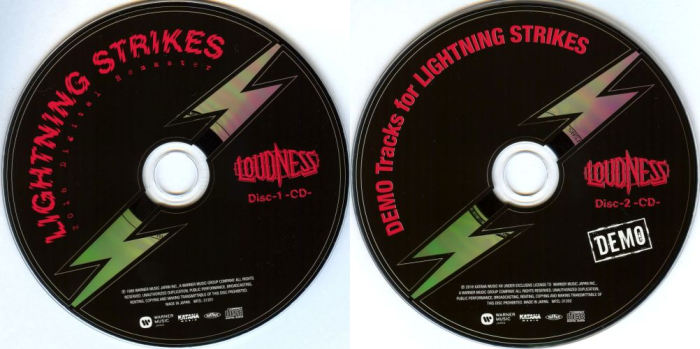 The sound was a little bit switched to more of a pop-metal feel, something especially notable in opener 'Let It Go', some kind of Van Halen meets Ratt.
However, the rest of the album is in a heavier mold, and it's in a relatively similar style to the previous album, Thunder In The East (featured here).
The bonus CD includes pre-production, previously unreleased demos from the recording sessions / creative process. Most of these songs never were recorded / finished later, and some evolved into future Loudness' songs.
The sound quality is really good, Loudness never recorded cheap pre-prodution demos.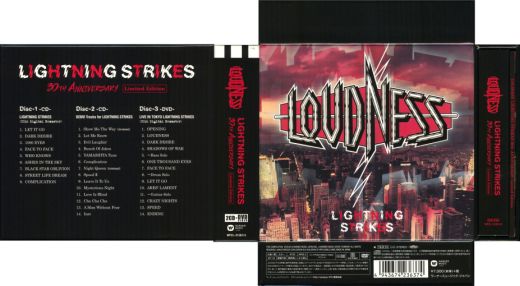 "Lightning Strikes [30th Anniversary Ltd. Edition Box]" is a true 'collectors item', including the album remasted in all its glory plus the worthy previously unreleased material.
Limited to 3,000 units, it's already sold out, and won't be re-printed anytime soon.
Highly Recommended
Nippon Columbia ~ 【WPZL-31201】
L O U D N E S S 「LIGHTNING STRIKES」
30th A N N I V E R S A R Y
Disc 1: Lightning Strikes remastered
01 – Let It Go
02 – Dark Desire
03 – 1000 Eyes
04 – Face To Face
05 – Who Knows
06 – Ashes In The Sky
07 – Black Star Oblivion
08 – Street Life Dream
09 – Complication
Disc 2: Lightning Strikes Demos: Previously Unreleased
01 – Show Me The Way
02 – Let Me Know
03 – Evil Laughin'
04 – Bunch Of Jokes
05 – Yamashita Tune
06 – Complication
07 – Night Queen
08 – Speed Ii
09 – Leave It To Us
10 – Mysterious Night
11 – Love Is Blind
12 – Cha Cha Cha
13 – A Man Without Fear
14 – Inst
Minoru Niihara – vocals
Akira Takasaki – guitars
Masayoshi Yamashita – bass
Munetaka Higuchi – drums
Masanori Sasaji – keyboards
Max Norman – lyrics, arrangements, production
Out Of Print
www.cdjapan.co.jp/product/WPZL-31201
.