SHOTGUN SYMPHONY – The Last Symphony : A Retrospective 4-CD (2017-2018)
This one was requested several times and today we're bringing to you in exclusive SHOTGUN SYMPHONY's "The Last Symphony : A Retrospective", a 4-CD complete overhaul of their discography in one special, remastered limited edition package (500 units), appeared last year and already sold-out.
However, the band has re-released the collection this 2018, and believe me, it's a fantastic set from this underrated Melodic Rock / AOR act.
Hailing from the US East Coast, Shotgun Symphony are a band who sadly arrived a little too late for their talents to achieve the kind of commercial success they deserved – had debut 'Shotgun Symphony' emerged five years earlier their impact could have been significant, but '93 was a cold and unforgiving place to find yourself if you played melodic rock / AOR.
Their self-titled debut album on British indie label Now and Then Records was something of an instant hit with the European fans of melodic rock, a very unique 'layered' sound with pompy AOR overtones and stupendous musicianship.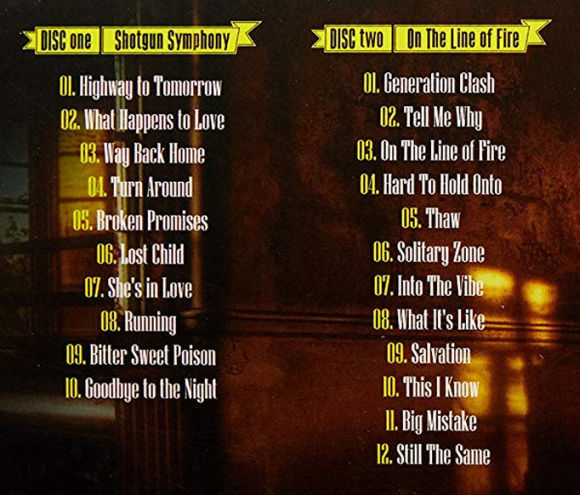 While the band tried to forge a new modernized identity with their release "On The Line Of Fire" they seemed to loose some of their original feel. Anyway, there's still some awesome melodic tunes on this album, and a polished production.
The band seemed to hit its stride on their final release "Sea Of Desire" in 1999. The melodic sound had fully returned but with a more mature and up-to-date feel.
This album is real pleasure from beginning to end, filled with bouncy melodious rhythms, soaring vocals and catchy choruses.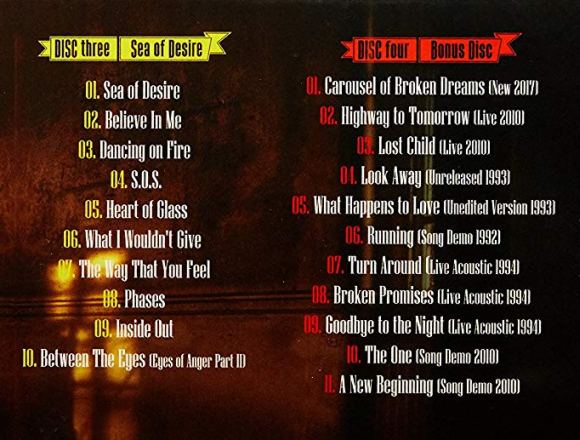 "The Last Symphony : A Retrospective" delivers these 3 stupendous albums with a pristine remastered sound (it really improves the whole thing, especially the first two albums) but also a bonus disc full of delicious, previosly unreleased rarities.
There's even a fresh version of one of the band's finest songs, 'Carousel Of Broken Dreams', newly recorded with the band's original line up especially for this 4-CD release.
Very, HIGHLY Recommended
Only at 0dayrox
DISC ONE: 'Shotgun Symphony' (Remastered)
01. Highway to Tomorrow
02. What Happens to Love
03. Way Back Home
04. Turn Around
05. Broken Promises
06. Lost Child
07. She's in Love
08. Running
09. Bitter Sweet Poison
10. Goodbye to the Night
DISC TWO: 'On The Line Of Fire' (Remastered)
01. Generation Clash
02. Tell Me Why
03. On the Line of Fire
04. Hard to Hold Onto
05. Thaw
06. Solitary Zone
07. Into the Vibe
08. What It's Like
09. Salvation
10. This I Know
11. Big Mistake
12. Still The Same
DISC THREE: 'Sea Of Desire' (Remastered)
01. Sea of Desire
02. Believe in Me
03. Dancing on Fire
04. S.O.S.
05. Heart of Glass
06. What I Wouldn't Give
07. The Way That You Feel
08. Phases
09. Inside Out
10. Between the Eyes (Eyes of Anger Part II)
DISC FOUR: The Bonus Tracks [unreleased]
01. Carousel Of Broken Dreams (New Song)
02. Highway To Tomorrow (Live 2010)
03. Lost Child (Live 2010)
04. Look Away (Unreleased 1993)
05. What Happens To Love (Unedited Version 1993)
06. Running (Song Demo 1992)
07. Turn Around (Live Acoustic 1994)
08. Broken Promises (Live Acoustic 1994)
09. Goodbye To The Night (Live Acoustic 1994)
10. The One (Song Demo 2010)
11. A New Beginning (Song Demo 2010)
Tracy White – vocals, guitar
Mike Maino – guitar, backing vocals
Charlie Calv – keyboards, backing vocals
Ed Avila – bass, backing vocals
Ron Sivulich Jnr. – drums
BUY IT !
www.amazon.de/Last-Symphony-Retrospective-Shotgun/dp/B07CSGK3HS
www.amazon.de/Last-Symphony-Shotgun/dp/B01MTCJHI5
.