DANIEL TRIGGER – Right Turn (2018)
"Right Turn" is the new album from singer / songwriter DANIEL TRIGGER, an indie artist who has been releasing several records since 2005, plus albums under the Trigger name. We have listened to some of them but his overall heavy rock style never convinced us.
However, things are changing with "Right Turn". I can see why the album will be released by MelodicRock Records soon; this material is inspired by the classic Melodic Rock sound from the '80s.
One thing that will surprise the listener is that Daniel hails from the Midlands in the UK and not the US as the music on here would suggest.
Bringing to mind Mitch Malloy (in his early years), Johnny Lima and late '80s Bon Jovi, Daniel Trigger knows his way around a melodic tune and chorus.
Lyrically he harks back to the glory days of melodic rock on 'Days Gone By'. 'Drive' is a tune made for just that – top down on the car (or windows for most of us) with this melodic rock gem blasting out on the speakers.
There's a clear Malloy feeling in the classy melodic rock pattern of 'Running Into The Wind', with its rip roaring piano riff including acoustic guitar into the mix but used as 'electric' riffage.
Midtempo 'Hold Back The Night' brings to mind Bon Jovi's New Jersey era, really 'American' in its delivery, 'Heavy Heart' has a catchy, pure '80s melodic rock chorus, while we have a classic rock vibe on the fun 'Rock N Roll Party'.
The only ballad here, 'There In Your Heart', bring to mind Jon Bon Jovi solo album, or better Johnny Lima, as Trigger's voice is very similar to them.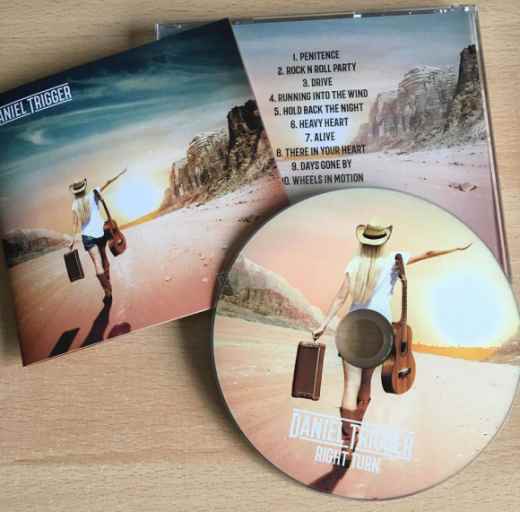 If you have listened to some of Daniel Trigger previous albums, forget 'em, he has 'turned' timeless melodic rock here on the properly titled "Right Turn".
There's sweet melodious vocals, catchy choruses, a warm production, and while Daniel performs all instruments, he was cleverly enough to bring a very good guitar player in Jay Maddison to provide the clean solos and round up very entertaining songs.
Daniel Trigger will be a new name to many and he is worth listening to based on the melodic rock delights he has provided here.
Highly Recommended
01 – Penitence
02 – Days Gone By
03 – Drive
04 – Running Into The Wind
05 – Hold Back The Night
06 – Heavy Heart
07 – Alive
08 – There In Your Heart
09 – Rock N Roll Party
10 – Wheels In Motion
Dan Trigger – Vocals, Guitar, Bass, Keyboards
Jay Maddison – Guitar solos
Sally Trigger – Backing Vocals
Pre Order:
www.amazon.co.uk/Right-Turn-Daniel-Trigger/dp/B07FVFQFL8/
.