SIGNAL – Live [private release + extras] Out Of Print
After the recent SIGNAL only studio album featured here in its remastered form, one of you requested this "Signal Live", a private release done by Marcie Free herself some time ago and only available via her website.
The album is out of print since many years, and it's a must have for Signal and Mark / Marie Free fans, and a collector's item for all melodic rock aficionados.
There were few gigs presenting Signal's album Loud & Clear, and while the sound quality of this "Signal Live" isn't the best in the world, the recording is a great testimony of how good the band was.
Just check 'Does It Feel Like Love'… wow, there is an obvious chemistry between Free and the band, a superb group of musicians.
Additionally, we find here a previously unreleased song, 'Nobody Gets Out Alive' (performed live), one of the several composed by the band that didn't make it into the studio album final tracklist.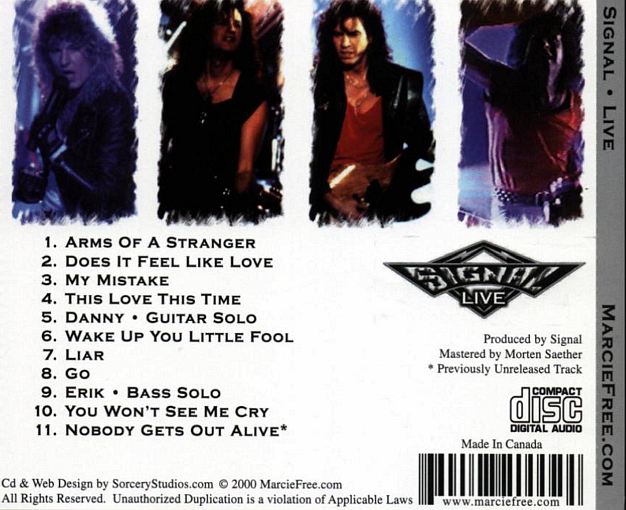 I think that with "Signal Live" Marcie Free wanted to give fans – requesting at her website some unreleased Signal material – some kind of a farewell album, and while the recording quality could be better, this CD is one to treasure.
And as 0dayrox always give to you a plus, there's as bonus 5 demo songs, some with really good quality. (thanks to CB and Tony for this one!)
Rare, Highly Recommended
Recorded live June 17, 1990 in Lincoln, Nebraska
Marcie Free private release
01 – Arms Of A Stranger
02 – Does It Feel Like Love
03 – My Mistake
04 – This Love This Time
05 – Danny – Guitar Solo
06 – Wake Up You Little Fool
07 – Liar
08 – Go
09 – Erik – Bass Solo
10 – You Won't See Me Cry
11 – Nobody Gets Out Alive (previously unreleased)
0dayrox extras:
12 – You And I Need Love #1 (demo)
13 – Can't Give You Up (demo)
14 – Talk Too Much (demo)
15 – You And I Need Love #2 (demo)
16 – Nobody Gets Out Alive (studio demo version)
Mark / Marcie Free – vocals
Danny Jacob- guitar
Erik Scott – bass
Jan Uvena – drums
Doug Bernhardt – keyboards
Out of Print
.