STRYPER – God Damn Evil [SHM-CD Japan Tour Edition +3] (2018) *Exclusive*
In conjunction with the STRYPER's current shows in Japan, Marquee / Avalon in arrangement with Victor Entertainment has released few days ago this "God Damn Evil [SHM-CD Japan Tour Edition +3]", a limited collectors version including three bonus tracks and exclusively pressed on high quality SHM-CD.
The last decade of STRYPER's career has been quite prolific, and this year they delivered the strong "God Damn Evil".
When Stryper's landmark 'To Hell With The Devil' hit MTV hard, many churchgoers were divided about their big hair, spandex jumpsuits, and heavy guitars. They gave us license to rock for the rock, as they liked to say.
Target practice was easy for the naysayers. The drastic heights of the aquanet hair. The iconic eyesore of the yellow and black attack wardrobe and staging. The saccharine sweet ballads that brought ladies out to a metal show.
Love them or hate them, Stryper was doing their own thing.
More than 30 years later, they still are.
The fashion, hair, and ballads have all been toned down, but the guitars have been cranked up. Lead singer Michael Sweet has traded his feminine-sounding falsetto to claim his place among the upper echelon of stratospheric screamers like Rob Halford and Bruce Dickinson. The guys are confounding middle age gravity with insane vocal ranges.
"God Damn Evil" is the third part of the band's trilogy of studio albums for Frontier Records, and Stryper has rewarded the label's faith in them by delivering a trifecta of heavy, punchy, memorable metal records that stand up to — if not out power — the best of their entire catalog.
The opening track 'Take It to the Cross', also released as the first single, surprised many. It's really heavy, where they took a shot at adding an element of thrash and death growls but ended up losing the sound of Stryper. Sweet has responded to the mixed reaction that they wanted to try something new and had a blast doing it. So, there's that.
The second track, however, rights all wrongs. "Sorry" is a fierce, plodding hard rocker that showcases the things that really work on this record: chunky, melodic rhythm guitars with soaring solos, fat, thumping drums that are loud in the mix, heavy, catchy compositions and Sweet's distinguished voice that sounds amazing most of the time.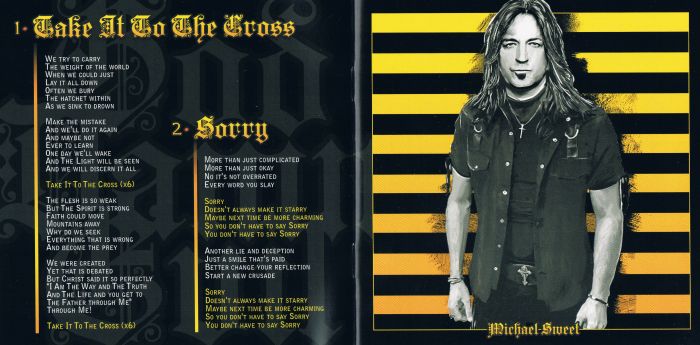 The title track is a mid-tempo rowdy romp with an extended solo section that's pretty heavenly. Whether it's a prayer or just a way to give people something to talk about, Sweet seems to be enjoying himself immensely in the chorus wailing, "God save the people, but God damn the world!".
"You Don't Even Know" is a tight rocker that's reminiscent of classic '80s hard rock in both function and form, while "The Valley" contains all the elements of this new and improved Stryper, with a wah-wah heavy solo fits right alongside the huge, shiny background vocals that sound like a metal choir.
"Sea of Thieves" is a blistering, bluesy jaunt that's got a triumphant chorus that was built for fists in the air live. "Beautiful" stands out with an angular verse that sounds like old school Dokken.
The closest thing to a power ballad on the record is "Can't Live Without Your Love," which is a slower tempo song with enough crunch and movement to keep it out of the saccharine territory.
"Own Up" is another strong, in-your-face rocker that features enough cowbell to keep Christopher Walken happy for hours of studio time. The closing track, "The Devil Doesn't Live Here," is a Van Halen's 'Hot for Teacher' knock-off that trades schoolboy fantasy lyrics for a sermon and some amazing screams.
Haters will hate and some people will exercise their own form of prejudice by dismissing Stryper because they are anything but subtle about their faith. But regardless of where you stand on the lyrics, there's no denying that songwriting and production on "God Damn Evi" is excellent, and the performances are inspired.
Stryper is rocking so hard and well that even some close-minded skeptics are bound to be converted.
Stryper 2018 is 'adult metal', and I am not talking about the lyrics (honestly, I don't care religion) but the music. These skilled musicians combine like few razor metallic riffs with commercial melodies, and they does it very, very well.
As said, this is the only version of "God Damn Evil" pressed on SHM-CD for the moment, plus 3 bonus, a collectors item.
Highly Recommended
Only at 0dayrox
Marquee / Avalon ~ MICP-30093【SHM-CD】
01 – Take It To The Cross
02 – Sorry
03 – Lost
04 – God Damn Evil
05 – You Don't Even Know Me
06 – The Valley
07 – Sea Of Thieves
08 – Beautiful
09 – Can't Live Without Your Love
10 – Own Up
11 – The Devil Doesn't Live Here
TOUR EDITION BONUS TRACKS:
12 – Can't Live Without Your Love (Alternate Version)
13 – Loud 'N' Clear
14 – Co'Mon Rock
Michael Sweet – vocals, guitars
Robert Sweet – drums
Oz Fox – guitars
Perry Richardson – bass
BUY IT !
www.cdjapan.co.jp/product/MICP-30093
.