URIAH HEEP – Living The Dream [Japanese Edition +2] (2018)
British classic rock icons URIAH HEEP will release their 25th studio album, "Living The Dream", on September 14 via Frontiers Music, but tomorrow will appear in Japan including 2 bonus tracks. And I can hear why they secured a deal with Frontiers; it's the most melodic, commercial-rocking album Uriah Heep has released since the '80s… and in their career.
In their five decades as an active band, Uriah Heep has left a colossal mark on rock 'n' roll. Infused with a Tolkien leaning mysticism at their onset, and musically marked by wah-wah pedal suffused guitar, soaring vocals, jaunty keyboards and an unmistakably positive vibe, the band's survival was hard earned and is cherished by both its members and fans.
After numerous studio albums, over 40 million album sales and the cycling through of over 20 members, band leader and guitarist Mick Box is still going strong with a stable line-up that is currently on a world tour celebrating those fruitful early years.
This whirlwind was kicked off when Box formed the band that would become Uriah Heep as a 19-year-old in Brentwood, Essex. He was eventually joined by keyboardist, synth player, guitarist and vocalist Ken Hensley (writer or co-writer of many of the bands hits) and lead vocalist David Byron.
Uriah Heep has played many kind of Rock flavors during their existence, from prog to metal, to pop/rock and AOR.
Currently, and according to times, the band and "Living The Dream" sounds punchy classic rock, with melody as main focus.
The album was produced by Jay Ruston, and the bands this Canadian has worked for gives a perfect picture of "Living The Dream" sound; The Winery Dogs and Black Star Riders.
Opener "Grazed By Heaven" sets the mood for the album; busy rhythm section, straight guitar riffs, swirlling keyboards / Hammond B3, and Bernie Shaw's vocals in great form – it's a killer classic rocker. Lyrics were written by Jeff Scott Soto, and the music was written by bassist Dave Rimmer.
Musically, think Deep Purple meets Winery Dogs.
There are rocking songs, ballads, and a couple with little prog arrangements, encompassing everything Heep.
More Deep Purple circa 1985 comes with the title track 'Living The Dream', another favorite from the record, a midtempo with great atmospheres.
'Take Away My Soul' is classic rock, but with a bright melodic hard rock 'feel', thanks to Ruston's clever production which has updated Uriah Heep sound.
More quality continues – I mean, very strong songwriting – with 'Knocking At My Door', the groovy 'Rocks In The Road', elegant ballad 'Waters Flowin' (great harmony vocals), the racing hard rocker 'Goodbye To Innocence' and the dynamic 'Falling Under Your Spell'.
This Japanese edition includes two different mixes from some of the best songs on the album, 'Grazed By Heaven (Alternate Version)' and 'Take Away My Soul (Alternate Version)'.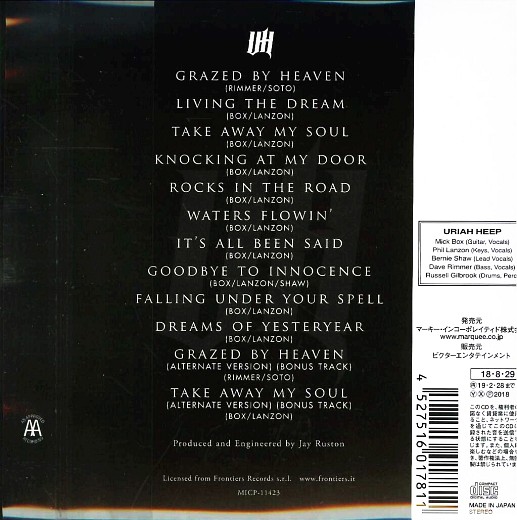 "Living The Dream" is full blown 'rockin' Uriah Heep record. All the traits that made Heep famous in the past are here on this new album; passion, power, harmony and substance. But all updated and vital 2018.
In fact, in my humble opinion, this is Uriah Heep best album ever. I know Seventies purists will spit on me, sorry, but this is the sound I like from these talented, veteran mucicians: classic rock with a melodic-hard drive.
This is in part thanks to Ruston's clever production – Uriah really sounds here like a mix of The Winery Dogs, Black Star Riders and '80s Deep Purple. But also the excellent songwriting; varied, elaborated and always entertaining.
HIGHLY Recommended
01 – Grazed By Heaven
02 – Living The Dream
03 – Take Away My Soul
04 – Knocking At My Door
05 – Rocks In The Road
06 – Waters Flowin'
07 – It's All Been Said
08 – Goodbye To Innocence
09 – Falling Under Your Spell
10 – Dreams Of Yesteryear
Japan Bonus Tracks:
11 – Grazed By Heaven (Alternate Version)
12 – Take Away My Soul (Alternate Version)
Bernie Shaw – lead vocals
Mick Box – guitars, vocals
Phil Lanzon – keyboards, vocals
Dave Rimmer – bass guitar, vocals
Russel Gilbrook – drums, percussion
PRE ORDER:
www.cdjapan.co.jp/product/MICP-11423
.