BOSTON – Boston [Japanese reissue remastered by Tom Scholz]
A long time contributor of this blog asked for BOSTON albums, best sounding CD reissues. We have a surprise with one of them, but better let's start with their first, self tiled classic "Boston".
It's has been a busy afternoon comparing 4 different releases / remasters of "Boston", and finally we have the verdict.
First of all we must make clear that we didn't listened to the "Boston" 2016 remaster done by Kevin Grey and Joe Reagoso for Friday Music and its LP only reissue of the album.
We have compared CD-only releases, and the best of all is the 2006 remaster done by Tom Scholz himself, helped by Bill Ryan / Toby Mountain, remastered for the official Epic / Legacy / Sony / BMG version.
There's a deluxe mini-LP papersleeve format, a digipak / gatefold like, and even a Blu-spec CD (not the newer Blu-spec CD2), all using the same Scholz remaster.
We have chosen this modest, regular jewel case reissue appeared the following year as part of the 'Nice Price!', a priced down series but including a complete booklet and full lyrics, and of course, the same sound quality.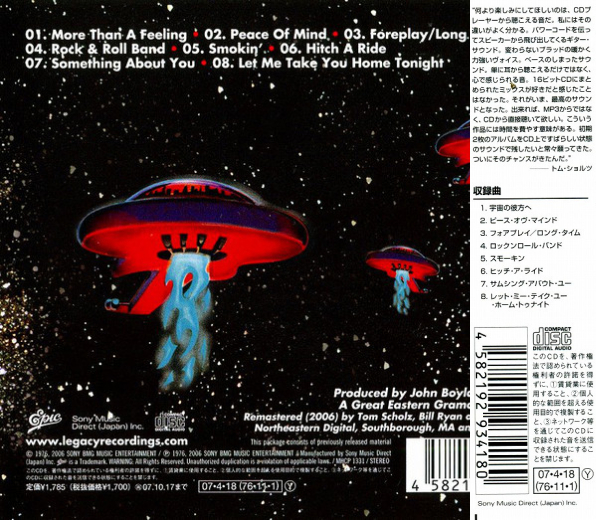 This Tom Scholz remaster has been criticized for being 'too loud'. But that's audiophile discussions, people who own high end audio equipment.
For your regular player or the car, this version of the timeless "Boston" is great.
A Must Have Classic
01 – More Than a Feeling
02 – Peace of Mind
03 – Foreplay / Long Time
04 – Rock and Roll Band
05 – Smokin'
06 – Hitch a Ride
07 – Something about You
08 – Let Me Take You Home Tonight
Brad Delp – vocals; acoustic guitar
Tom Scholz – guitar, clavinet, organ, bass
Barry Goudreau – guitar
Fran Sheehan – bass
Sib Hashian, Jim Masdea – drums
BUY IT !
www.cdjapan.co.jp/product/MHCP-1331
.