BAD TOUCH – Shake A Leg (2018)
BAD TOUCH leave a great 'touch' on the ears with their latest studio album "Shake A Leg". Released tomorrow via Marshall Record, their new CD neatly reaffirms the band's potency of riff-driven, fist pumping, hook-laden classic rock / hard rock.
On seeing the running time at thirteen tracks I was a bit apprehensive about it's length but could not be more wrong as it captivates from start to finish showing a new level of maturity in their composing.
Bad Touch's rise to the verge of the big time has been built on a punishing schedule of incessant roadwork, but not at the expense of finding time in the studio to record a third album.
They have kept the same direction but made subtle changes to their approach. Without losing their trademark bluesy feel, the majority of the new songs go for the throat, getting to the hooks and strong choruses in short order and most of the opening numbers all hover around a concise three minute mark.
They open with the excellent 'Lift Your Head Up', on which the exclamatory line: 'Hey you, yeah you", levers us into a riff-driven number that flows into the sing-along hook in the best hard rock traditions.
It's the perfect start to a classic rock album that has enough variety and meaningful lyrics to avoid either cliché or over familiarity.
Despite its unoriginal title, 'Hammer Falls' finds guitarist Rob Glendinning cleverly mixing a jangling guitar opening with a drone feel, while on the single 'Skyman', he explores a more fuzzy sound leading to a sonic explosion. Westwood's stop-time vocal further emphasizes some very effective dynamics.
Glendenning also adds a fat tone riff on the hurriedly delivered hook of 'Dressed To Kill.'
It's the band's combination of sonic detail, and significant dynamics, allied with strong songs with plenty of variety that gives "Shake A Leg" its brio.
'Take Me Away' is a song that is something of a departure from their signature sound, built as it is around a mighty bass platform from Michael Bailey, while 'Movin' On Up' – which is the sort of thumper that Inglorious would kill for – rather speaks for millions when it suggests: "I'm not looking for a high-class woman, I just want one that will blow my mind."
That leaves four more and its those, really, that show why Bad Touch have built their career just like bands used to – that is to say by hard work and being talented. These more reflective ones are a different, but no less thrilling, side.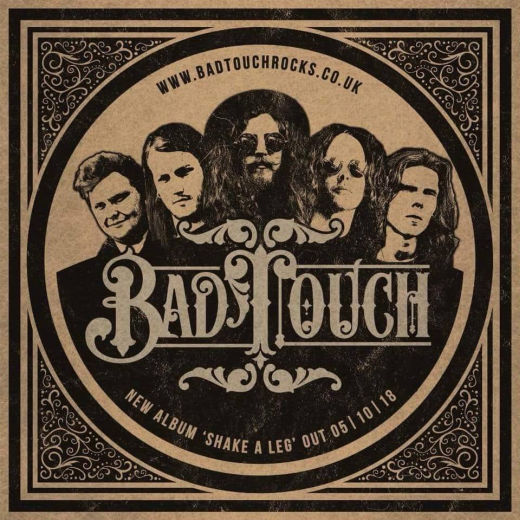 'I Belong" is a wonderfully blissful piece of southern rock worthy of Black Crowes at their peak, 'Believe In Me' is the work of a band with total command of their craft and, 'Slow Tempest' has echoes of Temperance Movement.
However, its 'Bury Me (When I'm Gone)' that really stuns. Sounding vulnerable, fragile, and yet ready for the fight, the song seems to have been recorded live, and it is the band at their absolute best.
"At their best", though, is something you could say with every passing Bad Touch record. They just get better and better.
And "Shake A Leg" is a career high, yet again.
Highly Recommended
01 – Lift Your Head Up
02 – Hammer Falls
03 – Too Many Times
04 – Dressed To Kill
05 – Skyman
06 – I Belong
07 – Show Me What It Means
08 – Tussle
09 – Take Me Away
10 – Believe In Me
11 – Movin' On Up
12 – Slow Tempest
13 – Bury Me
Stevie Westwood – Vocals
Rob Glendinning – Lead Guitar
Daniel 'Seeks' Seekings – Guitar / Vocals
Michael Bailey – Bass
George Drewry – Drums / Vocals
PRE ORDER:
www.amazon.co.uk/Shake-Leg-Bad-Touch/dp/B07G234F49
.