AXXIS – Monster Hero (2018)
One of the most consistent German rock bands is back this year in a monstrous way: AXXIS release their new studio album "Monster Hero" on October 5th. Bernhard Weiß and Harry Oellers are once again making the fusion of well-tried, classic melodic hard rock / hard n' heavy numbers with a modern production and contemporary lyrical themes, proving that they still have the chops to Rock. And rock hard.
"Monster Hero" is Axxis' 15th studio album, and with this one they're celebrating the 30th Anniversary. And they really make justice to their legacy.
The new CD comes with 12 songs (plus two bonus raw mixes) that feature all the Axxis trademarks. It feels like time would have stand still since 1989, when the guys unveiled 'Kingdom of the Night'.
It looks like Axxis found the success formula of not moving too much with their sound and still release exciting albums, updated to modern times yet with that classy feeling.
It's hard to resist these hooks and well-crafted melodies, represented in songs like 'Firebird', the stadium-ready 'Rock is My Religion' (with a Scorpions influence), the groovy 'Make Me Fight' (some Magnum here), and the commercial melodic rocker 'Give Me Good Times'.
These anthemic moments are spiced-up by faster songs of which the uptempo 'Glory of the Brave' is one of.
My favorite is 'Love is Gonna Get You Killed', a midtempo where Axxis adds an '80s AOR touch, mostly thanks to the clean guitars and lovely keyboard line.
"Monster Hero" doesn't include any bad song, and the only downer is the poor artwork. But since this release is about music and no about an art masterclass the packaging isn't the relevant factor.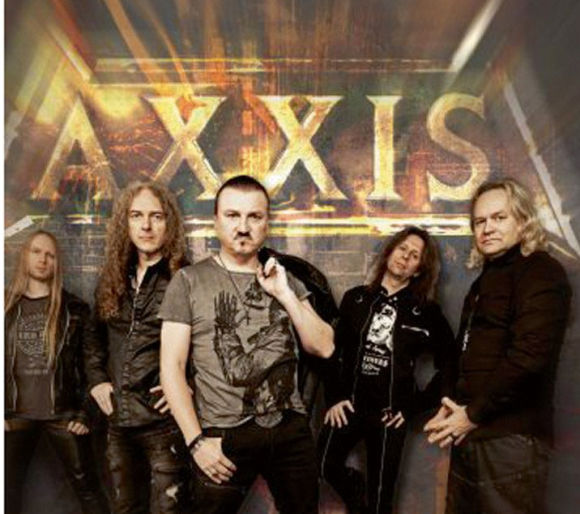 I wasn't expecting a new album of this quality from Axxis, from songwriting to production.
Since the '80s Axxis wrote great songs and they still do. I know many of you never had heard a single Axxis song. It's time to solve it with this very good new album "Monster Hero".
If you're looking for solid classic melodic hard rock / anthemic hard n' heavy in a German fashion that includes a positive vibe, it's "Monster Hero" you should check out.
Highly Recommended
01 – Monster Hero
02 – Living as Outlaws
03 – Rock is My Religion
04 – Love is Gonna Get You Killed
05 – Glory of the Brave
06 – Make Me Fight
07 – Gonna Be Tough
08 – Firebird
09 – We Are Seven
10 – Give Me Good Times
11 – All I Want is Rock
12 – The Tragedy of Mr. Smith
BONUS TRACKS:
13 – Rock is My Religion (Raw Mix)
14 – All I Want is Rock (Raw Mix)
Bernhard Weiss – vocals
Harry Oellers – keyboards
Rob Schomaker – bass
Dirk Brand – drums
Stefan Weber – guitars
PRE ORDER:
www.amazon.co.uk/Monster-Hero-Digibook-Axxis/dp/B07GGCZF6M
.