OSUKARU – House Of Mirrors (2018)
After only a one-year break, Swedish melodic hard rockers OSUKARU report back with a stable line up and a new album entitled "House Of Mirrors". And stable line up is not a minor point because this was what Osukaru needed. Fredrik Werner is still on the mic, and it's the only vocalist on the record providing a more homogeneous flow.
Ever since I first heard Osukaru there was something about the band I really liked. They've not always presented the best professionally produced product. But leader, composer and guitarist Oz Osukaru has always had the focus in a good mix of melodic rock / AOR and a well worked through booklet that has given the customer some interesting reading.
Today with a stable line-up since a couple of years the band not only has become even more recognizable with their sound but also a constant evolving. And their last two albums should have been released on a bigger label.
"House Of Mirrors" is definitely the best produced & mixed Osukaru album by far since the first release.
All starts of with an intro called 'Past the Present' that reminds me of a '80s tv-series ala Miami Vice, followed by 'You've Been Waiting', and since the first note you hear a more mature Osukaru-the band. Everything feels tight, the band confident, and production sound very good.
As always Osukaru mix strong melodic rock riffs with some classic AOR melodies. The most flavoured song in this vein here is 'Ain't Too Late (For Love)', a sweet tune with nice keys / synths.
However, this current Osukaru line up really shines on the melodic hard rockers, and most tracks on the CD are in this style, which suits vocalist Fredrik Werner voice very well. As example, the rocking rough edge of 'X Marks the Spot' is one of the stronger numbers on this new CD
Sure, Osukaru are known as well for their power ballads, and 'Until Forever Ends' is one of their finest, and even here there's more muscle than the band's past songs in this style, probably thanks to the production and mix.
'All Guns Blazing' blend the best sides of Osukaru. It starts as an AOR song in the verses but shifts to a more Melodic Hard Rock sound with a catchy chorus. In terms of instrumentation, this is one of the most interesting track on the album as so much happens with both a bass solo/fill from Olof Gadd as well as a variated tempo and power to the song. The solo features Magnus Mild from metallers Air Raid in a duet with Oz, and rocks.
We have featured 'MacGyver It' in one of our Advanced Singles sampler, a catchy melodic tune with fine vocal arrangements and great rhythm guitar work.
'Inception' is another highlight, an edgy AOR song with sharp guitars, where Anna Savage of Vanity Blvd lends her absolutely stunning voice to this duet and man do I love her voice. The song also include saxophone played by a former family member of Osukaru Jens Björk AOR with both power and melody.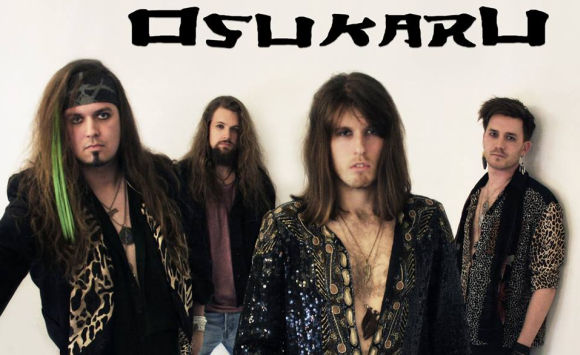 Closer 'Felicity Drive' somehow returns to the tv-intro synths (performed by Kristian Fyhr, who also mixed the album), the verses are wonderfully midtempo AOR, and the chorus quite anthemic. It's quite different from what the band has done so far, composed by drummer Vidar Mårtensson, and a more than welcomed variation to the Osuakru sound.
We have been hoping that Oz partner with other songwriters to enrich the band's sound, and thankfully he has started to do it. And makes wonders.
"House Of Mirrors" not only is the best and most complete Osukaru record to date, it's the album where they found a sound, a style and professionalism on all aspects. Finally, the new Osukaru album sports the bright, polished production and mix the band needed.
Plenty of very good songs in the classic Melodic Hard Rock / AOR style, "House Of Mirrors" will please to all fans of Lionville, Wild Rose, etc, really well produced.
HIGHLY Recommended
01. Past the Present
02. You've Been Waiting
03. Ritual
04. Ain't Too Late (For Love)
05. Inception – feat Anna Savage of Vanity Blvd
06. Until Forever Ends
07. All Guns Blazing – feat. Magnus Mild of Air Raid
08. MacGyver It
09. Red Heat
10. X Marks the Spot
11. Felicity Drive
Oz Osukaru – guitar, keyboards, backing vocals
Fredrik Werner – guitar, lead vocals
Olof Gadd – bass, backing vocals
Vidar Mårtensson – drums & percussion
with:
Jens Björk – sax solo on 5
Kristian Fyhr – keyboards, synths
BUY IT !
www.amazon.de/Osukaru-House-Mirrors/dp/B07GVXBMSX
.