FIFTH ANGEL – Time Will Tell [Metal Blade Records Digipak remastered reissue] (2018)
Requested by many and accompanying the new, FIFTH ANGEL's really good comeback album, here's the 2018 Metal Blade Records Digipak remastered reissue of the band's second LP "Time Will Tell", another terrific slice of classic US hard rock / melodic metal.
It would not have been possible to follow-up the self-titled Fifth Angel with anything superior, so instead the Seattle band went back to the studio to produce something in a similar vein, but possibly even more accessible than the debut.
Original guitarist James Byrd was out, and the band added a few new members in Kendall Bechtel (guitars) and John Marco (bass).
Often in this era a band would follow up a masterpiece with a stark disappointment, but "Time Will Tell", in many aspects, is better than its predecessor. It creates the same superb 'heavy' atmosphere we heard on 'Fifth Angel', but now with the 'catchy factor' augmented by a killer hard rock groove.
Production is top notch, the riffs very often stand to memory, and Ted Pilot's vocals are arguably sharpened up even from the previous work.
"Cathedral" is an emblematic opener with the bouncy riffs and the great chorus, Ted Pilot outstanding behind the mike without going into any extremes, staying within the mid-ranged parametres, keeping it moderately emotional.
"Midnight Love" brings some of the powerful swagger of the debut with the dynamic galloping arrangements, but all is calm and pleasantly idyllic on the nice melancholic heavy rocker "Seven Hours".
"Broken Dreams" sounds like the obligatory ballad, but there's more verve and drama to be witnessed here as this cut is another sure winner with its introspective aura.
The title track is a feel-good US metal hymn which, if nothing else, brightens the mood and also sets the tone for the UFO cover of "Lights Out", faithfully performed without any embellishments.
"Wait for Me", on the other hand, is a terrific hard rocker influenced by the sound ruling MTV at the time (1989) with some Dokken or Icon on it.
"Angel of Mercy" comes to provide more bite with its more energetic riffage the cavalcade growing into something wonderfully metal-ish again on "We Rule", a belligerent cut with hard-hitting guitars the latter stifled by another attempt at the ballad, "So Long", the cycle closed by the infectious crowd pleaser "Feel the Heat".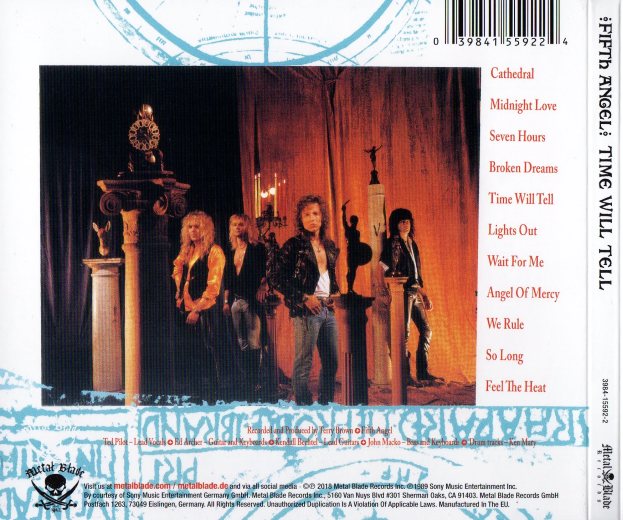 Every single song here has a clear radio hit potential as though the guys were deliberately aiming at this particular media, and by all rights they should have conquered it… in another fairer world.
Their old fans must have frowned more than just now and then listening to these plainly pop metal-ish at times tracks, but one can't deny the memorable songwriting and the professional execution, the overall feel quite reminiscent of Bonfire's "Point Blank" released the same year.
Great remastered reissue by Metal Blade, the perfect companion for the really good Fifth Angel's comeback album just released.
Highly Recommended
01 – Cathedral
02 – Midnight Love
03 – Seven Hours
04 – Broken Dreams
05 – Time Will Tell
06 – Lights Out
07 – Wait For Me
08 – Angel Of Mercy
09 – We Rule
10 – So Long
11 – Feel The Heat
Ted Pilot – Lead Vocals
Kendall Bechtel – Lead Guitar
Ed Archer – Rhythm Guitar, Keyboards
Ken Mary – Drums
John Macko – Bass, Keyboards
BUY IT !
www.amazon.com/Time-Will-Tell-Fifth-Angel/dp/B07BZ3L786
.