IDLE TEARS – Idle Tears [YesterRock digitally remastered]
On their prolific trend of reissuing wonderful records long time out of print, Munich-based specialized label YesterRock has really hit the nail with this release: the much sought-after self titled album by IDLE TEARS.
An AOR gem impossible to find for years, "Idle Tears" has been digitally remastered in co-operation with Erik Scott, Idle Tears' bassist back in the day.
Idle Tears was a female-fronted AOR band from Chicago that relocated to Los Angeles after having been signed by major label MCA Records in 1986.
Main man was guitarist Dan Pritzer, who wrote all the tracks, however, the real spearhead of the band was awesome vocalist Liz Constantine, who performed the not so predictable songs with a lot of emotion.
The band also got help from some great guest musicians, among whom bassist Randy Jackson (Zebra, China Rain, et all) who can be heard on the opening track, drummers Craig Krampf (Steve Perry) & Steve Ferrone (Robin Beck) and – last but certainly not least – the famous Waters family on backing vocals.
The band members went their separate ways soon after the release, and since then the Idle Tears album become an AOR cult classic.
As said, the songs are not predictable or 'by numbers', as hear on opener "Fingers on the Pulse of America", which although musically is fine piece of feisty mid-Eighties AOR led by a groovy guitar riff and Constantine's sensual Lita Ford-meets-Patti Smyth vocals, lyrically is an intense critic to the American political climate at the time.
Next are "Take Me Home" a lovely slowish song driven by omnipresent keyboards, and a neat, charming ballad entitled "Oh No".
We have killer hooks on the uptempo "Until You're Down", and a captivating, synth-laden groove on "F.B.I", another of the album's highlights.
The album finishes with a soaring, melancholic ballad "Heroes Never Cry" that brings to mind the grandiose moments of female-fronted rock and slow burner classics of Heart or Lita Ford.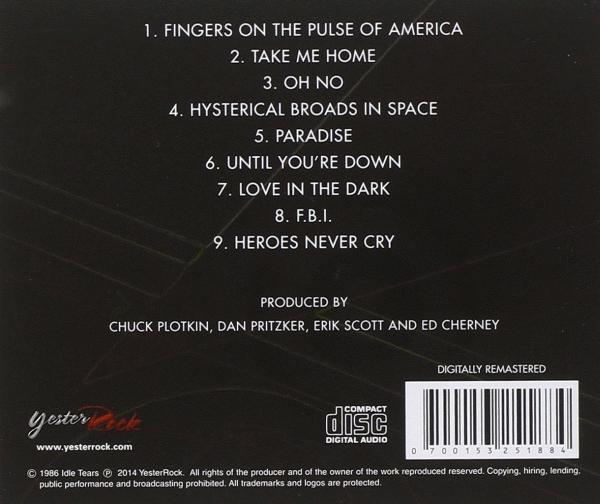 For those not familiar with Idle Tears, this YesterRock re-issue of the group's one and only record is a great opportunity to take a look into a great '80s AOR album.
This are also splendid news for the restless record collectors who sought after the album for decades but were never able to include this rarity in their meticulously gleaned collections.
A major label production back then was great, giving the band a great support to create a positive and catchy atmosphere, which resulted in a very good quality in terms of recording, mixing and mastering.
The remaster process done by YesterRock is excellent, obtaining a fuller, clear output.
Super, Highly Recommended.
01 – Fingers On The Pulse Of America
02 – Take Me Home
03 – Oh No
04 – Hysterical Broads In The Space
05 – Paradise
06 – Until You're Down
07 – Love In The Dark
08 – F.B.I.
09 – Heroes Never Cry
Liz Constantine – Vocals
Dan Pritzker – Guitars
David Resnik – Guitars
Erik Scott – Bass
Gregg Rich – Keyboards
Tom Crowley – Vocals, Percussion
Additional musicians:
Oren, Maxine and Julia Waters – Backing vocals
Craig Krampf – Drums
Steve Ferrone – Drums
Randy Jackson – Bass
BUY IT !
www.amazon.com/Idle-Tears/dp/B00NFNTNKW
.