GYPSY ROSE – Shattered Affair 1986-1989 Roots And Early Days (2018)
Canadian cult melodic hard rock band GYPSY ROSE seem fit to release unreleased and never before heard material during 2018. We already featured 'Rosary Of Tears' including outtakes & unreleased recordings, now it's time for "Shattered Affair 1986-1989 Roots And Early Days".
This is in fact a compilation of Gypsy Rose's frontman Michael Ross two early AOR projects called Shattered Heart and Secret Affair.
Gypsy Rose formed in the late 80s that caught the attention of Gene Simmons on his newfound label Simmons Records that was operating through RCA. In 1990 the band had released their highly acclaimed debut album "Prey" (produced by Mr. Simmons himself) and they quickly became a strong name in the label so much that many would place high hopes in the band thinking they could become the next Danger Danger or even the next Skid Row.
Eventually in 1991 things started to fall apart and the band didn't release the second album splitting up shortly after. The reason for a split up at this time in Rock history is a cliche but so real for the Hard Rock / Hair bands of the era: band tension and lack of support from the label due to the change of the music climate.
You've heard this story a million times before and most probably lived it.
But this melodic brand of Hard Rock survived crawling through the desolate mid to late 90's until it exploded again in the new millennium in a more underground and sectarian spirit that makes possible Gypsy Rose to be back again touring and have released all these rare tracks on physical digital format (yes, good old CD).
As said, "Shattered Affair 1986-1989 Roots And Early Days" put together material from Michael Ross' previous bands Shattered Heart and Secret Affair rescued with the help of a first-time fan who had been saving a copy of almost every tape (DAT and analog) that Shattered Heart / Secret Affair / Gypsy Rose had ever recorded throughout the years.
It quickly became a priority for Ross to acquire those copies and digitizing them. The sound quality is the demo fashion of the era (1986-1989), some better than others.
The first six tracks are the early Gypsy Rose recorded when they were morphing from Secret Affair.
Tracks 7-11 were taped between 1987-88 and you can gear some the AOR sound in North America around the time, plenty of keyboards / synths.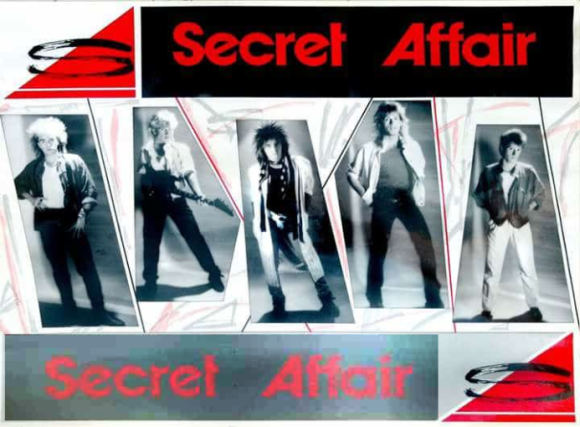 Then the last tracks 12-15 are from the Shattered Heart years, 1986-87 material, also plenty of plenty of synths and a radio-ready approach typical from the mid-Eighties.
All stupendous stuff that deserved better luck and a proper recording / release back in the day. Shattered Heart / Secret Affair had that lovely American / Canadian style from the era akin Honeymoon Suite, Aviator, even Bon Jovi.
Really nice collector's release. Highly Recommended
01 – Looks Bad On You (1988)
02 – Bad Boys Get Ignited (1989)
03 – Bang Bang Boys (1989)
04 – Give It To Me All Night Long (1989)
05 – Shake And Shove (1988)
06 – Last Rose Of Summer (1988)
07 – The Other Side Of Me (1988)
08 – If Your Love Is Gone (1987)
09 – Alone With You (1987)
10 – I Can't Fight It Anymore ( 1987)
11 – If It Takes Me (1987)
12 – Need You Tonight (1986)
13 – First Time For Everything (1986)
14 – Holding Out (1986)
15 – Need You Tonight (Take #1) (1986)
Michael Ross – lead vocals
Bryan Joyce . guitar
Craig van Gaver – guitar (tracks 1-6)
Michael Vaughn Finlayson – bass (tracks 2-5)
Rob Laidlaw – bass (tracks 1, 6,-8)
John Finerty – bass (tracks 9-11)
Steven Thomas – drums (tracks 2-5)
Randy Cooke – drums (tracks 1, 6-8)
Rob Long – drums (tracks 9-11)
Chris Joyce – keyboards (tracks 7-11)
BUY IT !
www.amazon.com/Shattered-Affair-1986-1989-Roots-Early/dp/B07DFZNZSV
.