VA – Lightning To The Nations; NWOBHM 25th Anniversary Collection (Disc 1)
The New Wave Of British Heavy Metal (N.W.O.B.H.M.) was a musical movement that somehow saved – or revitalized if you want – the languishing metal / hard rock scene at the end of the Seventies, and cemented the '80s sound for the genre during the entire decade.
The excellent 3-CD box "Lightnin' To The Nations: NWOBHM 25th Anniversary Collection" comprises the origins of this musical scene with the very early works of bands that will rule in years to come.
Indeed, at the end of the '70s metal music was digging its own grave; Deep Purple and Black Sabbath disbanded and Led Zeppelin near to its end. Besides, Punk was raising its ugly head.
But a new, fresh underground breed of young bands started to grow up at the North of London. This movement consisted of hundreds of acts that emerged from the working class punished at the end of the decade and as a reaction against Punk that was gaining popularity and terrain.
Its aesthetics was very different from that of the musicians from the early '70s, gone were the hippie outfits in favor to a more street-like clothes, shocking and aggressive, so to speak, leather jackets, tacks, chains and jeans.
And more importantly, their music was more energetic, flesh & blood, from the guts. Iron Maiden and Judas Priest were the first to explode, but many others raised soon, and truly stupendous bands to get major recognition in years to come.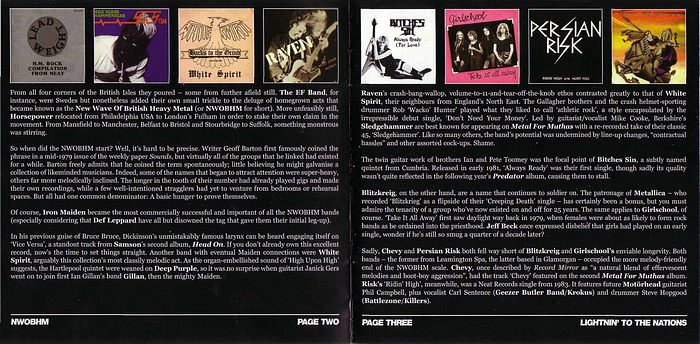 However, a bunch from the scene developed into a much more melodic territory, planting the seeds for the effervescent '80s Melodic Hard Rock scene in Europe.
"Lightnin' To The Nations: NWOBHM 25th Anniversary Collection" is a very diverse compilation, including 56 bands and 56 tracks, from classic heavy metal to melodic hard rock, rare early singles much of them for the first time available on CD.
On this Disc 1, we found heavy acts such as Raven, Girlschool, Persian Risk or Satan, but also more melodious such as cult classics Samson, Dark Star, Heavy Pettin' or Bronz, with their awesome very first single 'Night Runner'.
"Lightnin' To The Nations: NWOBHM 25th Anniversary Collection" is a must have compendium to understand the '80s metal / hard rock evolution, and a collectors piece or rare, hard to find songs.
Appeared some years ago, this 3-CD box has become a collectors piece itself, as it's out of print with remaining copies being sold for U$S 600 at Amazon. Go figure.
A Must Have
01 – Samson – Vice Versa
02 – White Spirit – High Upon High
03 – Raven – Don't Need Your Money
04 – Sledgehammer – Sledgehammer
05 – Bitches Sin – Always Ready
06 – Blitzkreig – Blitzkreig
07 – Girlschool – Take It All Away
08 – Chevy – Chevy
09 – Persian Risk – Ridin' High
10 – Satan – Trial By Fire
11 – Dark Star – Lady Of Mars
12 – Avenger – On The Rocks
13 – Heavy Pettin – Love X Love
14 – Xero – Cutting Loose
15 – Hellenbach – Let's Get This Show On The Road
16 – Bronz – Night Runner
17 – Saracen – We Have Arrived
18 – Bastille – Hard Man
19 – Silverwing – Rock N Roll Are 4 Letter Words
BUY IT !
www.amazon.co.uk/Lightnin-Nations-Anniversary-Nwobhm-Castle/dp/B019GL64HG
.