MIKE TRAMP – The Bootleg Series [Private 7-CD Box] Disc 3 WHITE LION Unreleased 83-85 *Exclusive*
Today we are presenting a must have collectors item: MIKE TRAMP's "The Bootleg Series", a private 7-CD Box collection released some time ago in a very, very limited quantity only via Tramp's website.
This Box includes all Mike Tramp recordings since his early days with STUDS, then DANISH LIONS, WHITE LION'S pre-production / unreleased stuff, and more.
The name "Bootleg Series" is just to give the release some 'charm'. I assure that the sound quality is not 'bootleg' at all, but mostly excellent, first rate.
Disc 3 is a must listen; the very, very first WHITE LION recordings plus unreleased tracks.
May 24th 1983 was the day the Brooklyn Bridge turned 100 years and it was the day that the first line up of White Lion walked in to a New York City studio with Kool And The Gang Producer Eumir Deodato, to cut its first demo.
The band's manager Danny Portilla, who also had been the one convincing Mabel aka Studs aka Lion to come to New York, hocked his Rolex watch to pay for this recording session, plus borrowed money from a few old girlfriends who showed up at the studio.
The band walked out of the studio 8 Am in the morning on the 25th, with 4 songs on a tape, but not sure of what the hell had been going on for the past 24 hours. These the first 4 tracks here; 'Deep in Love with You', 'Two People', 'Rock You Tonight' and 'Evil Angels', all written by Mike. It's the first recording of Vito and Mike, bass player Bruce Terkildsen and drummer Mike Arbeny.
August 1983 Vito and Mike are back in the studio, this time with two hired guns as rhythm section. This would also be the birth of the Bratta -Tramp songwriting team. Few weeks early they wrote 'Broken Heart', 'The Road to Valhalla' and 'How Does it Feel'.
Also from this session, is yet another go at Mike's 'Rock You Tonight'.
1983 would end with a new White Lion line up featuring drummer Nicky Capozzi and bassist Felix Robinson. 1984 brought White Lion's first album 'Fight to Survive' into the world. And the year ended with Felix being fired and Ricky retiring.
So White Lion started 1985 with a new line up. Bassist Dave Spitz and drummer Greg D'angelo were now the beat and grove of the band. And all felt pretty good for quite a while. The band played and rehearsed as much as possible, and during that time frequently set up their gear on the stage of L'Amour Rock capital of Brooklyn. Tracks 9-17 are recorded live there the band's sound-man Joe Star.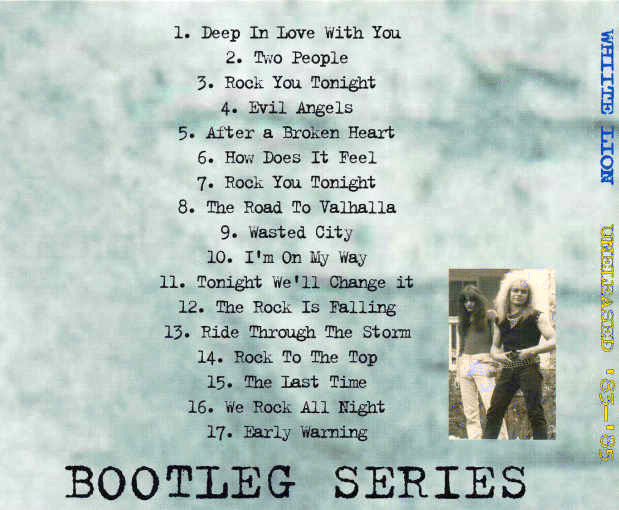 It was an interesting time, cause Vito and Tramp somehow started to write songs by themselves. The only problem was when Mike would bring down a song Vito would just only hack his way through the song and never put any of that 'Vito magic' into playing it.
'Wasted City', 'I'm on my Way', 'Tonight We'll Change It' and 'The Rock is Falling ' (which became 'If I live Tomorrow' for Tramp's Capricorn album) are the Mike Tramp solo penned songs here.
Same problem happened when Vito would bring down one of his songs. The vocal melody would be so hard to sing and most time way to high for Tramp, cause Vito had just been sitting there singing it in a falsetto, and now giving it to Tramp to scream out. '
The Last Time', is one of Vito's own written songs, so listen and judge for yourself.
But their managers straightened them out and never again would Bratta-Tramp write on their own, and they soon got back on track with 'Ride Through The Storm', 'Rock to the Top', 'We Rock all Night' and 'Early Warning'.
Just a few weeks after the last recording session, Dave Spitz left the band to join Tony Iommi's Black Sabbath. But White Lion were still on a roll, and not long after Dave's departure, a longhaired, tanned good-looking kid by the name of James Lomenzo came in from California to join the band.
The rest is history.
Great, rare and very interesting recordings.
A collector's item (more to come…)
01 – Deep In Love With You
02 – Two People
03 – Rock You Tonight
04 – Evil Angels
05 – After A Broken Heart
06 – How Does It Feel
07 – Rock You Tonight
08 – The Road To Valhalla
09 – Wasted City
10 – I'm On My Way
11 – Tonight We'll Change It
12 – The Rock Is Falling
13 – Ride Through The Storm
14 – Rock To The Top
15 – The Last Time
16 – We Rock All Night
17 – Early Warning
Sold Out
.