MIKE TRAMP – The Bootleg Series [Private 7-CD Box] Disc 6 WHITE LION Mane Attraction Start To Finish *Exclusive*
Here's the remaining discs from the superb MIKE TRAMP's "The Bootleg Series", a private 7-CD Box collection released some time ago in a very, very limited quantity only via Tramp's website.
This Box includes all Mike Tramp recordings since his early days with STUDS, then DANISH LIONS, WHITE LION'S pre-production / unreleased stuff, and more.
The name "Bootleg Series" is just to give the release some 'charm'. I assure that the sound quality is not 'bootleg' at all, but mostly excellent, first rate.
Disc 6 'Mane Attraction Start To Finish' is exactly what its title promises: the complete creative process of White Lion's fourth studio album Mane Attraction, from 8-track songwriting takes to professionally recorded pre-production demos with excellent sound quality.
It's the entire Amigo Studio sessions, all the recordings. Many versions are pretty different to the final LP songs, and include the great, unreleased "Back On The Streets" which did not make into the album tracklist.
It also includes Vito and Mike's 8-track home demos from the early stage of the song writing that took place at the legendary Oakwood apartments in North Hollywood.
Both musicians took the necessary time to polish the songs, refine the arrangements and discard many ideas that didn't worked for them.
Once Richie Zito came on board as producer, they did more re-writing, because Zito was truly involved with the creation of Mane Attraction.
According to Tramp, as example, Zito didn't like the title and lyrics "Like a Dog" so it became "Leave me Alone", and the bridge section for "It's Over" was re-worked 5 to 6 times.
"Warsong" isn't here, simply because it was written later in the studio while recording the album and the band & Zito decided to include it into the LP final tracklist (Mane Attraction song #7).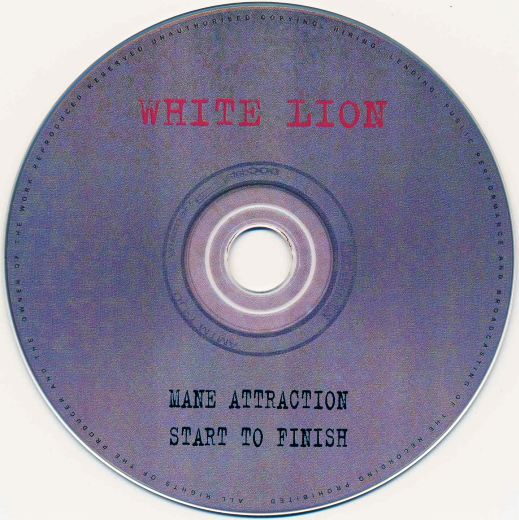 Honestly, listening to these pre-production takes, all are so well recorded with attention to detail that easily could have been the final product.
As said, many songs are quite different to the finally heard in 'Main Attraction'.
Another excellent CD from this superb Box Set.
A true collector's item
01 – Time To Wonder
02 – Back On The Streets
03 – Love Don't Come Easy
04 – Out With The Boys
05 – She's Got Everything
06 – It's Over
07 – All That I Need
08 – Broken Heart
09 – Death Do Us Part
10 – Leave Me Alone
11 – Farewell To You
12 – Lights And Thunder (8 Track Demo)
13 – Love Don't Come Easy (8 Track Demo)
14 – Till Death Do Us Part (8 Track Demo)
15 – You're All I Need (8 Track Demo)
16 – Like A Dog (8 Track Demo)
Sold Out
.