MIKE TRAMP – The Bootleg Series [Private 7-CD Box] Disc 7 Mike & Oliver Brothers For Life *Exclusive*
Here's the remaining disc from the superb MIKE TRAMP's "The Bootleg Series", a private 7-CD Box collection released some time ago in a very, very limited quantity only via Tramp's website.
This Box includes all Mike Tramp recordings since his early days with STUDS, then DANISH LIONS, WHITE LION'S pre-production / unreleased stuff, and more.
The name "Bootleg Series" is just to give the release some 'charm'. I assure that the sound quality is not 'bootleg' at all, but mostly excellent, first rate.
Disc 7 features the Mike Tramp recordings with his friend Oliver Steffensen. They meet in Spain, 1982, when Tramp was living in Madrid with the rest of Mabel / Studs members, his first band by the time re-named Lion / Danish Lions. The group was searching for another guitarist, and Steffensen came from Denmark to join.
Soon the band went to New York for the first time and spent 6 months playing the club circuit, and meanwhile Mike and Oliver become friends. When Lion / Danish Lions broke up, friendship continued.
Several years later, when White Lion disbanded in the early Nineties, Tramp called Oliver asking him to form a new band together. Both moved to L.A. and started to write new songs.
At the end of 1991 both went into the studio to record their first 5 songs. Many more followed, and soon the project was taking a name: Freak Of Nature, Mike Tramp's band post-White Lion.
There's 8-track home demos here like 'Flowers and 'If You Gonna Hurt Me', but tracks 8, 9, 10 and 11 were recorded by renowned Jimbo Barton and mixed by Michel Wagener with professional quality.
Freak Of Nature officially born and started playing the LA circuit. At the time, Mike and Oliver were the only songwriters in the band, but they had a lot of songs ready, and two record companies were interested to sing up the band.
But suddenly, Oliver decided to return to Denmak due to personal reasons.
Freak Of Nature found other guitarist and the rest is history.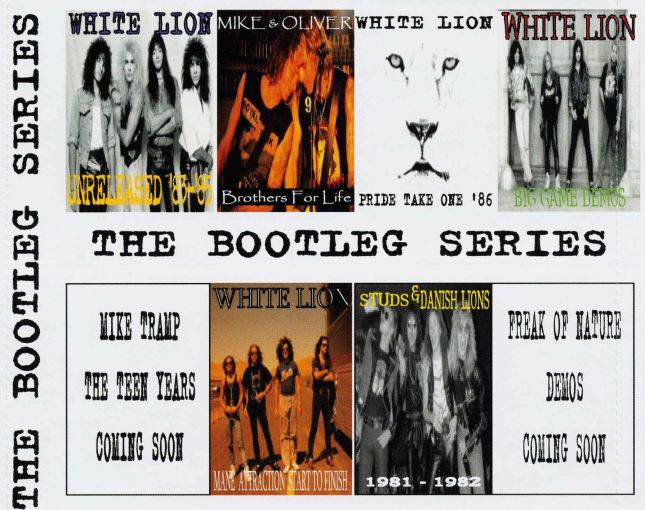 However, both musicians keep in contact, and when Freak Of Nature broke up and Tramp was planning his debut as solo artist, Oliver returned to America to work with him again. Tracks 12 to 15 on this CD were written by Oliver / Mike in the mid-90s, and recorded at Tramp's home studio.
Later, Oliver contributed songwriting for all Mike Tramp solo albums, continuing a friendship as real 'brothers for life'.
Unknown and very good stuff from Mike Tramp here, written and recorded with his friend and band mate Oliver Steffensen, all unreleased material.
A true collector's item
01 – Get Out Of My Way
02 – Ready To Go
03 – Too Much To Drink
04 – Real Life
05 – Things Aren't What They Used To Be
06 – Flowers
07 – If You Gonna Hurt Me
08 – Taking Out My Old Guitar
09 – Walking The Thin Line
10 – I Will Fight No More
11 – Disturbing The Peace
12 – Show Me The Way To Heaven
13 – Get Me Out Of Here
14 – Words Don't Count
15 – One Love
Sold Out
.