PRETTY MAIDS – Future World [Japan Blu-Spec CD2 remastered] (2018)
Sony Music Japan just started a fantastic series of PRETTY MAIDS albums for the first time remastered and pressed on High Quality Blu-spec CD2 format. "Future World" is Pretty Maids' second album, now sounding in all its glory with a superb remastering job.
After their very good debut LP, Pretty Maids toured all over Europe and meanwhile started to plan their world wide attack. It took them three whole years to produce a follow-up, carefully written and produced to conquer the American market.
It was definitely worth the wait, as "Future World" is simply one the greatest albums from the second half of '80s regarding Melodic Hard Rock, on par with Treat or Europe masterpieces.
Three years, four recording studios and something like eight engineers (including legends Eddie Kramer & Kevin Elson) are a few of the numbers that separated fans of this Danish five-piece (down from six and short original guitarist Pete Collins) and what many consider to be Pretty Maids' most sophisticated, cohesive, confident, and even portentous nine-track journey to date.
Commercial and explosive (or commercially explosive and vice-versa) enough for a single's legit a-side, lots-o-pomp "Future World" finds economy in its deceptive, time-flying four and a half minutes and extravagance in its frenetic pageantry where Alan Owen's flashy keyboard dazzle is but one of its fan-pleasing OTT ingredients.
"We Came to Rock" is an hymn where rough and domineering is Ronnie Atkins' vocal tone, and meaty is its gang-voxed chorus. "Eye of the Storm" would've been the next viable a-side had the album warranted another single.
Then "Love Games"… this is simply one of the greatest AOR songs ever written. It's pure 1987 in sound, style and vibrancy… it's phenomenal, and you gotta have this album for this song alone.
"Loud 'N' Proud" and "Needles in the Dark" are rocking, catchy, blood pumpers of the highest order, meanwhile "Yellow Rain" guides its followers throughout the side where radio friendship shakes hands, then after a minute and a half abruptly leaps to the opposite side to the dismay of some and the appreciation of others.
The Punchy "Rodeo" and "Long Way to Go" both rocks with tons of melody.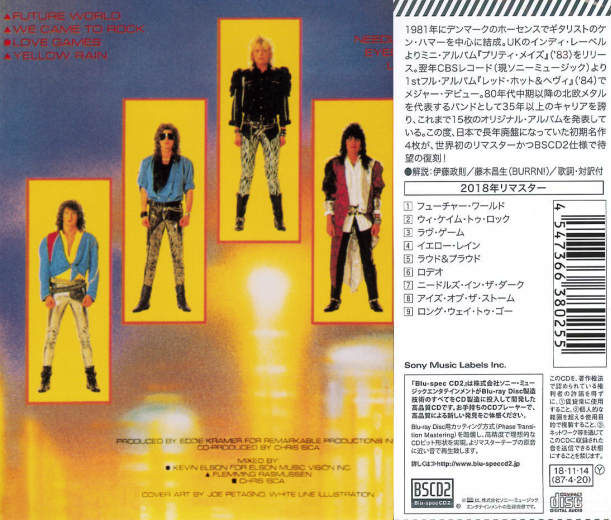 Like, let's say, Dokken's crunchier numbers but definitely AOR, Pretty Maids demonstrate an ability to craft hook-laden cuts, that retain balls but display an unmistakable ability to generate powerful melodies.
"Future World" is a Melodic Hard Rock classic, from a year when the genre from the production side was perfectly blended with AOR, resulting into a masterpiece.
This remastered reissue sounds heavenly pristine, immaculate
Easily among my favorite 50 albums of all time, Pretty Maids' "Future World" is A MUST HAVE.
Sony Music Japan ~ 【SICP-31223】
「 LEGACY BSCD2 REISSUE SERIES 」
01 – Future World
02 – We Came to Rock
03 – Love Games
04 – Yellow Rain
05 – Loud 'n' Proud
06 – Rodeo
07 – Needles in the Dark
08 – Eye of the Storm
09 – Long Way to Go
Ronnie Atkins – vocals
Ken Hammer – guitar
Phil Moorhead – drums
Allan Delong – bass
Alan Owen – keyboards
Graham Bonnet – backing vocals (tracks 2, 5)
Philip Hart – backing vocals (tracks 2, 3, 5, 6)
Produced & Engineered by Eddie Kramer
Mixed by Kevin Elson & Flemming Rasmussen
BUY IT !
www.cdjapan.co.jp/product/SICP-31223
.