PRETTY MAIDS – Red, Hot And Heavy [Japan Blu-Spec CD2 remastered] (2018)
Sony Music Japan just started a fantastic series of PRETTY MAIDS albums for the first time remastered and pressed on High Quality Blu-spec CD2 format. "Red, Hot and Heavy" is Pretty Maids thunderous debut LP, now sounding in all its glory.
With their '83 self-titled EP, Danes Pretty Maids managed to snag something the grand majority of bands pine for: major label notice. Well, they got signed by CBS Records.
"Red Hot and Heavy" is the band's full length debut, a killer mix of Euro mid-80s metal and catchy melodies.
The album opens up dramatically with the beginning to Carl Orff's Carmina Burana – that is 'Fortuna', a pretty popular piece that is used in a lot of movies.
It then jumps right into one of the best song on this album, 'Back to Back', a fast paced tempo metallic tune to bang your head.
And what follows is on the same level; a great crunchy guitar sound, on the money vocals, and one of the most pounding n' locked in rhythm sections I have ever heard.
Another strong number is the title track, with some serious fist pumping credibility, a very strong chorus and anthemic vibe.
And then my absolute favorite; "Waitin' for the Time", a winner, where the band adds that 'magic' keyboards from the era. However, it's a pretty upbeat song with power and emotion.
Ronnie Atkins' vocals kills on the radio-friendly "A Place in the Night" as well as on the middle-road rumbler "Queen of Dreams".
All the LP is highly enjoyable, like the heavy "Battle of Pride", the Thin Lizzy influenced "Little Darling", and the deadly quick flow of "Night Danger".
While many bands of the time had the flash guitar thing down, many hadn't spent much time trying to play with each other and the result would come out sloppy sounding.
Obviously, Pretty Maids set their standards slightly higher than most other bands of the time. For a debut, this is the best sounding and tightest thing out there.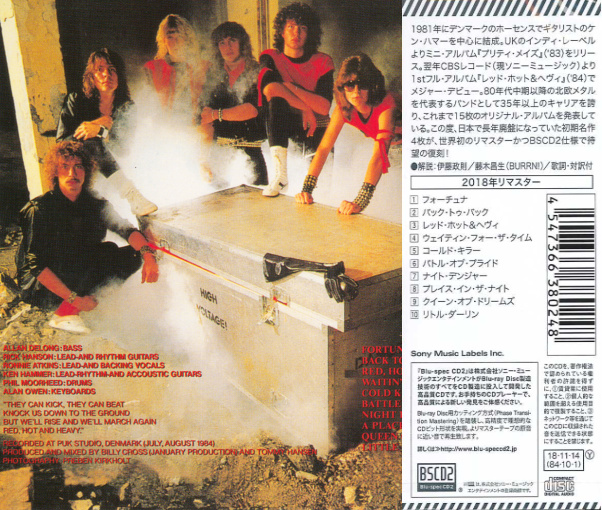 If you love '80s metal then you should pick "Red, Hot and Heavy" up. In fact, if you like metal, hair metal, hard rock, whatever… you should own this album. It definitely appeals to a wide variety of an audience.
The album is packed full of solid tunes featuring great crunchy guitar riffs and solos. Some songs are heavy while others are more melodic, all really well recorded and mixed.
This fresh remaster is excellent, updating that 'analog atmosphere' to current times.
Highly Recommended
Sony Music Japan ~ 【SICP-31222】
「 LEGACY BSCD2 REISSUE SERIES 」
01 – Fortuna
02 – Back To Back
03 – Red, Hot And Heavy
04 – Waitin' For The Time
05 – Cold Killer
06 – Battle Of Pride
07 – Night Danger
08 – A Place In The Night
09 – Queen Of Dreams
10 – Little Darling
Ronnie Atkins – vocals
Ken Hammer – lead guitar
Kim Rikke Hansen – lead guitar
Pete Collins – lead guitar
Phil Moorhead – drums
John Darrow – bass
Alan Owen – keyboards
Billy Cross – producer, lead guitar (track 10)
Tommy Hansen – producer, Fairlight CMI programming, organ
Knud Lindhard – backing vocals
BUY IT !
www.cdjapan.co.jp/product/SICP-31222
.