BLINDMAN – Reach For The Sky [Japan Edition] (2018)
Released at the end of 2018, "Reach For The Sky" is the new album by BLINDMAN, a really good Japanese band not well known outside Asia but a leading Melodic Hard Rock act in their country.
Among Blindman's mentioned influences are Journey, Rainbow, Blue Murder, etc, and you can hear all of them in "Reach For The Sky", all done with their own touch.
Just listen to opener 'Strangers in the Night', a pumping melodious rocker with a Journey's circa 1983 feel; driving keyboard swirls and soaring vocals. Killer tune.
Active since the Nineties and with 9 studio albums under their belt (and 2 live), "Reach For The Sky" is the band's second record with new vocalist Ray and drummer Shun Minari. Ray is a revelation, a guy owner of a husky and soulful set of pipes.
Second track "Now or Never" is just another excellent melodic hard rocker with traditional organ providing a classy sound and some great guitar work.
'Survive' shows the classic hard influence via a racing yet melodic rhythm, same with the Rainbow meets Blue Murder 'The End of My Dream', another highlight.
'Blue Moon' is a quite original semi-ballad / midtempo – not your typical song in this vein, atmospheric and melancholic. A more muscular rocker appears with 'Roll the Dice', with a John Sykes / Blue Murder touch, bluesy and very well arranged.
The title track is driven by a sharp riff yet there's very melodious verses and a catchy chorus, then closer 'Angels Ladder' is the proper ballad on the record, which reminds me of the '80s German metal bands doing this type of tunes.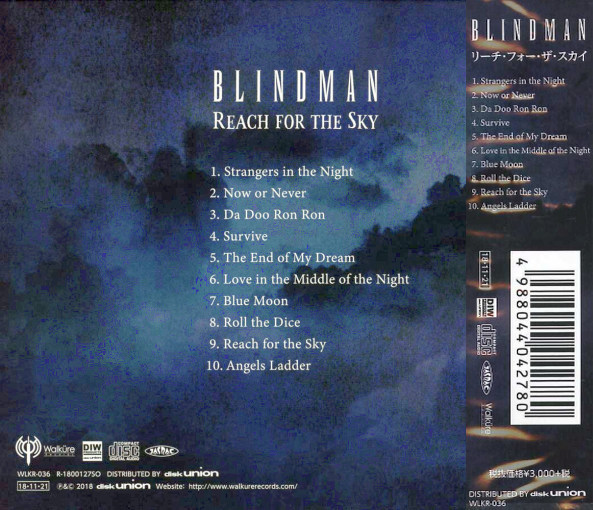 "Reach For The Sky" is a really solid classy melodic hard rock album by Blindman, a band that if nobody tell, you'll guess hails from America or Europe. There's great musicianship, fine arrangements, a very good accent-free vocalist and polished production.
All songs are strong and melodious, perhaps the only downfall is the cover of the Crystals' 'Da Doo Ron Ron', a silly pop song that according to the band, they wanted to record to reach a wider audience.
Anyway, this doesn't distract the quality of "Reach For The Sky", from a talented band to keep an eye on.
Highly Recommended
You've seen it first here, at 0dayrox
BLINDMAN 「Reach for the Sky」 ~ 【WLKR-36】
01 – Strangers in the Night
02 – Now or Never
03 – Da Doo Ron Ron
04 – Survive
05 – The End of My Dream
06 – Love in the Middle of the Night
07 – Blue Moon
08 – Roll the Dice
09 – Reach for the Sky
10 – Angels Ladder
Ray – Vocals
Tatsuya Nakamura – Guitars
Hiroki Matsui – Keyboards
Tatsuya Toda – Bass
Shun Minari – Drums
BUY IT !
www.cdjapan.co.jp/product/WLKR-36
.