STARBREAKER – Love's Dying Wish [Japan Edition +1] Out Of Print
With the new STARBREAKER coming up this year, is well worth to check out their 2 early albums, both high quality melodic rocking music. "Love's Dying Wish [Japan Edition +1]" is the band's second effort, and in many ways, even better than the debut.
The band's debut 'Starbreaker' album turned some heads for sure. It re-positioned vocalist Tony Harnell into a new realm and set him up to continue a respected career outside the confines of what he was best known for in TNT. The heavier melodic metal direction suited Tony perfectly and the pairing of him and star guitarist Magnus Karlsson could not have been better.
"Love's Dying Wish" sees the band delivering a slightly different release, keeping the base that was the debut and adding some new elements.
Different yes, but just as good and perhaps even better. A revised line-up step up and place themselves well and truly on the international hard rock / melodic metal landscape. I love everything this album has to offer – it is even more diverse than the debut, it is darker and more aggressive and it has a monster sound that outshines the first album and the added production effects makes it very contemporary and open to a wide audience.
New bassist Jonni Lightfoot is all over this record, with a thumping beat that meshes with drummer John Macaluso to deliver an ear crunching rhythm section. Magnus Karlsson is great and versatile as ever. He has never sounded so heavy and aggressive, yet the riffs continue to help drive the melodies behind the songs.
The choice of a further tuned down contemporary sound again helps make this record a modern commercial hard rocking masterpiece. I'm not normally one to advocate the down-tuning of guitars, but in doing so on this record, the guys give themselves a whole new attitude that just sells itself.
Tony Harnell has also made the interesting choice of delivering more vocals in a lower register, with a menacing rasp at times, making those trademark higher pitch melodies and squeals even more effective and powerful when they arrive.
And there are plenty of them… but used to blow the songs apart with soaring vocal lines rather than drive the song that way from the start. Additionally, the constant use of harmonies throughout only helps these choruses stick in your head. The strength of songwriting is what really makes this album a revelation.
There simply are no secondary songs – every track is a winner and the ones with seemingly less melodic drive are perfect foil for the songs that follow and in their own way have embedded melodies that grow on you with time, showing the true depth of the material here.
Hard to pick out highlights here as every track has a melody and a good chorus and some songs have different roles to play. The punishing modern metal vibe of the opening two songs 'End Of Alone' and 'Evaporate' set up the tone of the album and allow the fabulously intense & dramatic 'Love's Dying Wish' to blow through the speakers. The chorus here is classic Tony Harnell.
'Unknown Superstar' is as catchy as Tony Harnell can be, helped by driving riffs and a dynamic rhythm section. The atmospheric midtempo 'Hide' packs some TNT on it, 'Live Your Life' has a thumping beat, a menacing vocal and another magnificent chorus, while 'Changes Me' is simply phenomenal: the moody intro building to a punchy beat and a gigantic chorus which makes this one of the best Starbreaker songs ever.
'Building A Wall' has a subtle melody that grows with each listen, and 'This Close' is a powerful ending to a powerful album. The Japanese bonus is 'Hide (Acoustic)', showcasing an intimate side of the song.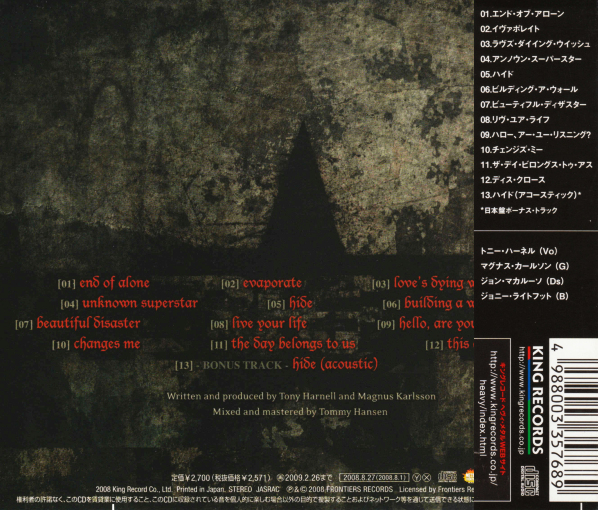 "Love's Dying Wish [Japan Edition +1]" is just another fantastic from Starbreaker, an intense and complex opus full of melody and dark but excellent guitar work. There is a lot going on here with a more contemporary direction than on their first album, prolific of killer songs and terrific performances.
This is a world class hard rock / melodic metal record.
Highly Recommended
01 – End Of Alone
02 – Evaporate
03 – Love's Dying Wish
04 – Unknown Superstar
05 – Hide
06 – Building A Wall
07 – Beautiful Disaster
08 – Live Your Life
09 – Hello,Are You Listening?
10 – Changes Me
11 – The Day Belongs To Us
12 – This Close
13 – Hide (Acoustic) (Japan Bonus Track)
Tony Harnell – lead vocals
Magnus Karlsson – guitars, keyboards, piano
Jonni Lightfoot – bass
John Macaluso – drums, percussion
Out Of Print
www.cdjapan.co.jp/product/KICP-1319
.