STARBREAKER – Starbreaker [Slipcase version +1]
With the new STARBREAKER coming up this year, is well worth to check out their 2 early albums, both high quality melodic rocking music. Simply titled "Starbreaker", this is the debut album by the Swedish combo, in this limited edited 'Slipcase version' including a bonus track (hidden at the end of the CD) which was as well the Japanese edition bonus.
Starbreaker started as vocalist Tony Harnell's side project while he was still in TNT, after recording the TNT album All The Way To The Sun in 2005. Initially, Harnell was working on a solo record, but with guitarist Magnus Karlsson, former TNT drummer John Macaluso, and bassist Fabrizio Grossi, they formed the new band Starbreaker, rather than a Harnell solo project.
This debut album could be resumed in a word… magnificent. That's the first thing that comes to mind after listening to this absolutely astounding CD.
So impressive, in fact, that easily was among the best releases of the year when appeared.
Although still very melodic and with some TNT-like melodies, "Starbreaker" is a lot more aggressive and edgier than anything else Harnell has been involved with. Part of the reason for this is the presence of producer Fabrizio Grossi who has worked with such artists as HOUSE OF LORDS or GLENN HUGHES and also adds his powerful and unique bass playing to the album.
Next, we come to guitarist Magnus Karlsson whose superior guitar playing and songwriting ability is the perfect compliment to Tony Harnell. His powerful and gripping style is apparent throughout the CD and really adds a unique blend of melodic, grinding, and vigorous guitar work to every track.
Finally, rounding out the band and bringing the whole thing together is veteran drummer John Macaluso who has not only worked with RIOT, YNGWIE MALMSTEEN, and ARK, but has also backed up Tony before on TNT's Realized Fantasies CD from 1992.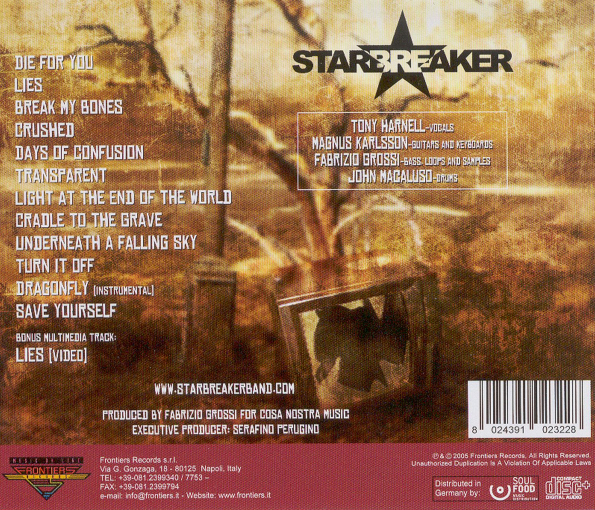 "Starbreaker" itself is tight to say the least. Lyrically, musically and conclusively, this CD is a richly composed gem, which will satisfy just about any true melodic metal / melodic hard rock fan.
Songs like "Die For You," "Light At The End of The World," "Crushed," and "Lies" are among some of the more stand out tracks on the CD… but all are good, strongly composed and executed. Every song is flavorful composition, which truly has to be heard to be experienced and fully appreciated.
Starbreaker's debut release is yet another jewel in the crown of Tony Harnell and the rest of the band alike.
Highly Recommended
01 – Die For You
02 – Lies
03 – Crushed
04 – Days Of Confusion
05 – Transparent
06 – Light At The End Of The World
07 – Cradle To The Grave
08 – Underneath A Falling Sky
09 – Turn It Off
10 – Dragonfly
11 – Save Yourself
HIDDEN TRACK / JAPAN BONUS TRACK:
12 – Days Of Confusion (Acoustic Reprise)
Tony Harnell – vocals
Magnus Karlsson – guitars, keyboards
Fabrizio Grossi – bass
John Macaluso – drums, percussion
BUY IT !
www.amazon.de/Starbreaker/dp/B0007NB9M8
.