WILD AMERICA – Gasoline (2018-2019) *EXCLUSIVE*
American label Kivel Records is one of my favorites, always discovering exciting new bands such as WILD AMERICA, who just released their debut titled "Gasoline" at the end of 2018 but properly distributed / available 2019. As usual. Kivel releases are on physical CD only.
And what's the great thing here?
WILD AMERICA have an unapologetic nod to the late '80s Arena Rock sound. There's been a (much needed) resurgence in this kind of music over the past few years, so it's always fun to find new bands picking up that tried and true banner.
Do you miss bands like Night Ranger, Damn Yankees, Y&T, etc? Especially in / from America?
Look no more. WILD AMERICA is the real deal.
Wild America's sound seems most influenced by that post-glam, pre-grunge period – 1989/1991 – where American melodic hard rock was still catchy and hook-heavy, but didn't rely on image or songs about T&A quite as much. Fun without being embarrassing, in other words.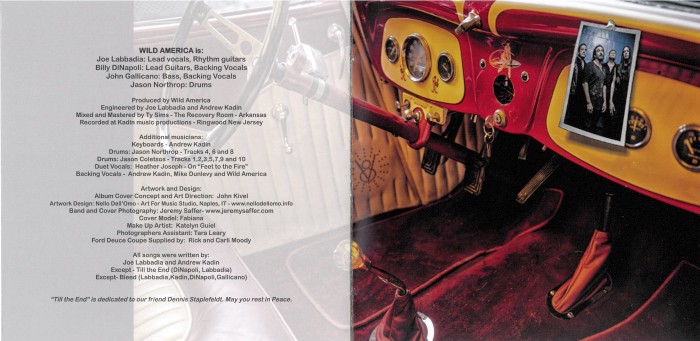 "Gasoline" check all the boxes. Catchy melodies? Check. Flashy solos? Check. Hard rocking rhythms? Check. Strong, clear vocals? Check.
The songs are all well put-together with that 'sense of melody' that seems lost on many bands nowadays, and production is very, very good, inspired by that '80s Ron Nevison works I love sou much.
The album even sports great cover artwork and complete booklet / lyrics like in the good ole times.
"Is Anybody Listening" and "Maybe Tonight" are party-rocking highlights, but songs that slow down the pace like "Feet To The Fire" and "Til The End" (some Giant on it) also shine.
The Kivel label has a knack for discovering fun, good old-school melodic hard rock bands, and WILD AMERICA definitely fits the bill.
"Gasoline" is that kind of albums you'll love at first listen. This is classiy US Arena Rock with that '89/'91 unrepeatable clean pristine sound, yet powerful, rocking and fun at the same time.
As said, fans of Night Ranger, Giant, Damn Yankees, Tyketto, Tangier, etc need to discover this band / album right now.
HIGHLY Recommended
You've seen it first here, at 0dayrox
01 – Long Road
02 – Rockstar
03 – Is Anybody Listening
04 – Gasoline
05 – Something Inside
06 – Feet to the Fire
07 – Maybe Tonight
08 – She Will
09 – Bleed
10 – Til the End
Joe Labbadia – vocals, guitar
Billy DiNapoli – guitar, backing vocals
John Gallicano – bass, backing vocals
Jason Northrop – drums
with:
Andrew Kadin – keyboards, synths, backing vocals
Jason Coletsos – drums on 1,2,3,5,7,9,10
Heather Joseph – vocal duet on 6
Mike Dunlevy – backing vocals
BUY IT !
www.amazon.com/Gasoline-Wild-America/dp/B07L2Q5QFZ
.