HARDLINE – Life [Japan Edition +1] (2019)
While we haven't heard from HARDLINE since 2016, one member of the band has had a busy lately. Founder and vocalist Johnny Gioeli dropped two albums last year, Set The World On Fire with former bandmate Deen Castronovo, and his own solo album, One Voice.
Now Hardline returns with their sixth and latest album, "Life", featuring two new members, guitarist Mario Percudani and drummer Marco Di Slavia.
In one sense, 'Life' is merely a continuation of the hard edged sound of previous 2016's Human Nature. Alternatively, I would say this album is even heavier than its predecessor, enough so to call the Hardline sound, melodic hard rock.
The riffs are sharper, the leads more blistering, the rhythm section more bold and thundering, and Gioeli, perhaps, even a bit more raging in his vocal presence.
Sure, there are some milder moments to a song, like the softer electric breakdown within 'Hold On Tight'. Mostly, there's kick ass edgy rockers like 'Place To Call Home', 'Take A Chance', or 'Chameleon'.
Even the ballads can be rocking tough like the heavier version of Queen's 'Who Wants To Live Forever' and 'Page Of Your Life', despite their lingering piano lines.
Conversely, Hardline can bring the mellow, so to speak, in the AOR ballads 'This Love' and especially 'My Friend', which turns upon acoustic guitar and vocal harmony.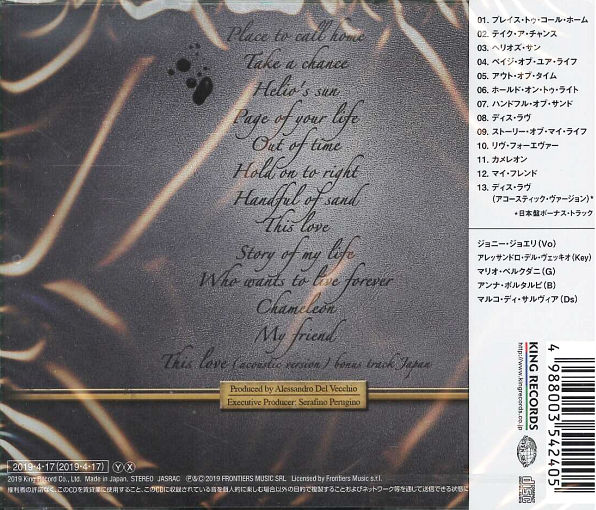 "Life" is a very strong, kicking new album from Hardline, one of their best after their unbeatable debut.
A variety of songs from hard hitting rockers to some beautiful ballads and back to action again, plus the skills of each member guarantees that "Life" will please both old and new fans.
HIGHLY Recommended
01. Place to Call Home
02. Take a Chance
03. Helio's Sun
04. Page of Your Life
05. Out of Time
06. Hold on to Right
07. Handful of Sand
08. This Love
09. Story of My Life
10. Who Wants to Live Forever
11. Chameleon
12. My Friend
JAPAN BONUS TRACK:
13. This Love (Acoustic Version)
Johnny Gioeli – vocals
Alessandro Del Vecchio – keyboards and backing vocals
Mario Percudani – guitars
Anna Portalupi – bass
Marco Di Salvia – drums
PRE ORDER:
www.cdjapan.co.jp/product/KICP-1977
.