NIGHT RANGER – High Road [Japan SHM-CD + Best Buy Bonus]
This one has been requested: The Japanese Deluxe Edition of NIGHT RANGER's album "High Road" pressed on SHM-CD, plus the Best Buy version exclusive bonus track, and the regular edition bonus track.
Produced by the band itself, "High Road", is definitely one of the best Melodic Rock albums of this decade, and for many, one of the best in Night Ranger's discography.
"High Road" is absolutely more diverse and mature that the previous Night Ranger album 'Somewhere In California', and on many aspects it's a return to their golden '80s days: soaring twin guitars, keyboard flurries, driving rhythms, stunning lead and harmony vocals, all of which are mixed in a cacophony of beautiful splendor.
"High Road" delivers a great production sound – among the best of their illustrious career – extremely slick & polished. Blades / Keagy / Gillis are not only top musicians but also fantastic songwriters, the latter is what, in my opinion, sets them as leaders of the Melodic Rock pack.
The newest members of the band, keyboardist Eric Levy and guitarist Joel Hoekstra (who has now been with them a decade) have not simply turned up and taken the pay-cheque but stamped their own mark on to the classic NR sound.
Every track is clearly recognizable as Night Ranger and, to quote Jack Blades, is "feel-good, high energy kick-ass Rock 'n' Roll".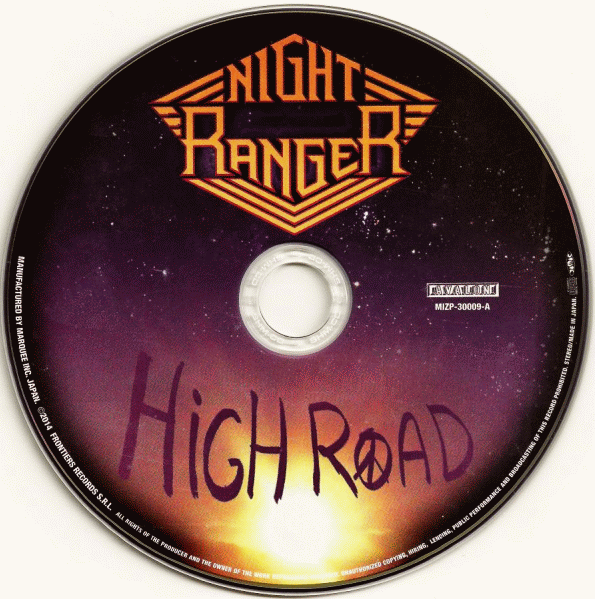 Opening track "High Road" epitomizes the latter description and the early drive is maintained with the party favourite "Knock Knock Never Stop" featuring the brilliant shared vocals of Blades and Kelly Keagy.
"I'm Coming Home" is revealed as another album highpoint, blending crunchy guitars with infecting melodies, again with its combined vocals is pure bliss and I could see this featuring in future live sets.
"Rollin' On" is the heaviest track on the disc and perhaps the only throwback to the 'Neverland' and 'Seven' albums, while "Don't Live Here Anymore" could have easily appeared on a Keagy solo album albeit for the blistering guitar solos of Brad Gillis and Hoekstra.
But as said, this is a quite varied record, and the riffs that introduce "X Generation" and the high flyer "St. Bartholomew" have an engaging melodic edge, and are particularly strong when it comes to hooks and more elaborated verses.
Night Ranger show that they have the nerve to spoil the fun by introducing "Brothers", a sedate bid for universal love and understanding that feels and sounds like the impeccable soundtrack to a teenage romance.
Gillis and Hoekstra duel frenetically throughout the whole album, highlighted on "Hang On" that perfectly blend the old school sound with a modern production approach.
No NR album would be complete without a killer ballad, and we have "Only For You Only", rating alongside some of their best.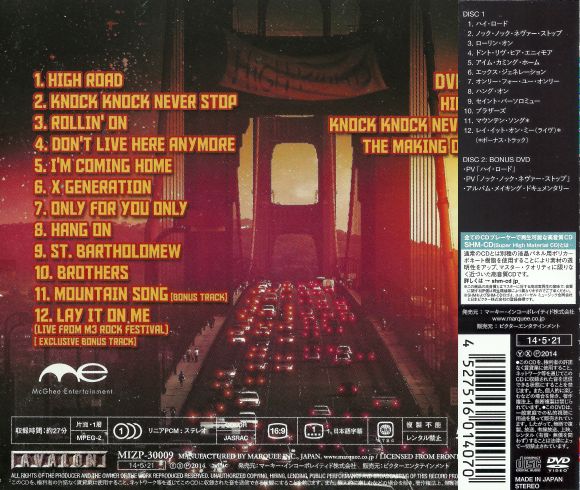 This "High Road" Japanese version on SHM-CD sounds great, and as extras we have the Best Buy release exclusive bonus track 'Don't Even Know Your Name' (a killer melodic rocker), and 'L.A. No Name', the regular edition bonus track.
It's Night Ranger. One of the greatest Melodic Rock bands on Earth ever. Period.
HIGHLY RECOMMENDED
Avalon Japan ~ 【MIZP-30009】
【LTD SHM-CD】
01 – High Road
02 – Knock Knock Never Stop
03 – Rollin' On
04 – Don't Live Here Anymore
05 – I'm Coming Home
06 – X Generation
07 – Only For You Only
08 – Hang On
09 – St. Bartholomew
10 – Brothers
11 – Mountain Song [Japanese bonus track]
12 – Lay It On Me (Live) [Japanese bonus track]
Extras:
13 – Don't Even Know Your Name [Best Buy bonus track]
14 – L.A. No Name [Regular edition bonus track]
Jack Blades: Lead Vocals, Bass
Kelly Keagy: Drums, Lead Vocals
Brad Gillis: Guitar, Vocals
Joel Hoekstra: Guitar, Vocals
Eric Levy: Keyboards
BUY IT !
www.cdjapan.co.jp/product/MIZP-30009
.