SHINING LINE – Shining Line [Limited Edition re-release +1]
Street Symphonies Records just did a licensing agreement for the reissue of SHINING LINE's self-titled album "Shining Line", including a previously unreleased track.
This is a Limited Edition of strictly 500 copies.
Only 6 years have passed since the release of "Shining Line" album but it's already considered a classic record in the Melodic Rock / AOR genre. The idea was to create an all-star project with the participation of some of the most well-known musicians from the scene and the result was, and still is, pretty amazing.
The mastermind behind Shining Line is drummer & songwriter Pierpaolo Zorro Monti and Amos Monti, both recently involved into great acts such as Room Experience, Lionville and Charming Grace just to name a few.
Both achieved to gather this superb guest list of musicians and put down the right ideas, heart and soul and, of course, THE songs to become Shining Line a classic.
The result was this this superb piece of pure Melodic Rock & classy AOR stuff now reissued with a bonus tracks and revided artwork.
Just for the record let's see again some guests that participate in "Shining Line": Erik Martensson (Eclipse), Harry Hess (Harem Scarem), Michael Bormann (ex Jaded Heart), Michael Voss (Wolfpakk, MSG), Robbie LaBlanc (Blanc Faces) and many more, all providing their talent to push this record to Heaven.
Highlights abound, including the stunning opener "Highway To Love" (Erik Martensson), "Amy" (Harry Hess), the layered "Strong Enough" (Robbie LaBlanc), "Heat Of The Light" (Robin Beck) and the AOR gem of "Still In Your Heart" (Bob Harris & Sue Willetts).
But all tracks have something different and special to give to the listener.
Also included is the original European bonus track plus the previously unreleased up-tempo rocker "This Is Our Life" featuring several Italian musicians doing vocals.
Production is pretty good, perhaps the mastering is too loud but who cares when you have such superb songs on offer.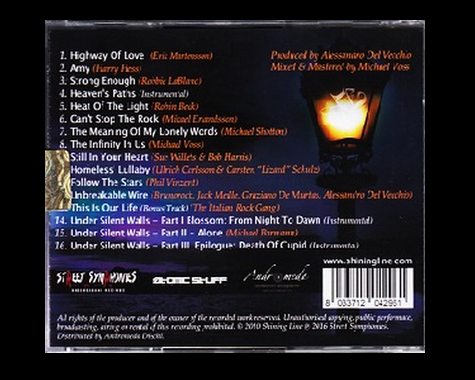 "Shining Line" is plenty of killer hooks and catchy choruses, a true gem for the fans.
If you don't own this classic AOR / Melodic Rock record, you are missing one of the best albums in the genre from the last two decades. So hurry up and get your copy from this limited reissue before it's too late.
A TRUE GEM
You've seen it first here, at 0dayrox
01. Highway Of Love (feat. Erik Martensson)
02. Amy (feat. Harry Hess)
03. Strong Enough (feat. Robbie LaBlanc)
04. Heaven's Path
05. Heat Of The Light (feat. Robin Beck)
06. Can't Stop The Rock (feat. Mikael Erlandsson)
07. The Meaning Of My Lonely Words (feat. Michael Shotton)
08. The Infinity In Us (feat. Michael Voss)
09. Still In Your Heart (feat. Bob Harris & Sue Willetts)
10. Homeless' Lullaby (feat. Lizard Schulz & Ulrich Carlsson)
11. Follow the Stars (feat. Phil Vincent)
12. Unbreakable Wire (feat. Brunorock & A. Del Vecchio)
13. This Is Our Life (feat. The Italian Rock Gang) *
14. Under Silent Walls Part I – Blossom: From Night to Dawn
15. Under Silent Walls Part II – Alone (feat. Michael Bormann)
16. Under Silent Walls Part III – Overture: Death of Cupid
* Reissue EXCLUSIVE BONUS TRACK
BUY IT !
www.streetsymphonies.com/shiningline.html
.