PAUL GILBERT (Mr. Big) – Behold Electric Guitar (2019)
Mr. Big's guitarist PAUL GILBERT is a ground-breaking guitarist, no doubt about it, but also a musician always willing to take risks in favor of his artistic expression. And he did it so, again, ready to release in a few days a new solo album mostly instrumentally based, titled "Behold Electric Guitar".
In a time were just a 'single' or an EP is the way to go according by the current music business executives, an 'album' release – and even more an 'instrumental album' – it's a risk itself, Gilbert pass over this trend and has put out a stupendous piece of innovative electric guitar music.
Indeed, "Behold Electric Guitar" couldn't be the most proper title for this CD. All type of guitar sounds, licks, technique, effects, etc are present here, in all its splendor. Paul Gilbert's newest album features 12 new original songs, all with some of Paul's most expressive, and inspired guitar playing to date.
Although the album is mostly instrumental, Paul starts writing each song by writing the lyrics, and then transform those lyrics to melodies on the guitar.
Paul's unused lyrics not only gave him a creative spark for the music but also yielded some interesting song titles. "Sir You Need to Calm Down," "I Own a Building," "Let That Battery Die," and "A Snake Just Bit My Toe" can certainly pique the curiosity of the listener.
The exception to Paul's instrumental guitar theme is his poem, "A Herd of Turtles." Paul opted for his best Liverpudlian accent to recite his poem of hope, and inserted some ferocious funk riffs for musical contrast in between.
Perhaps the best track representing this album is opener "Havin' It", as we do indeed 'have it' what it is all about; incredible phrasing and expressive scales from Gilbert, a terrific interplay with keyboard player Asher Fulero, and a dynamic rhythm section in which bassist Roland Guerin adds a heavy funk drive in unison with the punchy drum fills.
Gilbert always looks forward to new possibilities with solos that have a freshness and spirit so often lacking in contemporary shredders, never overplaying and making his guitar work 'tell the story' of each song.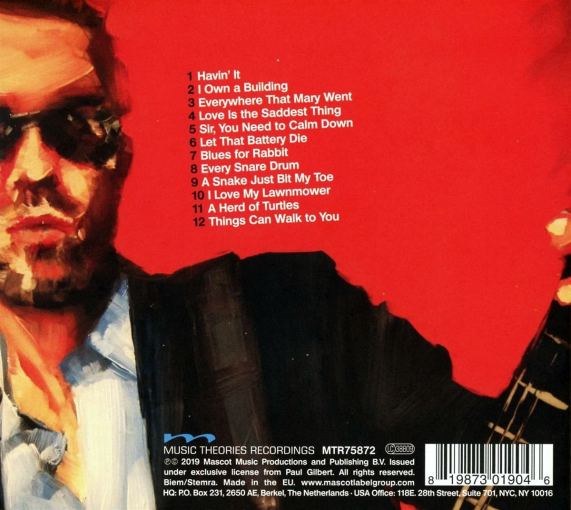 "Behold The Electric Guitar" is a passionate, intense, adventurous and imaginative album from one of the best rock guitarists of its generation.
It's a really entertaining set of songs driven by Paul Gilbert's incisive attack, biting tone and sharp guitar riffs plenty of creativity where every note is relevant, and while musicianship is impressive – his backing band is top notch – they only bring pressure to bear when the song or solo requires it.
There's not much instrumental guitar albums out there nowadays, and even few that tasteful. In this sub-genre, "Behold The Electric Guitar" is a contender for the 'best of the year' award.
Highly Recommended
01. Havin' It
02. I Own a Building
03. Everywhere That Mary Went
04. Love Is the Saddest Thing
05. Sir, You Need to Calm Down
06. Let That Battery Die
07. Blues for Rabbit
08. Every Snare Drum
09. A Snake Just Bit My Toe
10. I Love My Lawnmower
11. A Herd of Turtles
12. Things Can Walk to You
Paul Gilbert – guitars, vocals
Roland Guerin – bass
Asher Fulero – keyboards
Bill Ray, Reinhardt Melz, Brian Foxworth – drums
Pre Order:
www.amazon.co.uk/Behold-Electric-Guitar-Paul-Gilbert/dp/B07PRYR2P7
.