PICTURE – Wings (2019)
Dutch pioneer metal act PICTURE are still alive after 40+ years and still going strong, and their new album "Wings" to be released tomorrow is a clear proof of that.
All over their career, Picture certainly had their moments, supporting AC/DC, Ted Nugent, Saxon and Rose Tattoo while headlining their own tours. In addition, they had a hit album in "Diamond Dreamer" but despite all these qualities, sadly a disintegrating line up of the original members ultimately resulted in the band folding in 1987.
However, some 20 years later part the classic line up of Jan Bechtum (guitar), Rinus Vreugdenhil (bass) and drummer Laurens Bakker reunited and finding the spark still there, began to record and tour again.
Then in 2018, original singer Ronald van Prooijen re-joined and adding new second guitarist Appie de Gelder, the band celebrated their 40th anniversary, playing Sweden Rock and releasing a live album.
Now comes the real magic of this original cast in "Wings".
Still playing the same hard rock / classic melodic metal but now brought into modernity for new generations while not forgetting their loyal fans, these veterans prove they can not only swank and rock but can downright headbang even more aggressively than before.
From the teasing lyrics of '…make me shake…make me hot..' on 'Little Annie', it's bluesy intro soon giving way to a powerful lead with a dirty rhythm in the background – the classic early '80s metal sound – perfect.
With Bakker's double bass drums hammering on 'Is It Real' the raw riffing of the twin guitars graced by breaks is yet another rocking staple before impressing through more conventional twin melodies as Ronald van Prooijen proves he's still the man for the job through his red blooded rock vocals.
Part Motörhead, part UFO and all Picture in between, 'Blown Away' is aptly titled and straight from the classic Kilmister / Clarke / Taylor era with its heavy kick beats, metallic rhythm and swaggering groove – definitely brought a lot of memories on this one.
Becoming more melodic on 'Empty Room', van Prooijen's slightly rough vocals complement the epic tone of the song that gallops but equally, offers Bechtum a chance to show off some heartfelt guitar before then soloing off into melodic metal heaven as Bakker likewise does, really smashing into his kit and cymbals brilliantly thanks to the very organic production sound.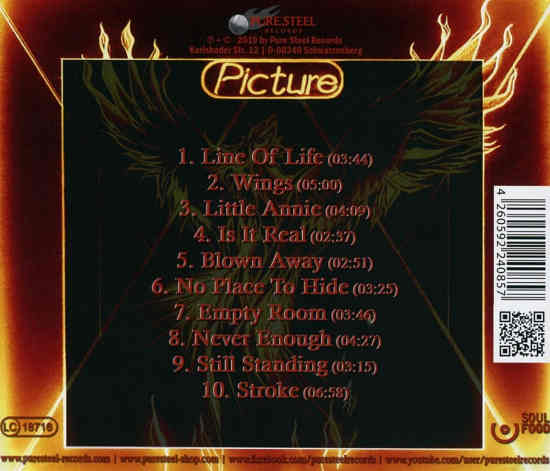 A definite barn burner, 'Still Standing' with its killer riff tells the tale of the band in one huge air punching singalong with its chants of '..heavy metal!!..' that is equally moving when listening to the lyrics noting the crucial line of '… finally we're here to stay..for you..today…'.
Wow, a killer, old-school yet updated release that continues the incredible comeback of this band – nicely done chaps!
01. Line Of Life
02. Wings
03. Little Annie
04. Is It Real
05. Blown Away
06. No Place To Hide
07. Empty Room
08. Never Enough
09. Still Standing
10. Stroke
Ronald van Prooijen – Vocals
Rinus Vreugdenhil – Bass
Laurens "Bakkie" Bakker – Drums
Jan Bechtum – Guitars
Appie de Gelder – Guitars
PRE ORDER
www.amazon.co.uk/Wings-Picture/dp/B07T5R65TL