PICTURE – Every Story Needs Another Picture + Marathon [remastered] (2017) *Exclusive*
Cult band, recognized as one of pioneers of the Dutch metal / hard rock scene, PICTURE's storied career dates all the way back to 1979. They released 4 metallic albums in the first half of the '80s, but in the second, Picture morphed into a commercial Hard Rock / AOR band. "Every Story Needs Another Picture (1986)" and "Marathon (1987)" both have been remastered and released into one CD by Divebomb Records.
While establishing a strong suited classic metal front up till the middle of the 80s as a leading Dutch act, things got rattled a bit for Picture with the approach of 1986.
When the business got into the band's music, the Picture line-up had a fall down, leaving founding member and bass player Rinus Vreugdenhill on his own.
The recruitment of three new members, which one of them was the excellent vocalist Bert Heerink (ex- Vanderberg) paved the road for two albums that virtually transformed Picture into a Hard Rock / AOR band, commercial and largely into the mainstream sound of the period.
1986's 'Every Story Needs Another Picture' was the first release from the new Picture line-up, not far from what bands like Vandenberg, Bronz or even Europe were doing at the time; commercial hard rock with melody and keyboards into the mix, elevated by Heerink's distinctive vocals.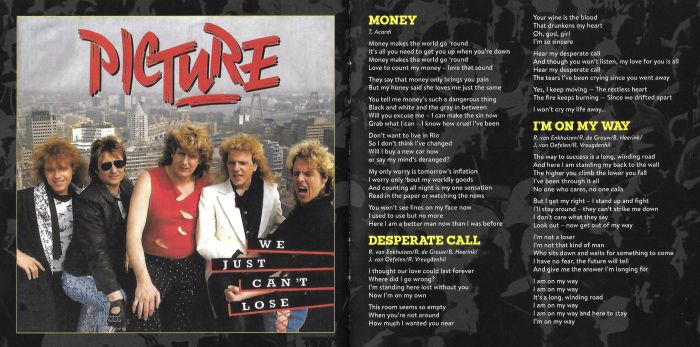 "Battlecruiser", which I found to be the album's prime tune, sounded like a determined forge of high quality Euro Hard Rock with a cracking AOR chorus to make it flamboyant.
The extra crispy fire catching "Moving Down The Line" is another scorcher, a really fun track to listen to with a great 80s feel. "She Was Made For Lovin'" delivers a catchy American influence, and lastly the strong "No Way Back" that reminds me of early Autograph complete with cowbell.
Picture gave it another go in 1987 with "Marathon", which was a continuation of the 'Every Story Needs Another Picture' sound, even more AOR.
Heerink sounds even better here, and the songwriting and arragements are definitely oriented to that late '80s radio formula – namely catchier hooks, plenty of keyboards / synths and more memorable choruses.
The magnitude of the keyboards is much noticeable throughout the tracklist, portraying Ronald de Grauw (later in melodic rockers Perfect Strangers) talent.
"Break Away" burst as a terrific opener, crunchy AOR song, immensely catchy and energetic, a proper way to open things up. "We Just Can't Lose" – a highlight – delivers a mighty chorus aside a Hard Rocking vibe that entangled well with the sensational keyboards.
"I'm On My Way" and "S.O.S" display once more Picture's taking points from American Hard Rock / AOR songwriting style, showcasing simple, but pleasing to the ears rhythm guitaring, and of course a larger than life vocals / harmonies.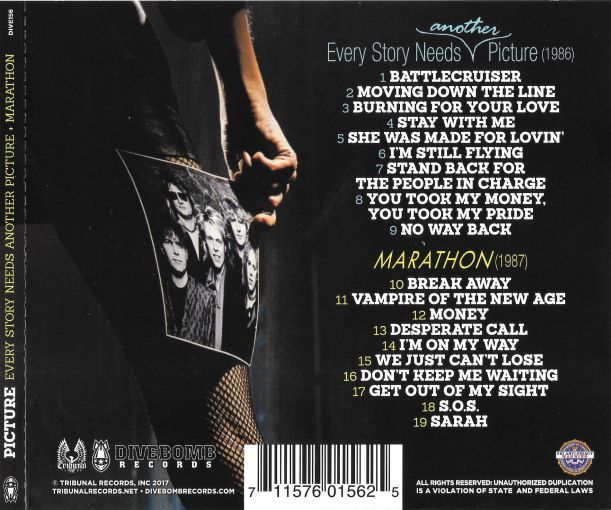 This is a really welcomed 2-in-1 reissue featuring both albums, newly remastered by Jamie King at The Basement Recording, and bolstered by band-supplied archival materials of rare photos, expanded liner notes and complete lyrics booklet.
Very good stuff in the vein of Vandenverg, Zinatra, Bronz, Treat… you get the 'picture'.
Highly Recommended
Every Story Needs Another Picture 1986 Remastered:
01 – Battlecruiser
02 – Moving Down The Lines
03 – Burning For Your Love
04 – Stay With Me
05 – She Was Made For Lovin
06 – I'm Still Flying
07 – Stand Back For The People In Charge
08 – You Took My Money, You Took My Pride
09 – No Way Back
Marathon 1987 Remastered:
10. Break Away
11. Vampire Of The New Age
12. Money
13. Desperate Call
14. I'm On My Way
15. We Just Can't Lose
16. Don't Keep Me Waiting
17. Get Out Of My Sight
18. S.O.S.
19. Sarah
Bert Heerink – Vocals
Ronald de Grauw – Keyboards
Rob Van Enkhuizen – Guitars
Rinus Vreugdenhill – Bass
Jacques van Oevelen – Drums
BUY IT !
www.bol.com/nl/p/every-story-needs-marathon/9200000085062899/
.